Online Financial Literacy Programs Leverage Best Educational Practices
The National Financial Educators Council recently announced the development of its online financial literacy programs, delivered on a branded platform called eVolve. eVolve represents an authentic, dynamic learning tool that delivers far more than just education; it imparts real-world skills that participants can apply to practical decision-making. From creating viable budgets, to reviewing credit histories, to accounting for inflation in one's retirement planning, these practical lessons leave students with personalized financial plans to last throughout their lifetimes.
This proprietary personal finance course online platform offers specialized advantages for instructors, too. The system leverages best educational practices for eLearning, including engaging, vivid design features, simulation, appropriate scaffolding, case study and project-based learning aspects, and much more. It is the most comprehensive online financial literacy class available today.
Standout Features of the NFEC Online Financial Literacy Class
The online financial literacy programs presented through the eVolve system offer multiple features that make them stand out from the average, including:
Robust Learning Management System (LMS) to organize participant progress and gather important metrics

Engaging, interactive user experience

Practical activities that lead participants toward molding and modifying their financial behaviors

Adaptive learning pathing that adjusts to the participants' unique needs

Learner-centered, state-of-the-art instructional methodologies
Multimedia, simulations, and interactive learning facets

Fully-integrated testing features to measure changes in knowledge and behavior

Gamification aspects that can be exported to other platforms such as Credly or Mozilla OpenBadges

High levels of user accessibility according to CAG 2.0 standards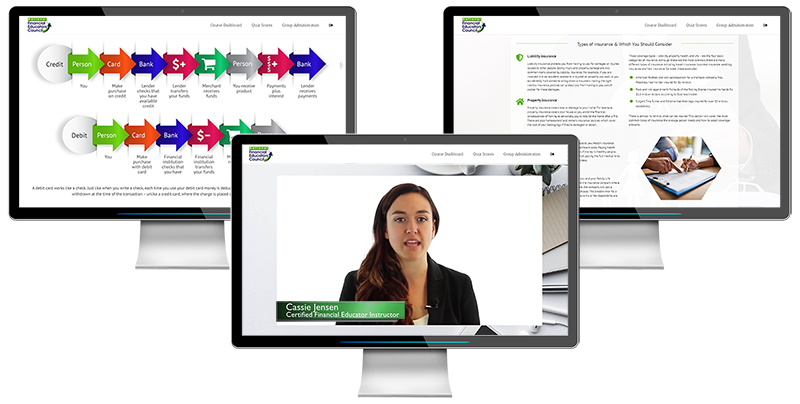 Financial Life Guide Represents Important Activity in Online Financial Literacy Programs
Thanks to the robust eVolve platform, these online financial literacy programs go well beyond simple education: they guide students to complete activities that build a full financial foundation. The financial literacy online coursework and interactive learning features walk participants through lessons they need to address real-life situations they'll encounter across their lifespans. One item that exemplifies this practical applicability is the Financial Life Guide, a personalized financial planning tool that each participant completes.
The Financial Life Guide leads students through a host of activities including both current and future budgeting; building retirement plans; strategizing for investment; investigating home-purchasing; examining their credit reports; eliminating debt; calculating the value of higher education; goal-setting; and creating a lifetime personal finance plan.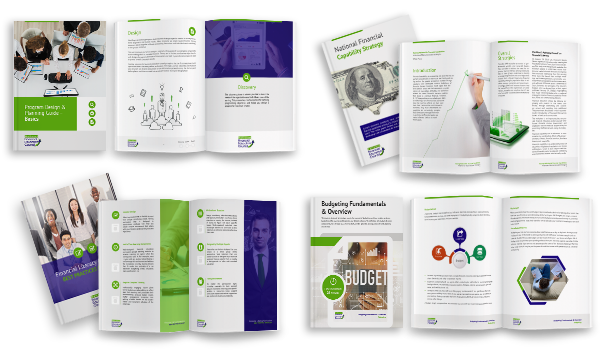 How You Can Pace and Deliver this Online Financial Literacy Class
The eVolve system offers adjustable ways to pace and deliver this personal finance class online programming, resulting in maximum flexibility for students and instructors. Options are outlined below:
Options for Pacing
Time-driven. The lessons can be released on a timeline, according to your selected schedule.

Progress-driven. Set features that prohibit participants from progressing to the next lesson until they've completed the current one.

Adaptive. If students don't pass a test on a given topic, they can be diverted to review modules that present the information differently.
Options for Delivery
Self-study. Participants can study on their own, with accountability and reporting features built in to ensure that they complete the lessons.

Instructor-guided. Presentations, instructor and student guides, and other resources support in-person trainings.

Blended/flipped. Blend online learning with live instruction for optimal flexibility.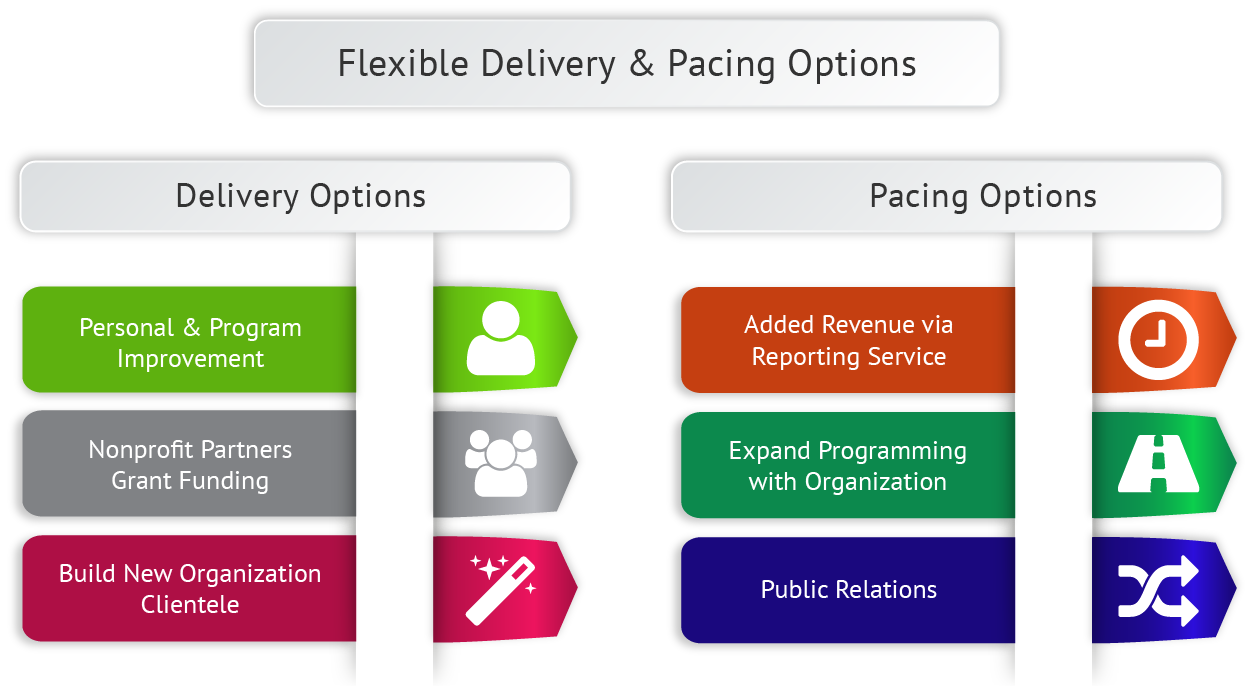 Online Financial Literacy Programs Feature Powerful Learning Management System
Capable to adjust the financial education lesson plans for either synchronous or asynchronous instruction, the eVolve platform is constructed around a Learning Management System (LMS) that blends the latest in proven techniques for teaching remotely. The NFEC's goal in creating this robust LMS was to optimize people's assimilation and implementation of the lessons they learn in the online financial literacy class.
The LMS features a Central Dashboard that allows instructors to gather various metrics on participant engagement and completion of milestones. For example, you can track when students have completed the Financial Life Guide, a practical activity in the curriculum that has participants create full lifetime financial plans. You also can receive real-time progress reports, quiz and test results, number of vide views, and time students spend on lessons.
The National Financial Educators Council developed professional teaching standards for financial educators that serve as the basis for instructor preparation and assessment. These financial education instructor standards provide a benchmark that describe the skills-sets, traits and knowledge an educator should possess.
The NFEC's virtual learning centers combine multimedia and interactive features with practical money management lessons that meet educational standards. Designed to serve both organizations and individuals, these online programs are available for all those who seek to improve their financial capabilities.
SavingsFund provides families a platform to save for their kids' college, retirement, or overall financial security. This program delivers important financial education lessons for kids and teens while they build their savings funds.
The Real Money Experience Simulation was developed through collaboration between the NFEC and Penn State Erie. The simulator combines game- and project-based learning to help youth become prepared for the real world.
The Money XLive online learning center features exclusive celebrity videos, testing, quick notes, guides, and interactive tools. Money XLive connects powerfully with today's teens and young adults.
This comprehensive learning center helps adults who seek to build a financial foundation or recover from past mistakes.
Developed through collaboration with LearnCast, this personal finance phone app makes getting a practical financial education easy.
Tool to Teach Financial Literacy Online Offers Unique Components
Flexibility, interactivity, and superb quality – these are just three of the features defining Evolve, a revolutionary new tool that allows educators to teach financial literacy online. This robust eLearning platform was designed by the National Financial Educators Council (NFEC), with the expert guidance of a Curriculum Advisory Board comprising educators, financial professionals, and eLearning specialists.
Founded in evidence-based best practices for online learning, Evolve has a flexible format that allows financial education lessons to be custom-tailored to meet a wide range of scheduling demands and learner outcomes. For example, organizations have customized the modular lessons to conduct workshops, after-school events, weekend seminars, lunch-and-learn brown bag sessions, camps, for-credit college classes, and more.
Following are just a few of the unique benefits Evolve online personal finance program offers to both students and educators:
Learner-centered instructional methods that leverage state-of-the-art teaching strategies and high-quality content
Adaptive learning that gives each student a personalized experience
Micro-eLearning broken into manageable, easily retained topics
Interactive content using video and simulation techniques
Gamification of lessons using points, badges, and bonuses
Peer interaction forum where students can ask questions or share knowledge
Learning Management System that allows educators to manage classes from a central dashboard
Rich testing tools to track participant progress and gauge retention
Automatic testing and grading rubric with real-time results
Group management and communication platform to easily break students into groups and provide feedback
Tin Can API allows learning content and systems to communicate consistently about activities gathered from multiple technologies
This technologically advanced online personal finance course gives students a true blended learning experience, while offering educators the freedom to manage instructional time and programming according to their own and their participants' needs. Evolve's flexible platform accommodates both synchronous and asynchronous learning, while providing learners with many options to maximize learning assimilation to allow practical implementation of activities in the real world.
Sustainable Programs Promote Financial Literacy Online and in Communities
Hundreds of financial literacy programs are presented every month across the U.S., about most of which no one ever hears. Typical financial education fails to take advantage of what the National Financial Educators Council has identified as the optimal strategy: the "campaign approach." The NFEC promotes financial literacy online and via community-based workshops and events. This social enterprise organization takes the campaign approach to all these efforts.
The campaign approach comprises three vital components:
Education. Programs must impart practical skills that create long-term positive change in people's money habits.
Awareness. The efforts must reach the largest possible audience and continually remind people to consider their personal finances.
Sustainability. Successful programs will be those that get results and obtain support over the long-term.
When we evaluate free financial literacy programs according to the campaign approach, the NFEC initiatives clearly stand out from the crowd. Most programs are boring, which means few people attend and those who do are turned off from the learning process. In addition, the average program may not understand its target audience and often fails to build brand image recognition in the community. To really promote education, financial literacy programs like the NFEC's use fun, engaging, and motivating activities that appeal to audiences and inspire them to action.
What is financial literacy to you? The NFEC invites comments and input from a wide audience, in order to ensure that its materials and financial educations systems have the broadest reach and applicability. Using the campaign approach to creating financial literacy education for all ages and tailoring materials to meet the needs of a specific demographic helps ensure maximum impact. These tactics also attract media attention and community goodwill, which in turn encourages backing from sponsors and funding agencies to build sustainable programs for the future.