Financial Coach Certification
Are you interested in earning your Financial Coach Certification? The National Financial Educators Council (NFEC) offers multiple options for individuals who desire to improve their capabilities to teach financial literacy and money management programming. The financial coach certification programs offered through the NFEC (Certified Personal Finance Consultant) consist of practical, hands-on lessons that allow participants to develop and build upon the skill sets necessary to become effective coaches and counselors, thereby increasing your impact on positive client outcomes.
Individuals who graduate from this rigorous programming take their place among the most highly-qualified financial coaches category. Earning this certification proves that you meet top national standards and possess the skills and expertise to help others work toward their personal finance goals. In addition to coaching ability, you will master techniques for motivating, engaging, and moving clients of all ages and backgrounds to take positive financial action.
Financial Coaching Certification Process
Enrollees in the NFEC's Certified Personal Finance Consultant (CPFC) financial coach certification programs participate in a host of activities designed to build and demonstrate their qualifications as prominent financial coaches. These activities comprise completion of stringent educational requirements, including 180 hours (18 Continuing Education Units) of coursework and implementation practicum. Further program activities include advocacy, assessments, platform-building, and student interactions.
Becoming a certified financial coach requires earning an 80% or higher score on all activities and the final examination. These financial coach certification programs include performance and implementation evaluations, where enrollees must exhibit their coaching ability by conducting event practice and delivery, documenting their hours, and submitting surveys and test results proving their impact. Participants in these certification programs must show leadership ability by creating financial literacy content that indicates their content knowledge and delivery expertise. Strategic planning ability must be demonstrated by developing a written advocacy plan, including the educational focus and overall business model for the coaching effort.
Financial Coaching Standards
The NFEC developed standards for earning Financial Coach Certification to distinguish coach qualifications and assure potential clients that they are held to the highest standards of excellence. These standards are centered around the principle that the coach has fiduciary responsibility to the client. More than a dozen authorities regulating the financial literacy industry are cited in the NFEC's Financial Coaching Standards and Code of Ethics, including the Financial Industry Regulatory Authority (FINRA), the Securities and Exchange Commission (SEC), the Federal Trade Commission (FTC), the American Psychological Association (APA), and the International Coaching Federation (ICF).
Although the financial coaching industry is not subject to specific regulations, the NFEC has proactively developed its own set of standards to protect both coaches and their clients. These standards include a theory-based teaching framework that ensures the quality and impact of educational programming. The standards also stipulate common language as a method to improve communication; and contain an awareness tool that underscores the ultimate importance of selecting highly-skilled educators.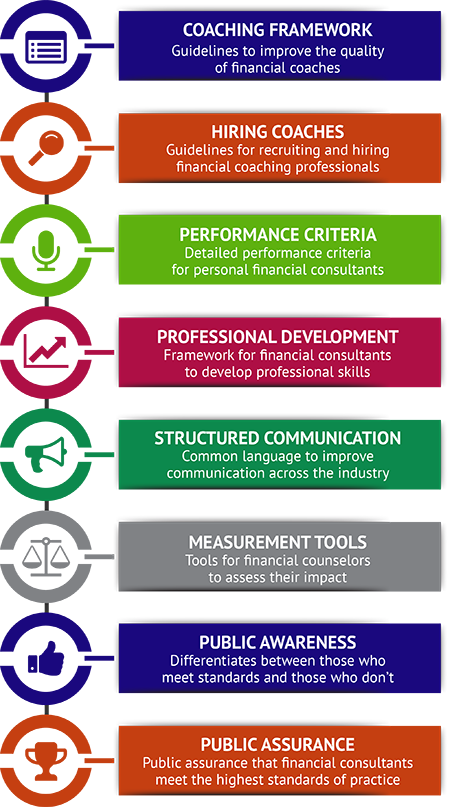 Graduates of the Financial Coach Certification programming obtain exclusive access to comprehensive systems for gathering and reporting data. At the heart of any financial coaching effort lies the coach's ability to understand each client's complete financial position. To uncover the full client profile, they should review the individual's income, assets, liabilities, interest rates, credit scores, insurance coverage, and any other piece of relevant personal finance information. The NFEC systems include proprietary reporting software that allows coaches to professionally illustrate this financial picture to the client, and easily generate up-to-the-moment progress reports that track their achievements. A financial coach should do far more than just talk – they must give clients personalized plans and illuminate how their actions affect their overall financial picture over time.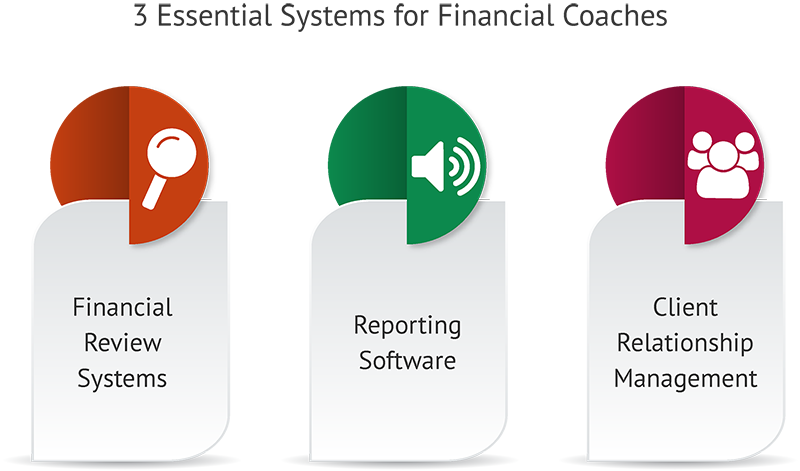 Educational Resources for Financial Coaching

Taking part in the NFEC financial coach certification programs means you have more than 400 hours of top-grade financial education curriculum at your fingertips. These curriculum modules and presentations are engaging and fun for clients, while also meeting core educational standards. The materials were developed in collaboration with a Curriculum Advisory Board comprised of financial professionals, educators, and financial education experts. This partnership yielded a comprehensive educational package that bridges the gap between evidence-based learning principles and practical applicability of the lessons.
The NFEC's 100% independent curriculum encompasses flexible delivery modes, including an online learning option. Most financial literacy programs that tout themselves as 'online learning' consist only of videos and articles on a website. That is not eLearning. In contrast, the NFEC's eVolve platform leverages best practices in online personal finance education, high-quality content, and vivid design features to create a unique participant-centered learning experience. The robust, accessible eVolve program is designed to accommodate a variety of schedules and learning outcomes; it also offers blended learning options.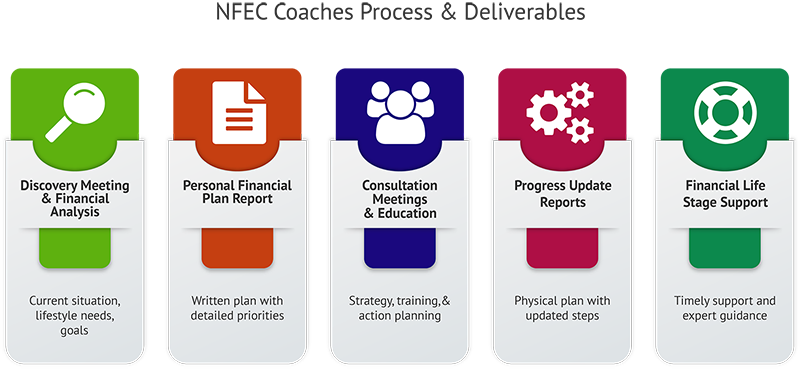 Those who earn the Financial Coach Certification designation are experts in personal finance coaching; but they have not achieved expertise in every topic. Mastering the full gamut of advanced personal finance knowledge can take decades of practical experience. That means that a coach may not know the answers to every question a client raises. It's important to realize that it's okay not to know every answer because, as a coach certified through the NFEC, you have access to a team of expert professionals licensed in their respective fields. These experts can work directly with you, or together with you and your client. The sole objective of this expert team is to help you serve your clients' needs in the most effective possible way.  Learn how you can become a financial coach through the NFEC.
Financial Coach Certification Programs Track Options
Through its financial coach certification programs, the NFEC serves three distinct groups. For organizations, staff training and professional development are offered. For individuals who seek employment in the financial coaching space, the certification courses provide outstanding credentials. For entrepreneurs, the programs provide training and resources for building a viable and successful financial coaching business.
Those who receive their credential via the financial coach certification programs do much more than an average financial coach. They have proven competency and systems in place to support clients toward strengthening their personal finance situations. Graduates are uniquely positioned to serve clients and communities across four main areas:
Personal Financial Coaching and Counseling – Clients receive personalized coaching, education, and accountability.

Learner Certification Programs – Lead one-on-one or group personal finance certification programs, giving clients training and assessments to demonstrate accomplishment of predetermined learning outcomes.

Accountability Programs – Accountability programs for groups of friends, family, or close acquaintances allow participants to receive support both from you and from their peers.

Group Financial Education Programs – Larger-scale courses and workshops for groups of individuals.
Financial Coach Certification Program Benefits Individuals and Communities Alike
The National Financial Educators Council offers a wide range of financial education services. One of the most valuable is their financial coach certification program. The NFEC coursework developed to train Certified Personal Finance Consultants (CPFCs) goes far beyond typical financial coaching programs. Graduates of this comprehensive certification program are able to lead and participate in a variety of activities that help move people of all ages and backgrounds toward a state of financial wellness.
Program graduates who become a financial coach through this program are experts in personal finance with the ability to help others reach their financial goals. The curriculum contains more than 320 hours of training and hands-on experience that give CPFCs an in-depth understanding of key money management principles. These highly qualified financial coaches are dedicated to providing expert advice to coaching individuals and bringing best practices for financial education to their communities.
Recent research has indicated that most people never receive basic money management training. Personal finance classes are rarely part of public school core curriculum, and too many people resort to taking advice from friends, colleagues, or salespeople who are trying to sell them financial products. An NFEC-trained financial coach, on the other hand, are not selling anything and instead have a vested interest in their clients' success and secure futures. Having graduated the financial coach certification program and earning the CPFC designation gives you confidence that your coach is well-trained to teach and motivate you to take positive action.
Anyone interested in a consultation with a trained educator who has no competing interest in the financial product marketing should contact the NFEC. Further, those who would like to become a financial fitness coach themselves may investigate the NFEC's Certified Financial Education Consultant program.
Share This Article