Financial Literacy Online Course Available Now
The NFEC (National Financial Educators Council) has created a financial literacy online course that represents the most comprehensive evidence-based educational programming available today. This digital platform, called eVolve, leverages educational best practices and meets national standards for instructive excellence. The program was developed for those who want to deliver 100% independent, professional-grade personal finance instruction.
The lessons presented in this free online financial literacy course offer top-grade content and visual design, coupled with a superb user experience that brings learning into sharp focus. Students are motivated and entertained as they participate in interactive learning experiences that guide them through this engaging personal finance course online – completing practical activities designed to get them to take positive action toward improving their financial situations.
Financial Literacy Online Takes a Fresh Approach
The eVolve programming is distinguished from other online courses by its robust platform and high-tech Learning Management System. These systems revolve around the principles of best practices for online learning according to the most recent research. Features that make eVolve stand out above the average financial literacy online course include a stellar user experience, adaptive learning options, and the practical nature of the lessons.
In addition, the methodologies behind the programming – grounded in constructivist educational theory – lead to a learner-focused approach that makes maximal use of scaffolding, project-based and scenario-based learning, and case study analysis. Lessons are accompanied by videos, simulations, interactive features, and gamification to increase learner engagement and retention of the information learned.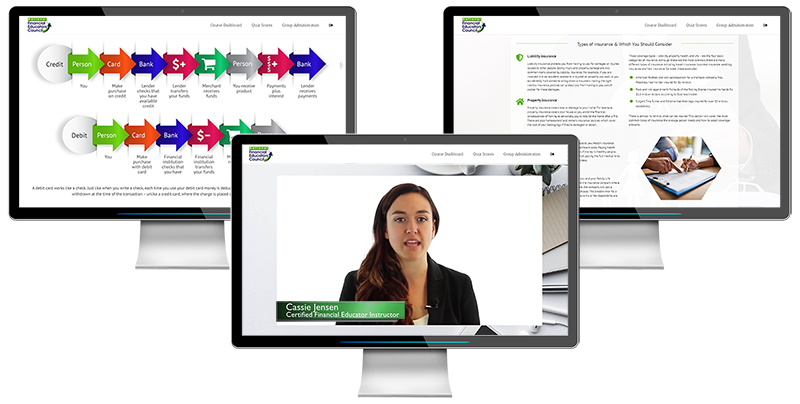 Free Online Financial Literacy Course Offers Financial Life Guide
Although the education eVolve offers is of the highest quality, the money management online course platform does far more than just teach. Learners are hands-on participants in dynamic activities that encourage them to build a solid financial foundation that will guide positive action throughout their lifetimes. This objective is accomplished by giving each learner the newly-designed Financial Life Guide. The Guide takes participants through practical exercises – from creating a budget, to checking credit, to paying off debt, to retirement planning – that help them address key life situations they'll face in the real world.
These project-based learning activities culminate in the creation of a full, personalized financial plan, with built-in reminders to refer back to their planning at critical life junctures. Completing the Financial Life Guide lays out actual action steps participants can take to get off on the right financial footing and stay on track through all the life stages. The process is customized to the individual student, which helps increase cultural responsiveness.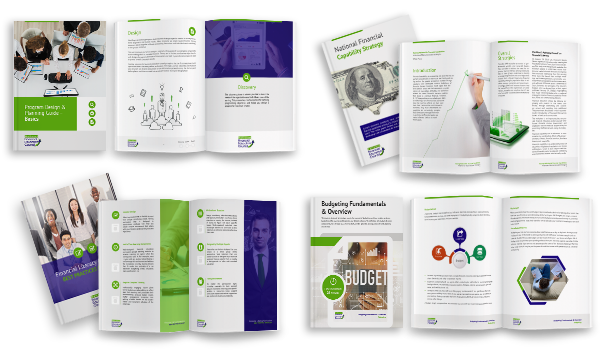 Flexibility in Delivery, Pacing Key Features of Financial Literacy Online Course
Another vital component of the eVolve platform for financial literacy online is its flexible structure, allowing you to tailor the lessons based on your scheduling needs and selected delivery method. Delivery choices include self-study, teacher-led, blended delivery, or flipped classroom mode. In other words, you can allow students to take the lessons on their own; lead live classes; or use some hybrid of online and in-person delivery.
Options for setting the pace of the coursework include time-based, progress-based, or adaptive pacing. One feature can be set to release lessons on a time-driven schedule. Another can be set to determine how students progress through the course based on their achievements. Or set adaptive pathing so learners review content when they are unable to pass lesson tests.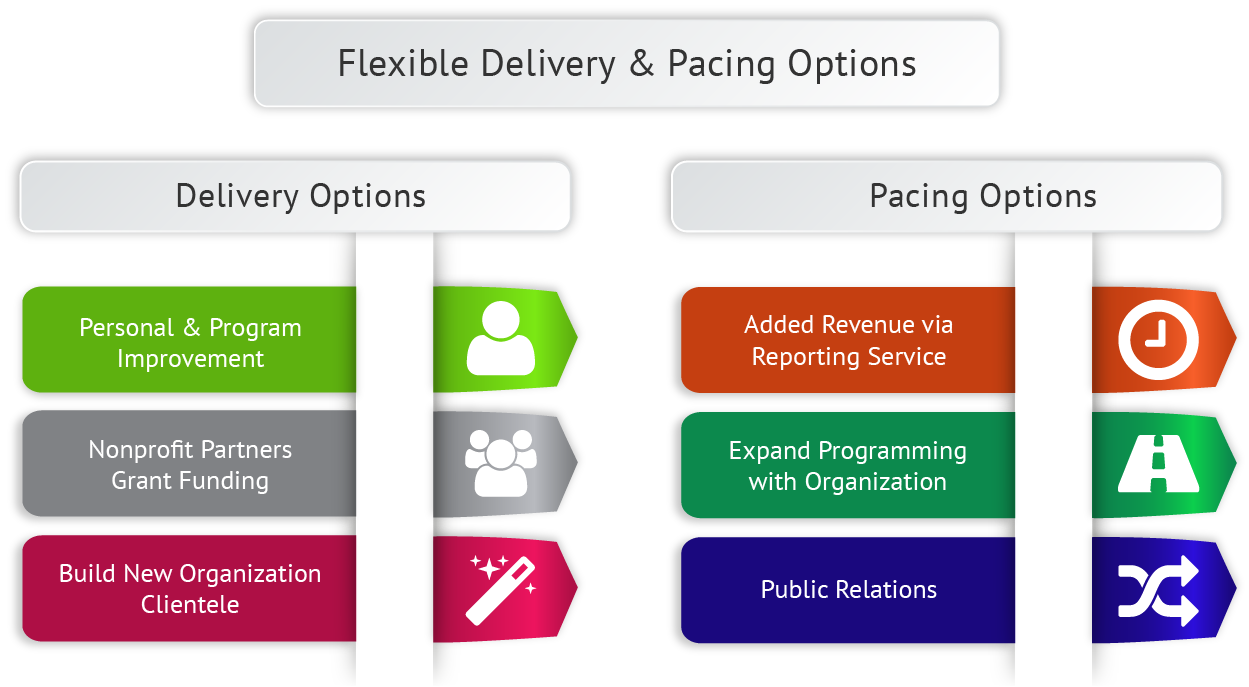 Learning Management System for Free Online Financial Literacy Course
The eVolve platform also has a vigorous Learning Management System with the adaptive pathing built in, giving students a customized learning experience according to their interests, testing results, and progress. One important piece of this system is the Financial Life Guide, an educational tool that all students complete as part of the programming.
Completing the Financial Life Guide represents a way in which students are guided through activities that have true application to real-world situations and financial decision-making. The Guide is a practical activity that has learners plan their entire financial lives, maximizing how well they assimilate and are able to implement the lessons presented in the course.
Plenty of personal finance education programs have been developed in recent years in response to the 2008 Great Recession. A few are even offered online. But what is the best way to decide whether a web-based financial education program really makes a difference? According to the National Financial Educators Council (NFEC), a viable financial literacy online course must not only build the participants' financial foundation, but also include options that help people mold and modify their financial behaviors in positive ways.
That's the basis behind Evolve, the NFEC's recently-launched personal finance online program designed to teach personal finance to the widest possible audience. The reach of this program is effectively extended by making the lessons customizable by either students or instructors. Evolve's instructional methods are grounded in constructivist theory and employ a learner-centered approach that leverages scaffolding, simulation, and practical lessons with real-world applicability. That way, the course lessons provide a personalized learning experience based on each individual's interests, desired outcomes, testing results, and accomplishments as they progress through the lessons.
Each topic in the Evolve curriculum incorporates a practical component that includes scheduling options to encourage participants to mold or modify their financial behaviors. For example, the program includes just-in-time learning features that remind students of action steps to take prior to making key financial decisions. The web-based lessons also are highly-interactive and feature gamification with points, badges, and bonuses awarded for important achievements. This reward system also is aimed at helping to instill positive behaviors that participants can use to build a framework to secure their financial futures.
When students learn positive money habits and apply them to real-world decisions, proven results will follow. Evolve also incorporates a rich, robust set of assessment tools that give educators a way to demonstrate participant progress and manage instructional efforts. The detailed analytics include activity completion, time participants spend on lessons, automated test results, and data regarding milestone achievement. The assignment manager portal offers instructors a central dashboard where they may comment on and/or approve submitted assignments, and segment classes based on completion levels and performance. This financial literacy online course is truly the state of the art in teaching personal finance.
Group Management and Automated Testing Features Enhance NFEC's Online Financial Literacy Course
Evidence-based practices for instruction lie at the heart of Evolve, a new online personal finance course recently created by the National Financial Educators Council (NFEC) to address the need to raise personal finance capabilities among people across the U.S. Designed in collaboration with a group of professionals with expertise in finance, education, and online learning, Evolve offers educators a unique platform with a central base from which to manage all learning activities and track student progress.
The NFEC's 100% independent status means that Evolve is purely educational. That is, no advertising or product marketing are ever presented in these personal finance curriculum materials. The NFEC is a for-profit organization with a social enterprise business model. The organization's goal is to create a world where all citizens have the capability to make sound decisions toward improving their finances now while simultaneously securing their futures.
The robust platform upon which Evolve is built is designed around evidence-based practices for eLearning. This platform offers the flexibility to accommodate both synchronous and asynchronous activities. The high-grade curriculum materials also are designed for maximum flexibility, allowing educators and students alike to customize content based on desired learner outcomes and scheduling needs.
Detailed analytics also form a core component of the Evolve Learning Management System. Quality analyses allow educators to track student progress according to metrics such as activity completion, time spent on lessons, testing scores, and predefined milestones. Learning pace also may be tailored as self-directed, timeline-driven, or based on test results. Evolve online personal finance course is aligned with the principles of the NFEC's live instruction curriculum, allowing educators maximum freedom to customize lessons, assign tasks, and monitor progress – all through the easily accessible eLearning center.
Educators who desire to learn more about Evolve may contact the NFEC directly. This online financial literacy course includes instructors' guides, student guides, testing measures, a PowerPoint presentation, and other resources – all designed in alignment with theory-based teaching principles. Lessons are clearly organized alphanumerically to ease the instructor's ability to teach coursework, assign activities, and manage programs according to his or her unique scheduling needs.