Personal Finance Online: The NFEC's eVolve Platform
If you're looking to learn more about personal finance online, the NFEC has a platform for you. They have developed the eVolve system to connect people with learning outcomes that inspire them to reach higher levels of knowledge. The curriculum offers age-appropriate lessons with practical application to real-life situations, such as moving out on one's own, home-buying, college funding, retirement planning, or getting out of debt. Further, the platform represents the state of the art in digital instruction, with a solid grounding in constructivism and comprehensive alignment with educational standards.
This proprietary learning system for studying a powerful personal finance course online is designed to offer flexibility for both instructors and participants. The entire program is equivalent to two college-level units, and the content also meets common core standards.
Features of eVolve Personal Finance Online
The comprehensive eVolve eLearning platform and its proprietary Learning Management System (LMS) are designed to offer the following features for online money management learning:
A great user experience

Personalized learning based on students' interests, prior knowledge, and test scores

Behavioral modification options with just-in-time lessons to remind students of steps to take at key decision-making points

Research-based, learner-centered educational scaffolding
The latest teaching methods including simulation, PBL, micro-eLearning, scenarios and case studies

Interactive, engaging learning features

Integrated testing to measure changes in knowledge and behavior

Points, badges, and bonuses awarded to inspire learning

Designed around WWW Consortium's CAG 2.0 accessibility standards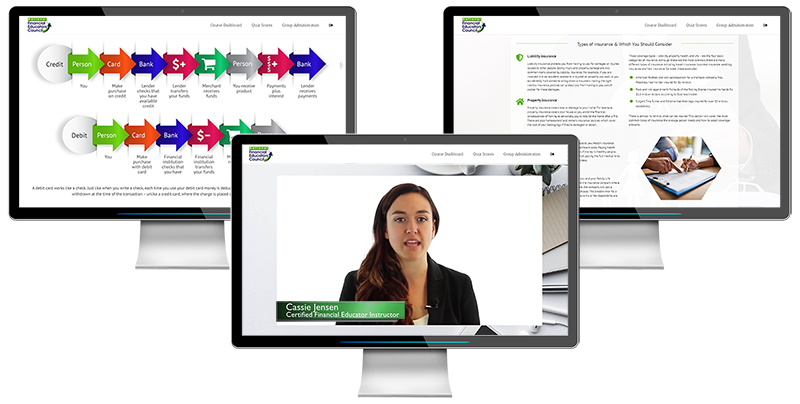 This Personal Finance Online is More than Education: Participants Take Action
eVolve takes learners a step farther than simply education: they take part in activities that build their complete financial foundations. The NFEC accomplishes this goal by giving students the Financial Life Guide, a project-based learning (PBL) activity that leads people to create comprehensive financial plans that will serve them throughout their lifetimes. The course walks participants through the lessons they need to budget, plan for retirement, start investing, prepare for home ownership and other major purchases, build and keep good credit, pay off or avoid debt, decide between educational options, and set clear lifestyle and money management goals.
The Financial Life Guide provides a prime example of the practical nature of this personal finance online program. The Guide leads participants to address and set goals for life situations they are sure to encounter in the real world. They come away with individualized financial plans and systems to help them continue learning long after they complete the coursework.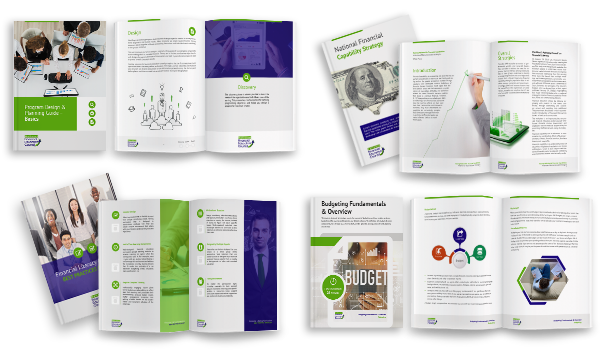 Flexible Delivery and Pacing are Trademarks of this Personal Finance Online
The eVolve personal finance class online system can be paced and delivered according to the custom needs of the student or instructor, conforming with the definition of top-quality online learning.
Delivery options include:
Self-directed – unsupervised participation with built-in accountability and reporting.

Instructor-led – resources, videos, and activities are included in the eLearning Center to support in-person delivery.

Blended/flipped learning – digital content can supplement live instruction to offer an interconnected, organized experience.
In addition, eVolve offers three pacing choices to accommodate different schedules and needs:
Timeline-based – lessons can be released sequentially according to your chosen time frame.

Progression-based – students progress through lessons based on completion of learning benchmarks and tests, to ensure they understand each concept before they progress to the next.

Adaptive pathing – when students don't pass a lesson test, they're redirected to a review module that explains the topic differently.
Learning Management System for Personal Finance Online
The Learning Management System (LMS) built into the NFEC's personal finance online platform offers instructors freedom to set up various engagement and milestone analytics. As learners complete activities, they trigger real-time reports that demonstrate their progress. Other metrics gathered include time spent on lessons, test results, video views, and other data collection you may customize.
One of the key features of the LMS is the Financial Life Guide, a comprehensive financial planning system that participants now receive as part of these financial wellness workshops and online classes. This practical activity guide elevates learners to higher levels of thinking as they work toward developing a full financial plan with lifetime usefulness.