More Than Just Training, a Complete Financial Coaching Program
To help you reach more people with high-quality financial coaching services, we have built a fully-integrated financial coaching program to help you effectively build your coaching practice and serve your clients in the best possible manner.
There is more to financial coaching than just having knowledge about personal finance topics; it takes a variety of skill sets, systems, clear planning, and resources to lead a highly-respected coaching practice.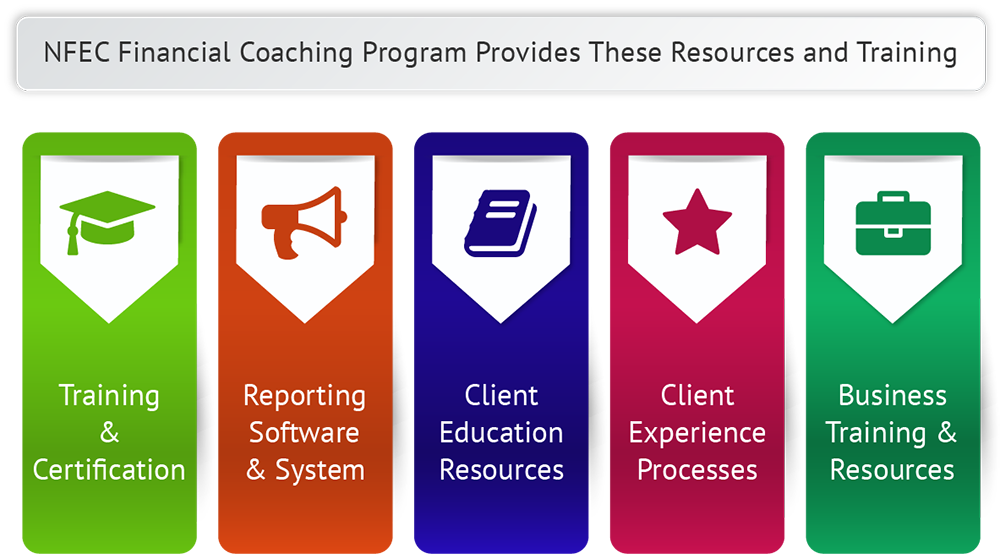 Financial Coach Certification
Individuals who graduate from the NFEC's rigorous financial coaching certification programming take their place among the most highly-qualified financial coaches in the country. Earning the Certified Personal Finance Consultant (CPFC) designation proves that you meet top national standards and possess the skills and expertise to help others work toward their personal finance goals.
This program is for those individuals who want to gain the skills they need to be effective financial coaches and build their credibility with respected credentials.
This training offered through the NFEC allows participants to develop and build upon the skill sets necessary to become effective coaches and counselors, thereby increasing their impact on positive client outcomes.
Read Full Financial Coaching Certification Details – click here
Certification FAQs
NFEC Certified Personal Finance Consultants complete coursework and practice consisting of 180 hours of training and implementation. (18 Continuing Education Units – CEU)
Complete implementation & performance evaluation that document work with others in the training program or third parties.
To earn CPFC credentials all graduates must pass a multijurisdictional criminal background check.
There are no past educational or experience requirements. Just passing the CPFC coursework is required.
Complete educational coursework and pass all activities with a score of 80% or higher and successfully complete practice cases.
You may take the test at the location of your choice; however, the tests are moderated online. There is a $127 fee each time you take the exam.
Certification, Testing, & Criminal Background Check
You can rest assured that your fellow graduates meet the highest industry standards. Distinguish yourself from the average financial coach and be recognized as a true professional – a Certified Personal Finance Consultant (CPFC).
All those who earn their Certification pass moderated testing, agree to professional and practice standards, and have passed a multijurisdictional criminal background check.
Background Check Information: We welcome all those with a passion to help others. There are no past education or industry requirements. We only require that you pass a criminal background check.

Financial Coaching Software & System
Most financial coaches only talk with clients. NFEC coaches do far more – they give each client a detailed personal financial plan that both outlines where the client is now and tracks progress.
These reports is an important part of the financial coaching program because it give your clients a way to view their current status and track their progress. Reporting includes our 31 measures of financial wellness plus gives you the freedom to modify your own diagnosis. Includes full scripting, problem diagnosis, & full integration with NFEC educational resources.
Financial coaching software includes:
Client Report Management Center

Report Data Input Interface

Interview Scripting

Diagnosis Guide

Report Generator
Read full financial coaching software details – click here.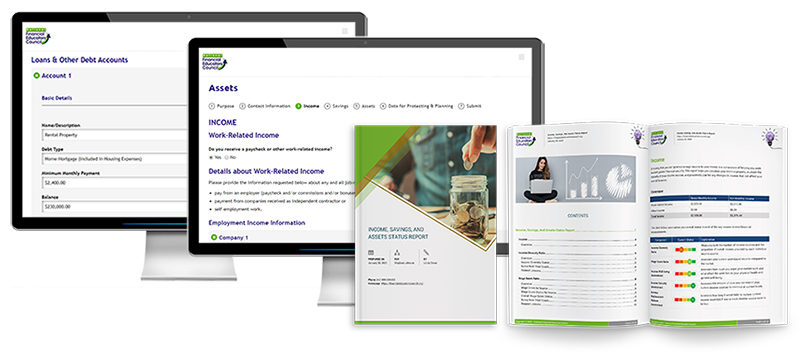 Client Education Resources
As a financial coach, your primary duties are first to understand clients' situations and goals, then help them prioritize action steps and educate them on how to work best toward their personal financial plans. To do this effectively, you need top-quality educational resources built especially for financial coaching.
Because every person has different financial habits, emotional connections with money, and current financial realities, we as financial coaches need to consider more than just content knowledge when developing their program. High-quality financial literacy curriculum also must focus on their behaviors, establishment of systems, and sentiments; and help them work toward positive outcomes.
The NFEC financial literacy lesson plans also include project-based learning lessons that perfectly align with the reporting software. This integration makes it easy for you to guide your client down a customized educational path.
Our resources include: Live Presentation Curriculum, eLearning, Continuing Education, Mobile Learning, Social Education Campaign. All can be branded to your organization.
Learn more about the financial coaching education resources – click here.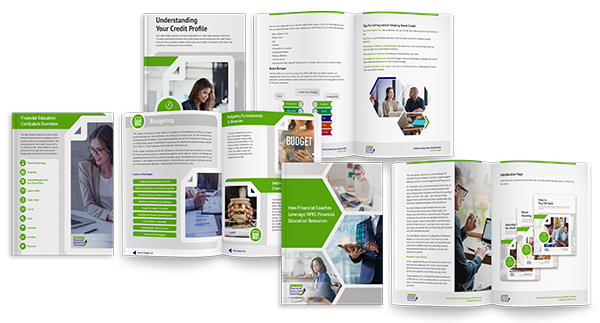 Client Experience Resources: Scripts, Communications, Processes
A financial coaching program that creates a positive client experience can make your program stand out. Right after someone orders your program, your focus turns to ensuring that they have a smooth experience and feel supported at every step. The goal is to create an onboarding experience, showcase our professionalism during actual coaching, and continue to support participants indefinitely through thoughtful ongoing communication.
Most financial coaches do not think through what they will do during the gaps – the time in between the actual coaching practice sessions. By thinking through all communications in advance and designing touchpoints where clients feel supported, you position yourself as a top-quality provider of financial coaching and help your clients gain trust in your abilities and competencies as a professional financial coach.
Read full financial coaching process & communication details – click here.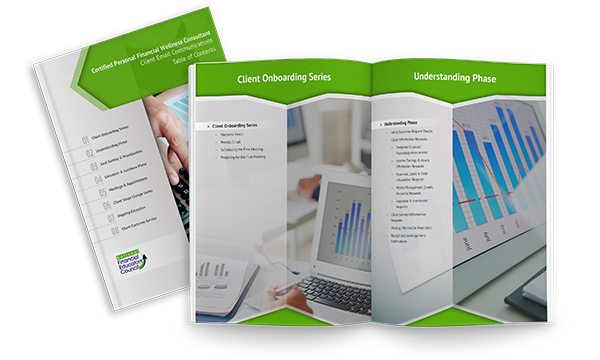 View the complete Communications Table of Contents
Business Training & Resources
Creating a financial coaching practice that can scale and continue to help people for years to come is a cornerstone of any financial coaching initiative. Having clear revenue and funding strategies that support continued expansion is essential for you to grow your programming.
There is a clear path to increasing funding opportunities for your program, no matter your business model (entrepreneurial, nonprofit, corporate, academia, faith-based, etc.). Although each type of organization has unique funding opportunities, the core elements are similar: build a quality program, promote, have a way to convert and systems to best support clients.
Learn more about the financial coaching business resources – click here.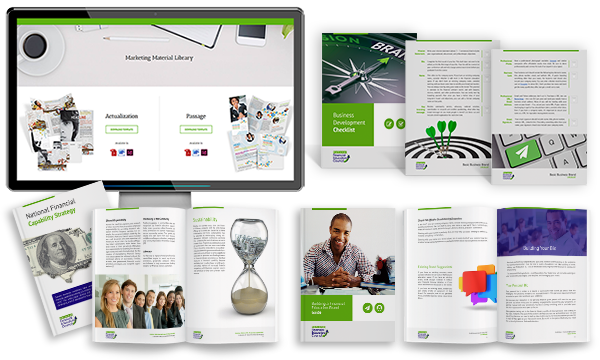 The Financial Coaching Program Includes All of These Resources

Training & Certification
Financial Coach Training
Includes All Training Resources:
Full Learning Center Access

Optional Live Weekly Calls

Over 100 Training Videos

All Course Manuals & Workbooks

180 Total Hours of Training Materials
Certification
Includes:
Certification, Testing, & Background Check

Physical Certification Award

Webpage Highlighting Your Certification

Access to All Graduate Resources

Logo

CE Award Letter
Coaching Resources
Financial Coaching Software
Includes:
Personal Financial Report Generator

Easy-To-Use Software Interface

Client Report Management System

Complete Interview Scripting

Root Cause Diagnosis System
Client Education Resources
Access the most comprehensive educational library designed for financial coaches:
eLearning Center

Printable Guides and Handouts

Presentation Resources

Emailable PDF Client Guides
Processes & Communications
Process Resources & Training
Includes process outlines and resources to:
Onboard A Client

Assigning Education Lessons

Help Them Work Through All Stages of The Coaching Program
Communication Resources
Includes:
All the Communications We Use With Clients

Over 100 Prewritten Emails

Complete Meeting Scripting

Client Financial Action Guide

Goal-Setting Planner

Other Communications
Business Resources
Product, Pricing, & Funding Models
All graduates receive:
Coaching Business Plans

Client Coaching Package Offerings

Pricing Models

Alternative Revenue Strategies Guide

Business Aspects Training
Marketing, Financial Education Package, & NFEC-provided Leads.
All graduates receive:
Marketing & Promotions Package

Financial Education System for Lead Development

Coaching Client Acquisition Materials
Guarantee 1 Year, 100%
The Certified Personal Finance Consultant program is the most comprehensive financial coaching program on the market available today. This statement is measured based on the following key traits: Highest Standards & Credibility, Education Quality & Practicality of Instruction, and Scope of Client Resources. It is backed with a 1-year, 100% money back guarantee on the CPFC enrollment fees you paid when you first enrolled in the full program (training &am