Coaching Process & Communications
Many financial coaches miss out on the benefits of creating a positive user experience prior to beginning the actual coaching process, and clients are underwhelmed from the start. Ensuring that each client makes a smooth transition into the client/coach relationship and establishing clear processes and communication at each stage of the coaching process helps you build a positive reputation.
Right after someone orders your coaching service, your focus turns to ensuring that the person has a professional experience, which helps clients feel supported at every step. These professional communications and processes continue throughout the coaching relationship and even after the active coaching relationship concludes.
Running your financial coaching practice efficiently with clear communications makes your program stand out. The goal of every coach should include developing processes that build clients' trust, so you are in the best position to serve them.
Sample Training Video from Client Processes & Communication Section of the NFEC Financial Coach Course

NFEC's Client Management Communications

Writing just one email can take hours to get right. Developing a coaching script takes several weeks, and finding the right systems to manage these communications can take months. We provide you with the scripting, communications, and system recommendations you need to run a professional coaching practice. You receive:
Communication is a top element of building a professional coaching practice. The resources we provide help ensure that you communicate in a timely manner and in ways that support your clients' progress. Professional communications help you build a respected coaching practice and a positive reputation.
Preview Resources
Client Email Communication Table of Contents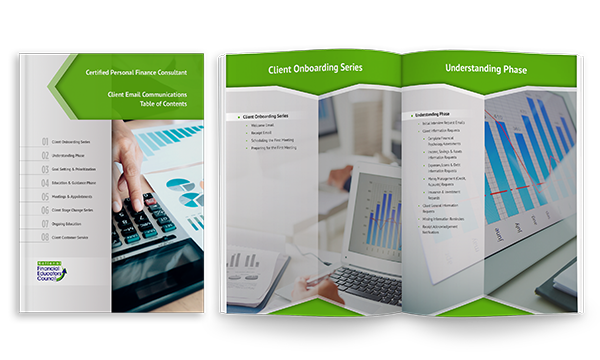 Preview of Interview Script