Finding Financial Literacy Curriculum for High School Students
Looking around online in an effort to find useful and engaging educational content can be a daunting experience. If you're a professional on the hunt for a financial literacy curriculum for high school students, you've come to know how especially difficult it is. You can end that stressful hunt now, because the NFEC has a solution for you. Our dedicated team has artfully crafted a top-to-bottom guide, designed to help anybody take advantage of top-quality educational material related to this very topic.
Backed by several years of success in this field, the NFEC offers financial literacy curriculum for high school students to individuals and organizations around the world. Our solution enables our partners leverage high-quality teaching resources that can be shaped for any audience – regardless of their socioeconomic standing or age.
The materials we've designed are both engaging and rigorous, while simultaneously providing our participants with a fun knowledge-gaining journey.
1. A Successful Financial Literacy Curriculum for High School Students
How has our solution worked in real professional situations? Now let's do an in-depth examination of a real-world scenario in which a professional successfully used our financial literacy curriculum for high school students:
Doris is a small-town high school guidance counselor, and she is currently responsible for 68 high school seniors that she meets with regularly. Being so dedicated to these students, she felt it was her duty to help them prepare for the challenges of personal money management that lie ahead of them, so he hoped to plan a financial literacy curriculum for high school students that would benefit them when the time comes. She was only a counselor, though, so she was left feeling unsure how to approach this type of educating – which is how she decided to find some help in this area.
During their regularly-scheduled meetings, she did a casual survey with each of the students, and came to realize that most of them didn't possess any knowledge when it came to basic financial literacy concepts. It was in that instance that she understood the best material for teaching financial literacy to these high school students needed to be geared toward total beginners in the subject.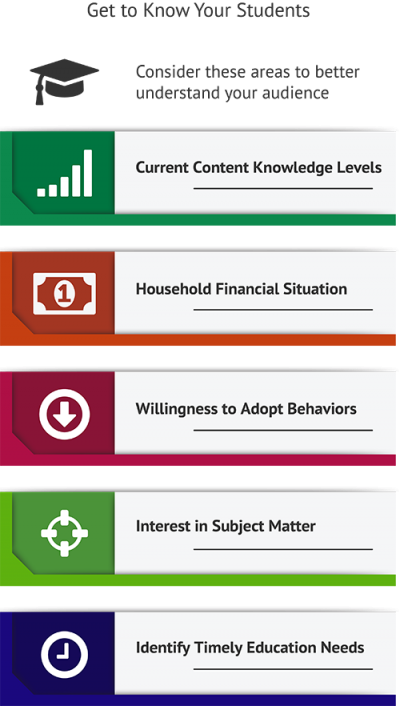 2. Positioning Financial Literacy Curriculum for High School Students
Doris, at this point in time, already knew one thing for sure: this group of students was inexperienced in personal finance.  One cause of this is no financial literacy courses were taught in high school. Her initial idea for this free financial literacy curriculum high school experience was to help these students quickly get acquainted with core concepts of personal finance, perhaps through recommending a structured course. The goal for the long run was to help these students obtain a well-rounded education on key ideas before the end of the year. She knew that, for the time being, focusing on only core concepts would be the best tactic.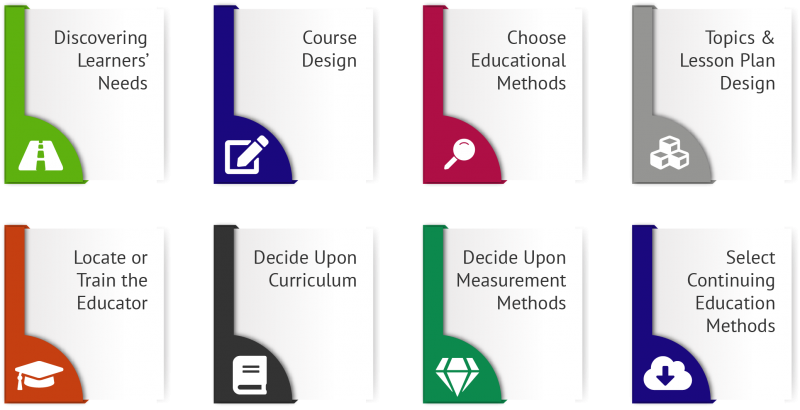 3. Designing a Financial Literacy Curriculum for High School
Up to that point, Doris already had a solid idea of what she hoped to achieve in both the short run and the long run. The following action would have to be to plan: how fast should the program be? What about the general format? Ideally, she would be able to find a course that's split up into easily digestible pieces. This caused her to decide on a type of self-paced financial literacy curriculum for high school students.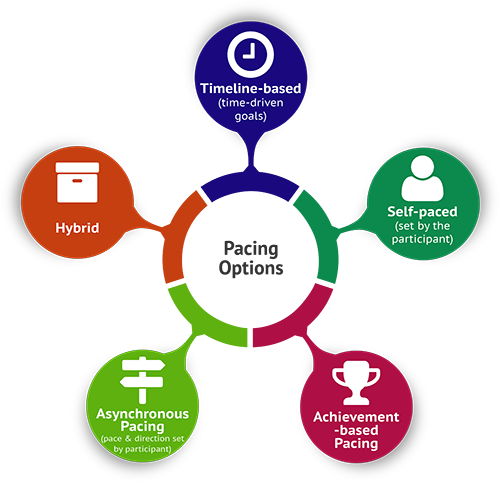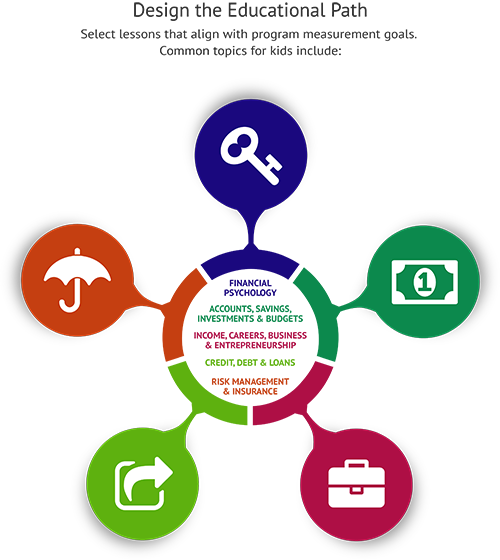 4. Free Financial Literacy Curriculum High School Focus
Doris suddenly realized that her idea was still a bit too broad, particularly since she wanted to simply focus on kicking things off. She had to whittle down the main focus of the first financial literacy curriculum for high school, so she made it center on budgeting, credit and helping students understand the cost of living on their own.
5. Getting the Timing Right
The ideal course for this particular group of students would need to successfully communicate this vital information, and still be able to work around each student's individual schedule. It clearly wouldn't be a viable option to get everyone together in the same space at the same time, so she ended up deciding on a
online financial literacy program called eVolve
to provide the main education.  The program was designed to have students do the training themselves at home and have discussions in the class – a flipped programming model.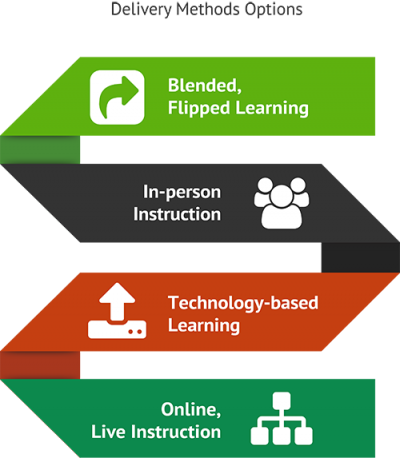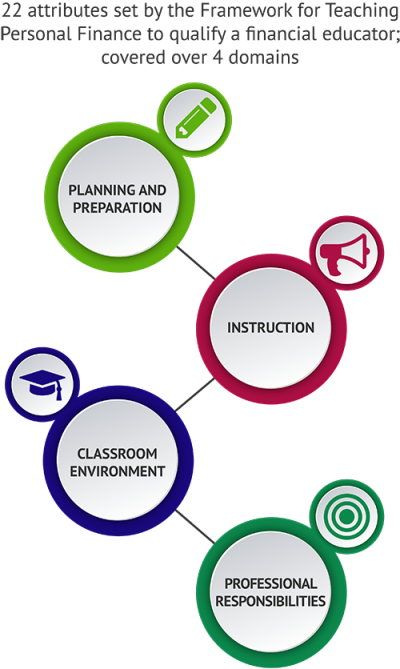 6. The Importance of Fun
Doris absolutely had the confidence to teach this group directly by herself, but that wouldn't have been the ideal path if she genuinely wanted to reach her goals. What she needed was a little help – someone who was skilled in delivering a financial literacy curriculum for high school students in a fun, engaging manner. Thankfully, she managed to get in touch with a local business person who was teaching financial literacy in local schools and was a well-respected financial service professional with an expertise.
7. Understanding the Outcome
The group was comprised of 68 students, with 64 finishing the whole course for a total success rate of 94%. Once the free financial literacy curriculum high school experience had ended, the participants who managed to complete it filled out a survey, and 100% that specific group indicated that their knowledge on the topic of personal finance had been augmented "significantly" thanks to the financial literacy curriculum for high school. Once everything had been said and done, Doris constructed an in-depth report that underscored the results of the program so she could illustrate how much of a success it was.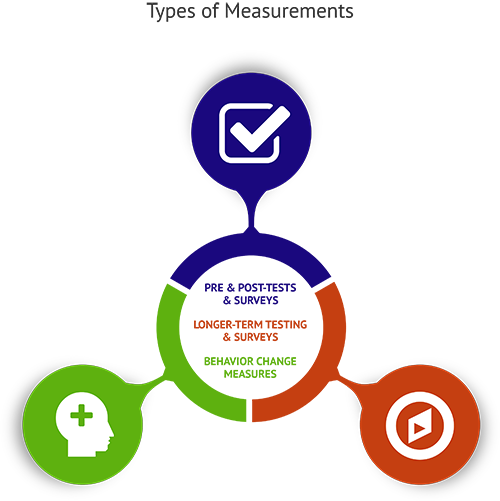 8. Following Up
Doris already knew that all the progress the students made so far would be at risk if they didn't have access to ongoing support, which would enable them to apply what they learned in their own lives. As the financial literacy curriculum for high school students ended this time, she felt it would be smart to write out some personalized messages via email to the participating students – congratulating them and trying to motivate everyone to keep up their financial learning process.
Nonetheless, she really wanted to enable them keep growing their newfound knowledge. To continue her efforts to help, Doris opted to provide them with ongoing courses – if they were interested – that would be closely modeled after the first financial literacy curriculum for high school.
Financial Literacy Curriculum – High School
The National Financial Educators Council's financial literacy curriculum is not only engaging and fun; it motivates participants to take positive action. Designed around core education standards, the curriculum uses practical, hands-on learning so students reap the benefits of improved financial capabilities.
Today's youth want to learn about money. But unfortunately, most financial education curriculum is boring, outdated, and substandard of current educational benchmarks. These materials tend to turn students off from learning and leave educators frustrated. Given that you must teach financial literacy in a limited time frame, you want to choose lesson plans that will have lasting impact on the lives of your students.
The NFEC's youth financial literacy curriculum is enjoyable for teachers and students while meeting core educational standards. Created through collaboration between financial professionals, educators, and financial education experts, the NFEC's financial capability curriculum delivers practical lessons that our youth can use in the real world.
Details
The NFEC's high school curriculum meets educational standards (aligned with Common Core) while offering practical tools to help youth prepare for the financial real world. NFEC programs employ innovations that create an experiential learning experience to which students can readily relate.
During high school it is critical that students receive a comprehensive financial education to help prepare them for the financial realities they'll face as they gain independence. The NFEC's curriculum package is designed to prepare them for the real world. The complete course covers all aspects of their personal finances – from how to rent a place, to college loans, to setting up accounts, to investment education – comprehensive material that teaches them the skills they need to make positive financial decisions.
Financial Literacy Curriculum High School Package

Over 90 Student Activities
Student Guide Reprint License
The high school-level financial literacy curriculum delivers the financial knowledge they need to successfully live on their own: how to purchase a car, rent a place, college loans, credit, debt, budgeting and other core basic topics. This comprehensive coursework also includes advanced retirement planning topics where the students compare investment options, assess their personal risk tolerance, and create a long-term personal financial plan.

67 classroom hours across 73 lessons
Over 10 specialty workshops are also included: Living on Your Own, Paying for College, Car Buying Workshop, Career Planning, Investing 101, Entrepreneurship Workshop, Building Your Financial Foundation and more.
Over 90 engaging activities and educational games
Outside-of-class study material
Testing, surveys, and long-term assessments
Instructors resources – Teachers guide, PPT, Multimedia tools
Print on Demand Center with 100 Student Guide reprints
Real Money Experience: Project-based Learning Package
The RMX Project-based Learning Package is student-led where the instructor acts as a facilitator. Graduates of this program will have a full financial game plan to successfully move out on their own. They have research places to rent, select insurance that fits their needs, establish accounts, reviewed their credit, decided on an educational budget and have a clear plan to being an independent adult.
12 hour student-led program in which participants develop a
personal financial plan for living on their own
Over 17 real-world activities
Hands on experiential learning
Project-based testing, surveys and long-term assessments
Multimedia tools
Print on Demand Center with 100 Student Guide reprints
Now included with the High School Curriculum Package

Article – Financial Literacy Curriculum: High School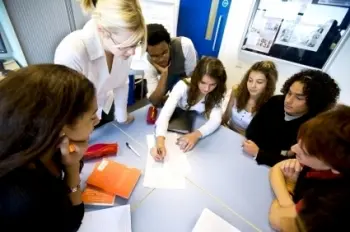 The financial problems being experienced by more than half of all adults today often stem from a few youthful mistakes that snowballed over time. Combine these youthful errors with the fact that most adults never receive a financial education, and you have many people suffering the consequences of financial illiteracy. Financial problems can be avoided when people are taught the NFEC financial literacy curriculum in high school—or at any point in their lives.
During high school, students form important financial habits. College-bound students must make big decisions about their financial futures. Yet the vast majority will never receive a practical financial education, nor even have a talk with their parents about money. This lack of personal finance education has long-lasting and far-reaching impact on the lives of the students as they mature into adulthood.
Young people who do receive personal finance education in high school report feeling more confident in their ability to make better financial decisions. Students are excited to learn the basic lessons that are included in top financial education curriculum, and the coursework is easier to understand than most secondary education classes. Reports show that today's youth want to learn about money and understand the impact of financial decisions on their lives.
The NFEC encourages parents, educators, and concerned citizens to teach the next generation about money. Such education can improve all areas of their lives and give them a head start that many of us wish we had been given when we were growing up. Share the NFEC's Financial Literacy Curriculum High School Edition with your students to empower them with the skills, knowledge, and confidence to make sound financial decisions for a positive future.
The Benefits of Financial Literacy Curriculum for High School Students
In America today, young people need to make themselves competitive and sellable to the job market. They need to learn as much as they can during this time of financial unrest. There are ways they can do just that and one is just to stay in school. There are benefits to learning as much financial literacy high school students curriculum as one can to help the student become a success upon graduation.
This program offers them quite a few components that will enable them to enter into the real world and be a success. Is not that what it is all about. Increase self esteem, be a team player and be productive for the future employer.
The NFECs financial literacy lesson plans provide participants a motivation to learn. It will get the student excited about learning. They will want to be a success. The curriculum is challenging and will help them grow into adults that are ready for the job force. It will teach them how to plan for their personal goals and add financial security into that. There is nothing wrong with that.
This company utilizes testing to help the student comprehend what is being taught. They are not just drilled though. Comprehensive of the topics is the key. They want the student to actually learn the key principles and be able to use those principles in their everyday life. This plan has been proven successful.
This provider helps students get the full picture. It will teach and test by giving pre- and post- tests to ensure each concept is grasped. There is help along the way in any trouble spot. The support is definitely there.
Financial literacy curriculum is one area that desperately needs to be expanded in the United States. Teens get out of high school without a clue to their future with regards to their finances. They do not know the basics and this is evident through the results of high school financial literacy tests. This curriculum teaches just that and provides the support that will make them successful in the future.
[/fusion_toggle] [/fusion_accordion]
Share This Article