Financial Literacy Advocacy
The NFEC team is made up of passionate advocates who find ways to effectively promote financial wellness.  Our financial literacy advocacy campaigns successfully raise mainstream awareness, recognize financial education advocates, and promote financial literacy.
NFEC's CEO, Vince Shorb states, "Financial illiteracy contributes to a wide range of problems people face today – those championing the movement to encourage financial wellness are needed advocates in their community."
We commend you for your desire to promote financial literacy and invite you to become an active participant to further our shared cause. Thanks to the efforts of supporters like you, we will positively affect the lives of the people we reach with this message.
Advocacy Center

Step-by-Step Financial Literacy Advocacy in Your Community
The NFEC's Advocacy Center provides monthly advocacy tools, tips, and resources to help you promote financial wellness in your community and make a positive impact in your fellow citizens' lives.
The financial literacy movement is at a tipping point. Every action you take counts. You are invited to take regular action to provide education, raise awareness, or help ensure the sustainability of financial education programming. To support your efforts, we provide you with material and guidance that walk you step-by-step through the process of becoming an effective advocate.
Public Service Announcements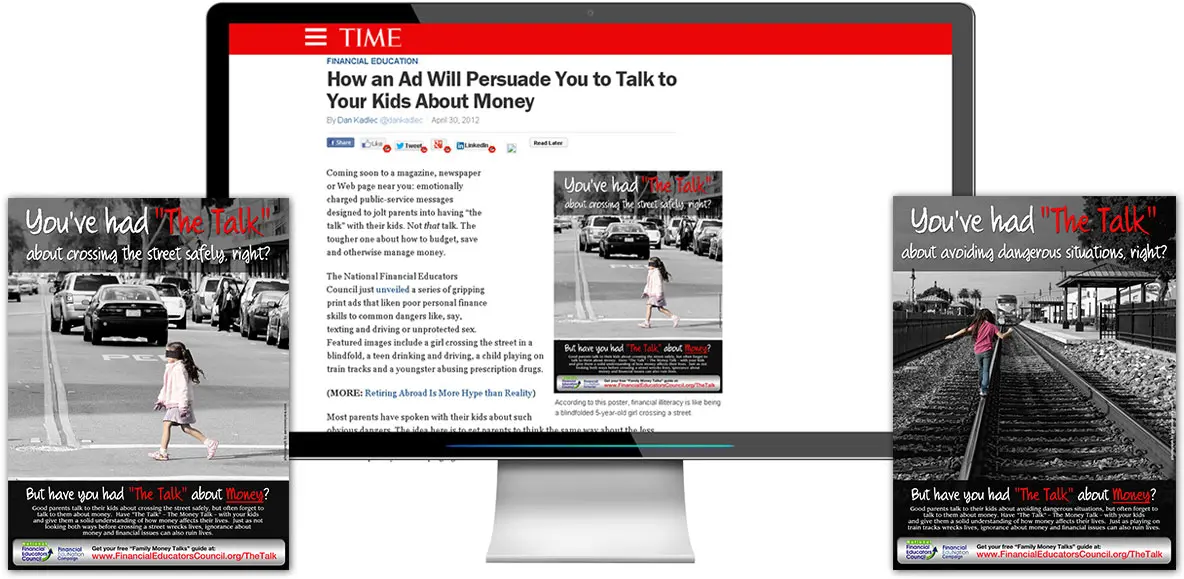 Featured PSAs
The NFEC is committed to raising mainstream awareness about the importance of financial literacy.  Public Service Announcements help us garner media coverage and give our stakeholders discounted media buys.
"The Talk" Financial Literacy PSA campaign is designed to elicit an emotional response that encourages parents to talk with their kids about money. The campaign goal is to inspire them to have "The Talk" with their kids, sharing money skills that can help young people avoid financial stress and worry and achieve financial security. This campaign was featured in TIME.
The NFEC also writes and produces PSAs for various stakeholders:
Petitions & Legislative Efforts

Financial Education Legislation & Petitions
The NFEC continues to expand its efforts to promote legislation that increases access to financial literacy education.  We conduct this advocacy by mobilizing supporters and contributing to legislation that encourages financial wellness.
In 2013, the NFEC teamed up with Sharon Lecture to support the passage of Arizona SB1449 – a bill that requires financial literacy concepts to be permanently incorporated into economics standards and creates a separate statute for those concepts.
Currently the NFEC has drafted legislation called the College Student Protection and Financial Education Act to enlist politicians in the effort to proactively address the national college debt crisis. This legislation proposes a preventive model similar to the Bankruptcy Abuse Prevention and Consumer Protection Act of 2005, which requires people to receive budget counseling before they can file bankruptcy and financial education after they file.
Share This Article