Ben Joergens 2017 Financial Education Instructor of the Year
Each year the National Financial Educators Council honors an outstanding financial educator by presenting him or her with the coveted Financial Education Instructor of the Year Award. The 2017 recipient is Ben Joergens, whose commitment and contributions to bringing financial education to the at-risk and underserved, all conducted in a strong spirit of partnership and collaboration, make him a strong match for the NFEC's award criteria.
The NFEC Financial Education Instructor of the Year award is set aside to recognize a single individual who has made markedly significant contributions to promoting financial wellness over the previous year. The NFEC contends that educators are the single most important influence on participant success; that's why the council created this award to recognize distinguished financial education instructors for their contributions.
Ben was selected for this award because of his experience, serving as Financial Empowerment Director, VP, at Old National Bank in Evansville, IN since 2013, in providing financial education to at-risk community members – including struggling teens, parents, and the incarcerated. For example, he was instrumental in leveraging ONB's partnership with Ivy Tech College in Evansville to build mentoring relationships with students struggling financially or who needed guidance. Ben and the ONB leadership team also partnered with Junior Achievement of Southwest Indiana to sponsor the Dollars Make Sense campaign, which taught parents how to leverage everyday teachable moments to help their kids understand money management. Ben is also an outstanding partner with the YMCA of Southwestern Indiana.
Derrick Stewart from the YMCA of Southwestern Indiana states, "Ben is an individual who has the spirit of a servant. He views financial education as a way that he can minister to the needs of people, and he is always seeking to find more effective ways to educate and empower those most at-risk and in need of financial guidance. He approaches this difficult topic with a sense of humility and compassion that is genuine and gives him immediate credibility with his audience. When he instructs and teaches, members of his audience can sense his passion and see that he cares about them and their well-being. This is what makes him such an effective financial educator."
Perhaps Ben's most impressive financial education achievement to date has been spearheading the innovative "12 Steps to Financial Success," a program that teaches participants 12 steps they can take to change their lives for the better and achieve financial success. Ben has taught the program to hundreds of female inmates at the Henderson Detention Center who have been incarcerated for substance-abuse crimes, and it has been expanded to reach both males and females at a rehabilitation center in Evansville, IN. This program not only empowers participants with financial knowledge, but also encourages them to empower others in their lives after they have left the detention center. Ben and ONB have worked with various partners to expand the program to other communities, and plans are in place to bring it to Daviess County, KY and to the State of Michigan.
On the strength of Old National's 12 Steps to Financial Success program, Ben was named the 2015 ABA George Bailey Distinguished Service Award winner. The George Bailey Distinguished Service Award, sponsored by the ABA Foundation, is given to one non-CEO bank employee each year who demonstrates outstanding initiative, commitment to the bank's customers and the communities they serve and inspires others. The ABA Foundation honors six banks annually for their commitment to their communities. "Ben Joergens has provided financial education to an at-risk and often neglected segment of his community," said Frank Keating, former ABA president and CEO. "His work embodies the mission of the George Bailey Service Award and the recognition is incredibly well-deserved."
Recognizing a critical need to increase awareness and focus on financial empowerment and literacy in all communities served by Old National Bank (Old National), the company's President and CEO Bob Jones asked Ben to assume the role of Old National's Financial Empowerment Director, VP, in 2013. Ben was the ideal fit for this newly created position based on his passion for financial literacy and empowerment, which is evidenced by his long record of philanthropic involvement and leadership with organizations focused on financial empowerment initiatives. This strong commitment led to Ben being named Old National's Volunteer of the Year in 2011.
"This award is a welcome and tremendously humbling validation of Old National's commitment to providing financial education and financial literacy resources in the communities we serve," said Bob Jones, Old National president and CEO. "Ben Joergens's passion for helping others is what truly drives our approach to financial education and we are thrilled that he, and Old National, were recognized with this prestigious honor."
Most recently, Ben has worked with Old National's internal Risk and Fraud teams to create a program called Money $afety for Seniors. This program helps keep seniors safe from fraud and financial exploitation. Ben has helped identify over 40 associates to conduct this workshop throughout the bank's entire footprint. Since launching this program in late 2016, over 500 seniors have been educated on how to avoid financial exploitation.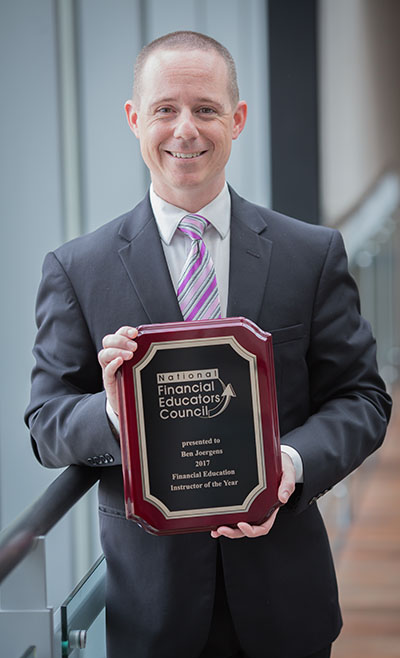 Ben Joergens has served over 14,000 individuals through ONB's Financial Empowerment Program.
Additional Praise
"Ben Joergens exemplifies the stellar characteristics represented by the Financial Education Instructor of the Year award. He has been helping people improve their financial capabilities and has made unique contributions in expanding access to financial literacy programming to underserved populations," states Vince Shorb, CEO of the NFEC. "Ben's innovations, advocacy, and commitment to helping others are an inspiration to all of us in the financial education space."
Paige Robinson, CTE and Business Education Teacher at the Academy for Innovative Studies, describes Ben as a one-of-a-kind guy who strives to help everyone he comes across. "My students look forward to days that Ben is in our room because he has a way that connects what he is wanting them to know to their real-life experiences," she said. "Each one of my students writes up a summary from their experience in my class every year, and I have yet to have a student in the last three years not mention Ben and his impact in their lives."
Linda Wulf, Associate Director of the University of Evansville's Center for Career Development, says multiple audiences look forward to Ben's Financial Empowerment presentations. She said: "We continue to ask him back each year to present his topic to a new group each spring. His audience consists of juniors, seniors, mentors, and the campus community. There are always questions for him afterwards so the interest is definitely there. He covers a very important aspect of life, one of which our students may or may not be well-informed. He represents ONB to the community as an approachable, knowledgeable, and friendly professional. We'll see him again next spring!"
Sheri Cox, director of the Hope Hall Treatment Center in Evansville, noted that Ben is dedicated to bringing financial education to all people. "He has especially touched our work release facility. These residents are returning to the community with better skills than before their incarceration. With Ben's development of this Financial Literacy class, he has broken through many barriers for our residents that would have never had an opportunity at financial recovery/success."