Financial Literacy Test & Survey Center
The NFEC's Financial Literacy Test Center provides complimentary tests and testing results. Organizations and individuals are welcome to use this online evaluation material for pre-and post-testing, self-assessment, and/or to gain a better understanding about various financial literacy topics. The Center was developed with three objectives: providing resources for financial educators, offering tools for people interested in improving their financial knowledge, and giving the media up-to-date information about the current state of financial education. The data gathered using these resources will be used to help adapt NFEC programs to accommodate different learner needs.
The NFEC's financial literacy test results have been featured in Huffington Post, The Hill, Yahoo Finance, Business Insider, MarketWatch, Forbes, CNBC and many major media outlets. More than 50,000 people from all 50 states participated in our financial literacy test and surveys.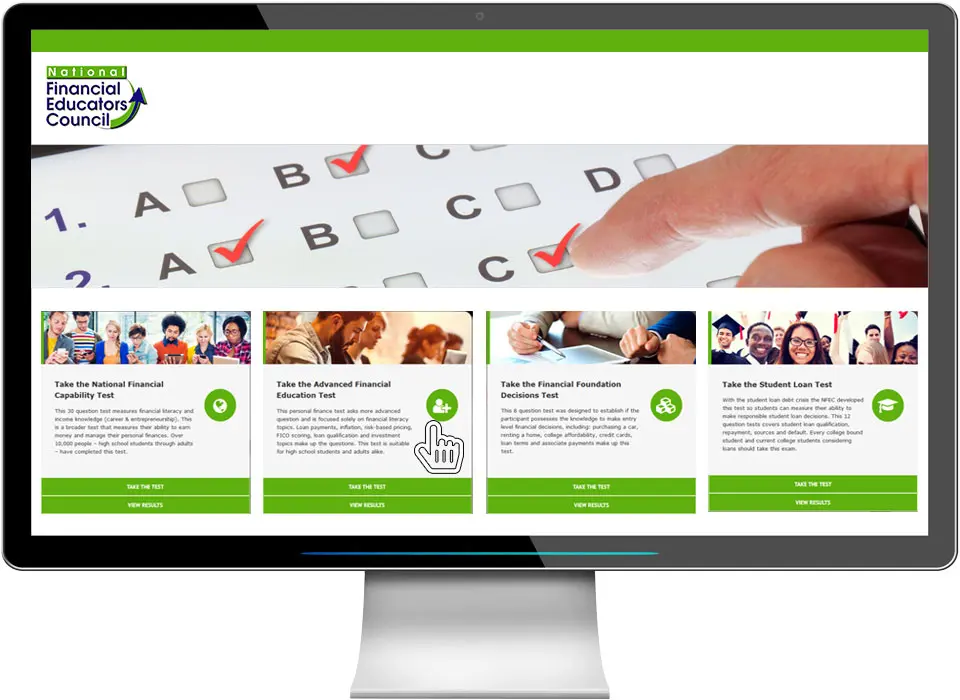 Select & Take the Test
Select Test to Participate In – All Complimentary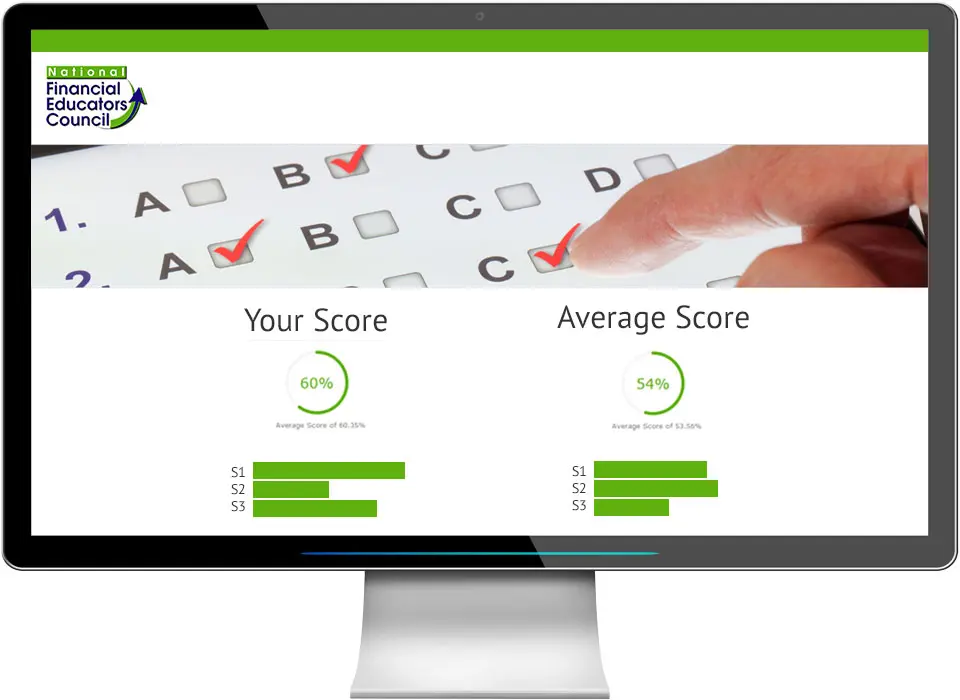 Receive Results
Receive Immediate Results & Compare with Others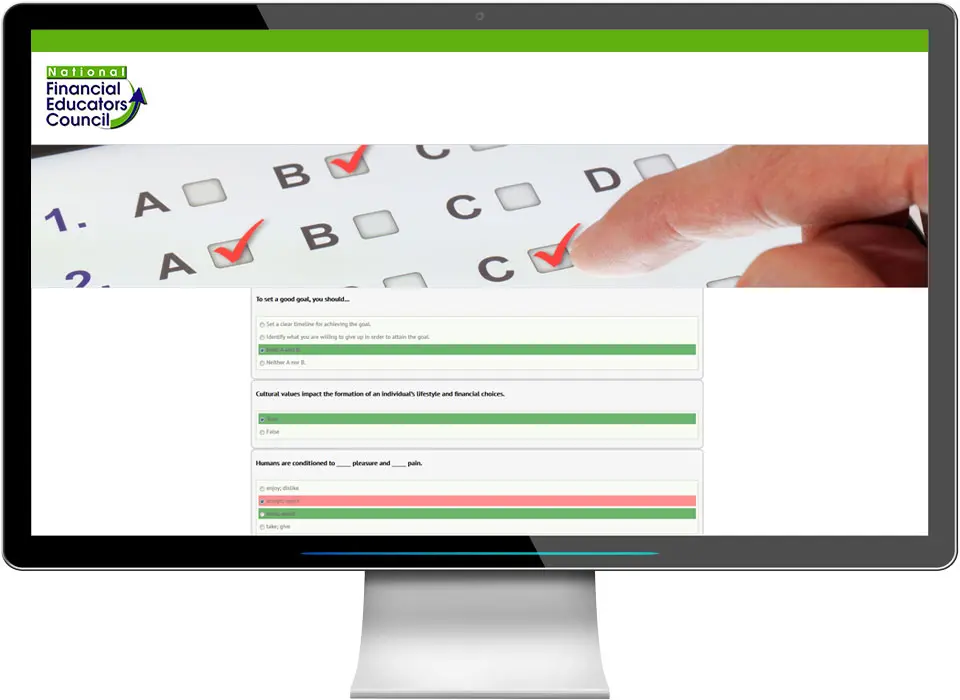 View & Learn
View the Questions, Correct Answers & Learn
Educators & Course Facilitators:
Each student will receive results to them after they complete the test. To receive student results have them forward you their email.
Select Your Test




*Tests and surveys provided may be used only on the NFEC website. Printing the tests or surveys is prohibited. Commercial use, sale, or any other use that violates the terms and conditions and copyright is prohibited. Read complete terms and conditions of use.
Average Score Segmented by Ages to Date
Over 53,000 people from all 50 states have completed the National Financial Literacy Test – a 30 question test designed to measures participants' ability to earn, save and grow their money. The test questions cover the ten subjects covered in the Financial Literacy Framework & Standards and were written to measure 3 key areas: motivation to learn, subject knowledge and recognition of the first step. Although the national financial literacy test was specifically designed for 15 to 18 year olds, people of all ages have taken part in this assessment. See how they did below:
Average Score Segmented by All Participating Ages to Date

Featured Testing Report:
Segmentation by Questions – All Respondents
The NFECs financial education test measures each of the ten areas covered within the financial literacy standards These topics include: Financial Psychology, Credit & Debt, Accounts & Budgeting, Skill Growth, Income, Business Relations, Long-Term Planning, Risk Management, Investments and Social Enterprise.
The NFECs National Financial Literacy Test measures each of the aforementioned subjects and breaks the test down into three distinct areas that impact ones financial capability.
Motivation to Learn Results
(10 Questions)
Average Score
Sample Question & Results:
How can understanding risk management topics help me in everyday life?
Percent Answered Correctly:
60%
Subject Knowledge Results
(10 Questions)
Average Score
Sample Question & Results:
From the following list, choose the two best suggestions for building and maintaining a good credit rating.
Percent Answered Correctly:
85%
Recognition of First Step Results
(10 Questions)
Average Score
Sample Question & Results:
How do I begin the process of creating a long-term financial plan?
Percent Answered Correctly:
80%
The NFEC recognizes the importance of measuring all these elements that go into developing a successful financial literacy campaign. With these three areas of measurement, a comprehensive financial education initiative can be designed which will maximize the results of the participants.
Conducting financial literacy tests can help your organization evaluate your financial education program, the instructors and can directly impact you're funding. Administering testing before and after your financial literacy program is an important part in developing a sustainable campaign.
The NFEC includes quizzes and test with their entire financial literacy curriculum (free lesson plans) and events. In addition, the NFEC offers customized financial literacy testing, measurement and long-term studies that measure the change in behavior.
With comprehensive pre and post testing your organization stands a better chance of receiving financial literacy funding. This may help your organization sustain your programs and reach more people with the training.
Gathering quantitative data can measure the students understanding and the overall effectiveness of your financial education program. Learn more about the National Financial Educator Councils' tests that are included in our curriculum and financial literacy programs.
To learn more about the National Financial Educators Councils' financial literacy tests complete the form located on the contact us or the solution center page to learn more.
Financial Literacy Test Tips
Erin Mitchel, National Financial Educators Council Contributing Writer
As most of us are aware, money management skills are important for children to develop at a young age.
The effectiveness of this curriculum should be an ongoing process of education, implementation and monitoring how much participants retain by offering a series of financial literacy tests and financial literacy quizzes.
Hands on testing of practical matters can provide a student the experiential learning experience of the material they studied and will directly impact their short and long-term goals. The written section of within a financial literacy test helps them to identify the areas where more study is required.
Professional finance speakers understand effective administration of a financial literacy test it is important to conduct a pretest first. This will give you a base line of the student's knowledge. If the delivery of the financial literacy curriculum and test is home be sure not to lead your student into answers during the pre and post test. Let them do the work on their own to get the most reliable data.
After the students have received some type of high school financial literacy curriculum the next step is to administer the post test. Ensure the post financial literacy test covers the material they learned and be sure not to skip portions of the financial literacy lesson plan that may be on the financial education test.
Financial literacy tests can include a wide variety of topics like: how to pick a career, comparing the pay between job offers, how to pay your bills on time, budgeting for living expenses, how to start saving for short term goals, comparing credit card offers, and a variety of other subjects. Be careful to choose financial education tests that align with the subjects you are teaching.
National Financial Educator's Council (the NFEC) Real Money Experience (RMX) is a prime example of the practical teaching method that works with kids and has excellent results on post financial literacy test. The students visit twelve different stations, meet with financial literacy speakers and make life decisions that will impact them when they move away from home.
The experiential learning experience the students receive when they enter the RMX event will provide them hands on experience so the information is retained; thereby improving the results of the post financial literacy test.
The Real Money Experience event has students choosing a career and making education choices that affect their income. They decide on clothing and transportation options that fit their career while the financial literacy test is if their choices will fit into their budget.
Participants of this financial education event quickly become aware of the ongoing expense of each decision. The expenses can be as simple as insurance, dry cleaning or utility costs, for example. The volunteers help participants set up a saving plan that matches their future lifestyle goals, create a budget, make credit and investment decisions and this interaction acts as a financial literacy quiz as students enter each booth.
The end of the financial literacy class is capped with a practical financial literacy test based on the lessons they learned.
Establish clear, quantifiable goals for your financial literacy program. Then develop financial literacy testing that measures your specific objectives. Organizations commonly use generic pre- and post-testing instruments that may fail to accurately measure the results of their specific programs. As an example of good measurement, view the survey and testing results from a recent half-day financial literacy program with the Simon Family Foundation.
Click below to view the report:
Final Report – Simon Family Foundation 2012
The National Financial Educators Council (NFEC) was honored to serve the Simon Family Foundations' annual Summer Conference. The NFEC commends their efforts to provide their 'Scholar' mentoring, support and training that will help them in college and beyond.
The generous scholarships offered to each Simon Scholar is commendable and contributes to maintaining a 90% success rate of students active in the program or graduated from college. The NFEC believes through these various programs they will enter college with enhanced self-confidence and self-esteem which helps them earn their degree and maximize the college experience.
2011 Summer Conference – Real Money Experience Money Management Workshop
The Simon Family Foundation hosts several events throughout the year to facilitate interaction between the students and provide them intensive, yet fun, training sessions. The main event held eanoch year is the Summer Conference .
The 2011 Summer Conference was hosted at Chapman University and had over 120 current Scholars and alumni participating in this three-day money management workshop. Students participated in a variety of activities designed to prepare them for the 'real world'.
One of the many highlights of this conference was the National Financial Educators Councils' hands on money management workshop, the Real Money Experience. Simon Scholars visited twelve separate booths and made life decisions that will impact them when they move away from home.
According to research conducted in 2012-13 by the National Financial Educators Council (NFEC), an overwhelming majority (96%) of U.S. adults who completed an online survey said they believed college students should be required to take a financial education course before entering into student loan debt. At the same time, the NFEC also conducted a financial literacy test with more than 1,300 American youth aged 15-18; the results of that study indicated that less than one-third of teens were able to score at the 70th percentile or better.
The NFEC is the go-to source in the industry for evidence-based surveys and tools to assess financial knowledge and measure the success of financial education campaigns. A for-profit financial education council with a social enterprise business model, the NFEC created its financial literacy assessment test to help illuminate key money management topics around which the country's young people need to improve their skill sets. Whether or not to take on student loan debt represents one of the essential decisions facing teens today as they prepare for college. Teaching money management skills may be the single best way to help young adults get ready to become successful, productive members of society.
Between January 2012 and August 2013, youth across America were invited to complete a web-based financial knowledge test that measured respondents' current levels of understanding about key personal finance concepts. The purpose of the study was to quantify the financial capabilities of teens and young adults and to illuminate the topic areas where young people may need more education. Among the 1,309 young people (aged 15-18) who completed the test, 952 (72.7%) were unable to answer 70% correctly. The average score across the sample was 58%.
In a separate study conducted near the same time frame, the NFEC surveyed 452 U.S. adults regarding their opinions about important financial literacy topics. In addition to finding that most adults support financial education before entering into a student loan, this analysis discovered that 93% of respondents believed the fact that students do not understand the consequences of student loans was a "very big" or a "big" problem. These findings point to a serious need for financial education programs aimed at college students. The NFEC has answered this call by designing state-of-the-art college financial literacy curriculum packages.
Taking a personal financial literacy test will highlight the strengths and weaknesses in your financial knowledge. Choose to test yourself on any aspect of personal finance. We send the results via email, so you can review your answers while the material is still fresh in your mind. You can then focus on your weaknesses and build up your arsenal of financial knowledge. Who knows what that will be worth in the coming years.
Financial literacy is more than book knowledge
Yes, it important to track book knowledge, but it's not the only aspect of money management that a personal financial literacy test should measure. Not addressing any one of these angles causes a possible point of implosion for your entire financial education program. Unconscious ill feelings toward money will probably lead to detrimental, self-destructive behavior with money. Exposing either of these warning signs of failure is critical to success.
Who should use a financial literacy test?  Financial educators, financial coaches and financial service professionals should all know the competencies of their participants.
We also track and measure students' ability to incorporate what they've learned into their own lives. Students create and (ideally) implement their own financial systems. Ultimate success can be seen only in a student's personal financial situation before and after the course.
Stay aligned with the student's needs by measuring depth of knowledge
When students don't progress at the rate intended by the course, they get frustrated and stop learning. It usually shows a disconnect between how the information is being presented and the students. In other words, the students might not be able to relate to the information, how it's being presented or who is presenting the material. It takes more than knowing the financial literacy definition – it takes molding positive behaviors.
To make sure the students are progressing in harmony with the course presentation, we measure the depth of understanding throughout the course. Based on Webb's Depth of Knowledge and Bloom's Taxonomy of Thinking Skills, we design our personal financial literacy tests to gauge the students' level of understanding and make sure it is aligned with the course timeline progression. This is far more involved than just reading a personal financial literacy test pdf.