Online Personal Finance Education Program
Most 'online personal finance programs' on the market today are just videos and articles put on a website – they are not eLearning.
The NFEC's eLearning education platform leverages best practices in online personal finance education. Educational-grade content and vivid design create a unique learning experience where participants take action toward building a sound financial foundation.
The online personal finance lessons are interactive, practical, and fun, yet also meet core educational standards. Learners participate in an engaging, interactive learning platform designed to improve their financial capabilities.
eVolve's flexible design accommodates a variety of schedules and learning outcomes, and provides blended learning options. Organizations have used the platform to conduct workshops of various lengths, after-school programs, weekend seminars, camps, in-class training, lunch-and-learns, for-credit college classes, year-long courses, and various other formats.
eVolve features a robust eLearning platform and Learning Management System designed around evidence-based best practices for online learning. The flexible platform can accommodate asynchronous and synchronous activities while providing learner options to maximize their assimilation and implementation of the materials presented. Features include: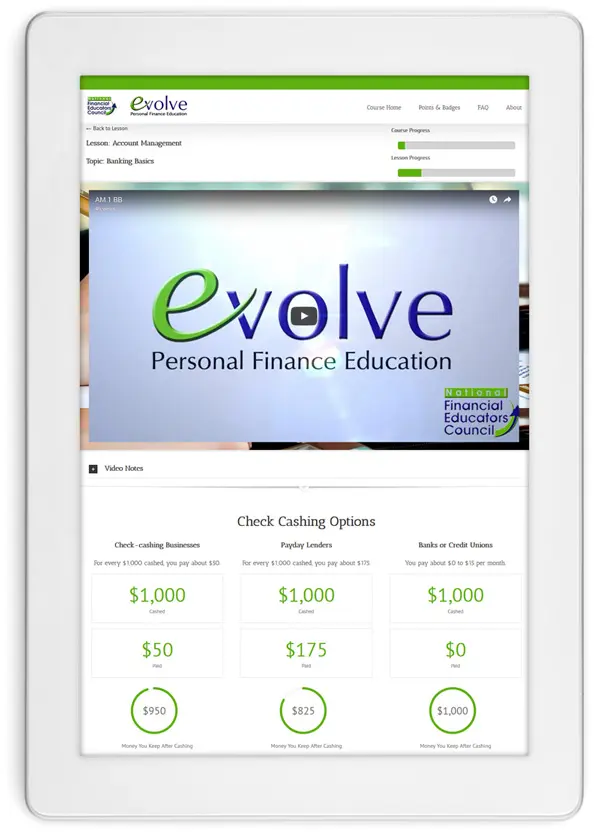 Designed Around Research-based Educational Methodologies & Standards

Because every person has different financial habits, emotional connections with money, and current financial realities – we as financial educators need to consider more than just content knowledge when developing a program. High-quality financial literacy curriculum also must include a focus on individuals' behaviors, establishment of systems, and sentiments; and help them work toward positive outcomes.
National Financial Literacy Framework & Standards

The overall purpose of these learner standards is to improve the quality and enhance the impact of financial literacy instruction. The NFEC teamed up with Dr. Heidi Jacob's Curriculum 21 consultants to develop these learner guidelines, which provide an educational framework and content standards designed to encourage the highest level of participant achievement. To achieve these goals the NFEC's resources are built around research-based instructional methodologies, including:
To achieve these goals the NFEC's resources are built around research-based instructional methodologies, including:
Backwards planning to ensure that lessons and activities build to support learner progress toward pre-defined outcomes;

Active learning techniques, including visual, social, self-regulated, and project-based learning;

Audience adaptation to enable instructors to scaffold and adjust activities to support learners of all different motivations, knowledge levels, and learning styles;

Engagement with the affective dimension of learning and motivation in general, and of changing financial behaviors more specifically;

Recommendations for system development and long-term follow-up and support to encourage permanent change.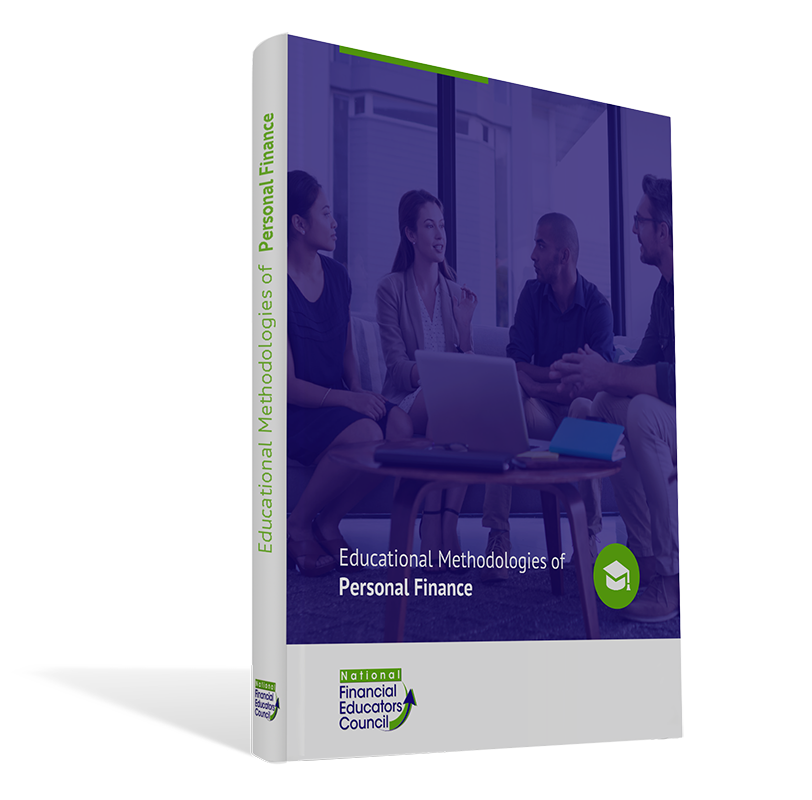 Because every person has different financial habits, emotional connections with money, and current financial realities – we as financial educators must select lesson plans that best meet our students' needs. Download the guide to learn about the topics covered and life stage lessons.
Age Groups: High School & College, Adults

Length: Flexible – Up to 120 hours of training if activities completed.

All Levels: Include Activities for Beginner, Intermediate, & Advanced

10 Core Personal Finance Topics Covered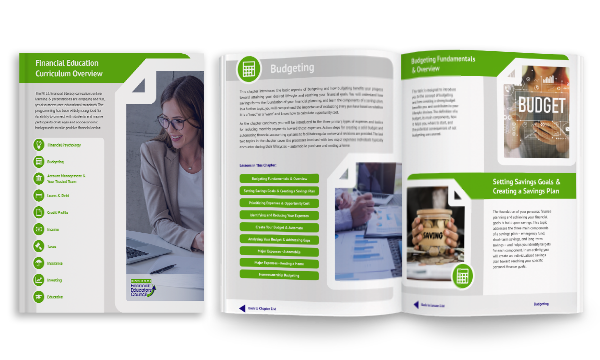 More Than Education: Participants Take Action on their Personal Finances
eVolve does more than just educate – students complete activities that build their financial foundations. From creating a budget and retirement plan to checking their credit and creating loan repayment plans, the course walks them through lessons much-needed in life.
The project-based learning activities help participants address life situations they'll encounter in the real world. Participants come away with a personalized financial plan and educational reminders to which they can refer back throughout their lives.
Besides inspiring learners to take action toward building sound financial foundations – the coursework has them taking actual steps to get them off to a positive start.
Multimethod Education at Key Touchpoints
In addition to eLearning resources, the NFEC provides additional materials that can connect with learners at different touchpoints. This comprehensive package allows you to diversify your class and makes it easy to conduct blended learning or flipped learning models.
eVolve Personal Finance Options
The NFEC's proprietary eLearning platform presents an authentic, dynamic learning process. The platform's engaging content and vivid design creates a unique user experience.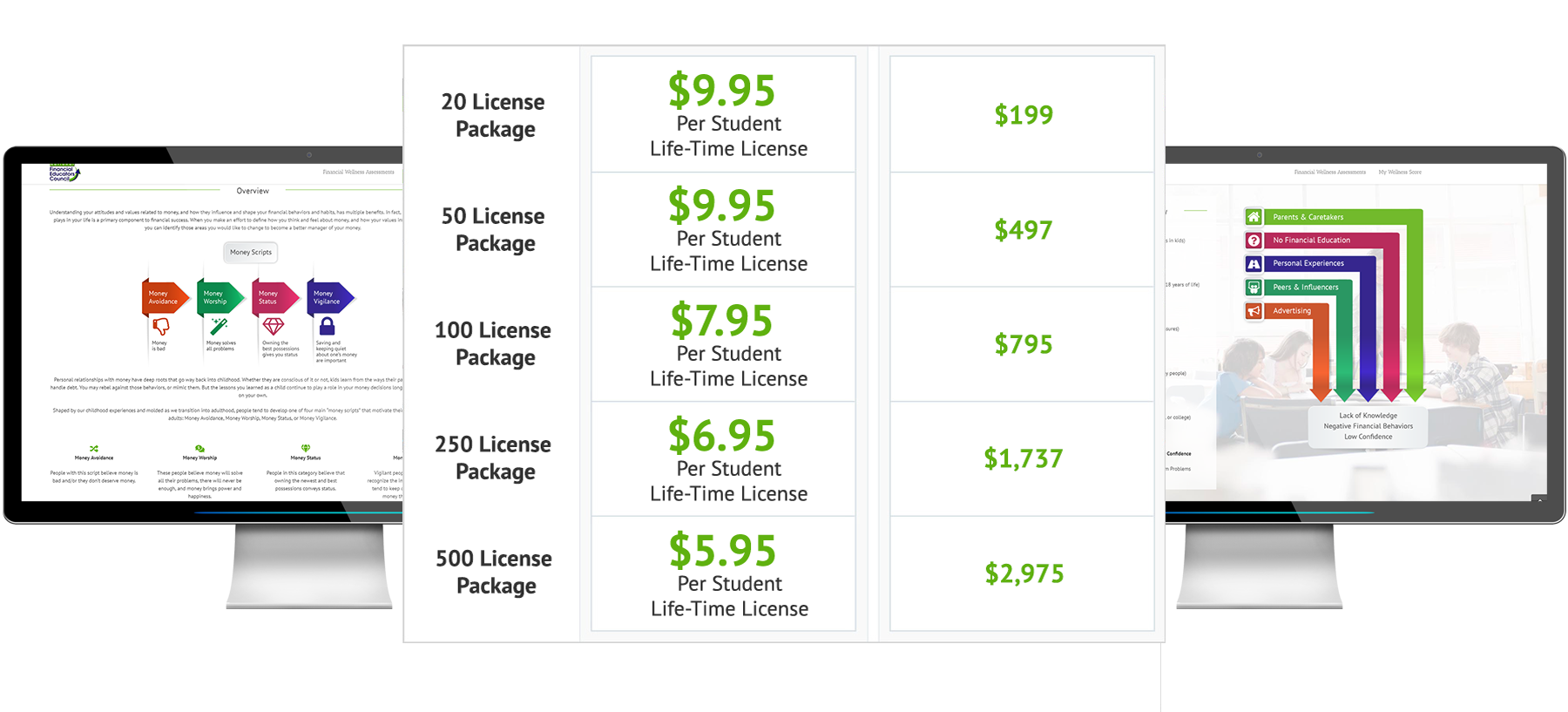 Optional Package Features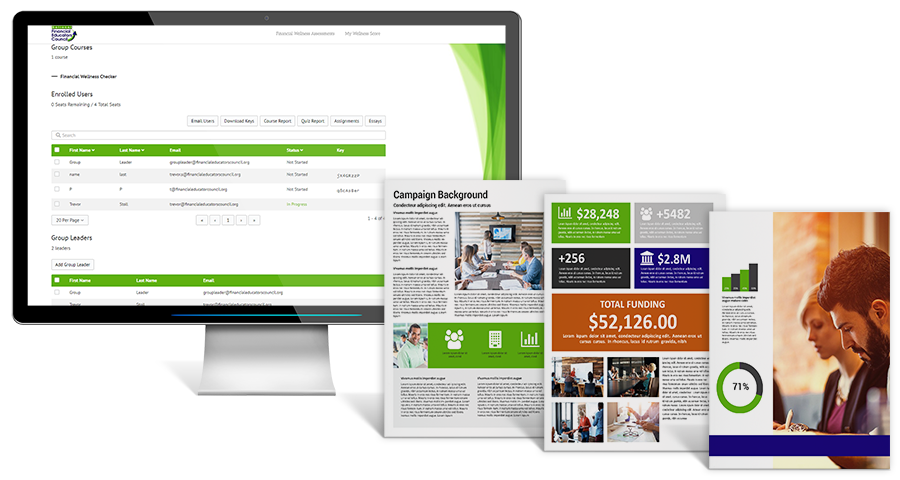 Learning Management System – Central Dashboard
Optional. Investment $495 annually
The Central Dashboard provides rich data and offers you the freedom to track engagement analytics and defined milestones. Enjoy real-time activity progress reports that demonstrate participants' activity completion, time spent on lessons, test and quiz results and any other customized data you desire to measure. The LMS Central Dashboard is needed to access any data collected from participants you enroll in the program.
All Curricula Available for Private Labeling
The NFEC offers you a variety of customized branding options to ensure your organizations messaging is communicated in alignment with your objectives. Branding levels are included with select packages or can be purchased separately.

Advanced Co-branding
$25,000
About the NFEC & Who We Serve
The NFEC is an IRS-recognized Benefits Corporation whose mission centers on providing top-quality financial education programming. Our social impact-focused enterprise has supported the development of thousands of programs over the last decade, reducing the cost and time needed to develop programming while providing the tools and training that increase program impact. Our resources, training, and programming processes have been used by thousands of organizations, including:
Packages & Pricing
We eliminate your risk with a 1-year guarantee of up to 100% of the purchase price. The guarantee is simple. We offer the most comprehensive and highest quality financial education programming based on these 3 important criteria: Educational Quality, Scope of Resources, and Overall Quality. If you find any other program that exceeds the NFECs resources on these 3 criteria – you are eligible to receive a refund up to $495 or the amount of the purchase price of up to 50 student licenses, whichever is less. Read the complete terms – click here.