National Financial Educators Day
Financial Educators Day recognizes those individuals who are working to improve the financial capabilities of people in their communities. While taking the opportunity to recognize traditional educators, we also extend our thanks to volunteers, financial professionals, concerned citizens, and others who teach financial literacy. All these individuals are invaluable to the effort.
Financial Educators Day takes place the last Friday of April (Financial Literacy Month) each year. Initial support from politicians, celebrities, and organizations in the financial literacy industry have transformed the last Friday of each April into a day of recognition, celebration, and advocacy.
Financial Educators Day launched in 2014 and takes place the last Friday of April each year. To date, over 400 individuals from 47 states have been mailed awards thanking them for their efforts.
Nominations for 2021 Ended April 16th, Apply for 2022 Now!
Nominate Educator for Financial Educators Day Award
The National Financial Educators Council will honor educators with a Financial Educators Day Certificate of Appreciation.
The only requirement is that the award recipient contributes positively to the financial literacy movement. Educators of all size programs are honored – whether you are hosting a smaller workshop or a large campaign, we appreciate and recognize your contribution to leading programs of any size.
Those recognized by the NFEC will be mailed a thank you letter and certificate. (U.S. residents receive physical certification in the mail; international residents receive an e-version). The 2020 FED award honored several hundred educators – nominations for 2021 are open now until April 16th. Nominations received after will be retained for 2022.
Financial Educators Day Promotional Information
Information on how you can get involved in promoting Financial Educators Day and Outreach Email.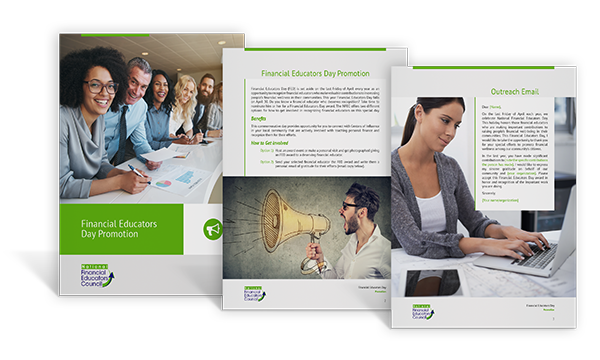 Social Media #FinancialEducatorsDay
Feel free to copy and use these Financial Literacy Month posts. Tag NFEC's social media accounts in your messages and we will re-share with our supporters & social media friends.
It's the financial professionals, teachers, volunteers, coaches, and concerned citizens who are driving financial education initiatives in their communities and are the true leaders of the financial literacy movement. Financial Educators Day recognizes their efforts and commitment.

– Vince Shorb, CEO of the NFEC
It is Financial Educators Day – who was the person who taught you valuable money lessons? Share with us below and be sure to thank them. #FinancialEducatorsDay
Use #FinancialLiteracyMonth (April) as a reminder to revisit your budget, plan your finances, and address your most pressing financial challenges.
National Financial Educators Day is a big thank you to those who are teaching personal finance. #FinancialEducatorsDay
National Financial Educators Day – recognizing those working to improve the financial capabilities of people in their communities. #FinancialEducatorsDay