Financial Illiteracy Costs: Over 3,000 People Estimate How Much
Between March 12th and 17th 2017, the National Financial Educators Council asked 3,006 across the US, "Across your entire lifetime, about how much money do you think you have lost because you lacked knowledge about personal finances?"
The survey was conducted online, answers were randomized and inferred demographic data was used. Respondents from 6 age groups (18 – 24, 25 – 34, 35 – 44, 45 – 54, 55 – 64, 65+) participated. The goal of the survey was to measure people's opinions about the value of personal finance education relative to other coursework commonly offered by high schools.
Survey Question & Results
The survey asked 3,006 people across six age groups the following question:
Across your entire lifetime, about how much money do you think you have lost because you lacked knowledge about personal finances?
Available Choices Were:
Reported lifetime losses over $15,000 were reported by 1 out of 3 respondents.
1 in 4 people reported losses over $30,000 due to a lack of financial knowledge.
Using the low end of the numeric spread respondents lost $9,724.83 due to lack of financial knowledge.
Using the highest numeric spread ($30,000 was used for $30,000+ answer), respondents lost $13,237.94.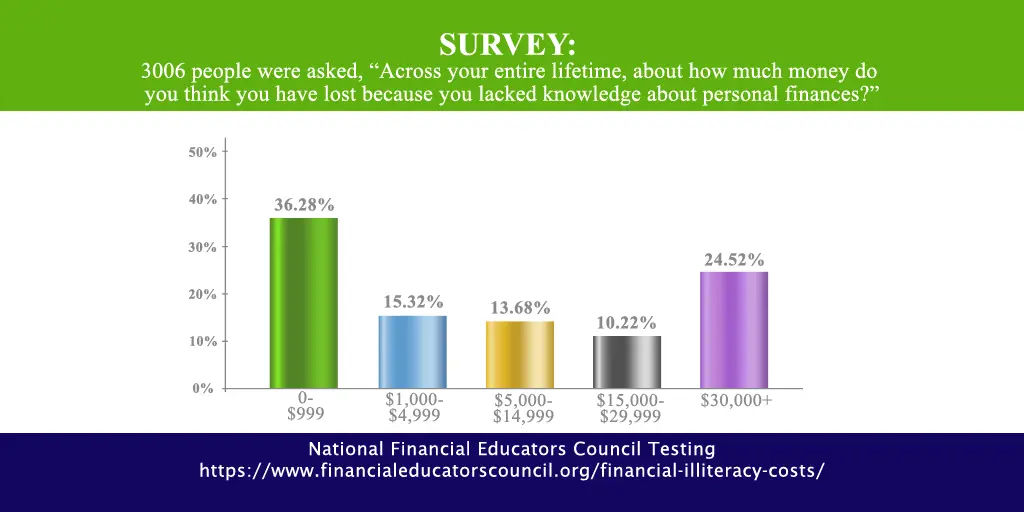 Share This Article