Americans and other societies throughout the world are so uptight about money, it is almost never discussed in certain cultures. This leads to extensive financial illiteracy, which threatens to undermine people's lives. It is extremely important to know how to deal with your personal finances in a prudent manner. Making the wrong decisions can lead to circumstances from which people might never recover. Not only does bad financial planning undermine individual lives, it is often responsible for eating away at familial cohesion. These things can be prevented with a little financial literacy put into practice. A little knowledge can lead to prudent financial planning, which can lead to a stable, comfortable life.
Financial Illiteracy is a Worldwide Debilitating Condition
Financial illiteracy is the lack of an ability to efficiently handle personal finance matters involving budgeting, saving, investing, and more. Surveys run by government agencies and financial education programs expose the lack of financial knowledge among both Americans and individuals globally. Financial competency is a basic requirement to lead a healthy financial life. Individuals afflicted by financial illiteracy are simply not able to discern between different financial choices and are often unable to reach their financial goals.
People are Ashamed of Being Financially Illiterate
44% of Americans aged 22-26 do their own taxes (Bank of America). https://bankofamerica.com
85% claimed they were 'somewhat' or 'very' unlikely to discuss their amount of credit card debt with strangers, more than the percentage of respondents who would avoid divulging details about their love life (CreditCards.com). https://www.creditcards.com/credit-card-news/poll-credit-card-taboo-subject-2013-1276.php
26% of adults admit to not paying their bills on time (National Foundation for Credit Counseling). https://www.nfcc.org/NewsRoom/FinancialLiteracy/files2013/NFCC_NBPCA_2013%20FinancialLiteracy_survey_datasheet_key
%20findings_032913.pdf
46 percent of respondents said they either could not cover an emergency expense of $400 or would cover it by selling something or borrowing money (ConsumerFinance.gov). https://s3.amazonaws.com
Targeted Technological Learning Can Improve Financial Literacy
The overarching purpose of financial education is not to transfer knowledge from educator to learner. Rather, the end goal of financial literacy initiatives is to elicit positive financial behavioral change by equipping program participants with the critical thinking framework they need to properly assess financial decisions in their lives.
Plenty of research papers have corroborated that financial literacy, when properly administered by a qualified financial educator, has the ability to make real improvements in the financial health of learners.
The Federal Reserve bank of Philadelphia found that counseling delivered via technology was actually better at molding consumer behavior than face-to-face counseling. Programs that are limited on funds can use technology as a means to reach more people with the same level of efficacy and with lower expenses (Federal Reserve Bank of Philadelphia).
https://www.phil.frb.org
57% of millennials have either an advisor or robo advisor (MoneyConfidentKids.com). http://www.moneyconfidentkids.com/content/dam/money-confident-kids/PDFs/PKM-Surveys/2017_PKM_Results.pdf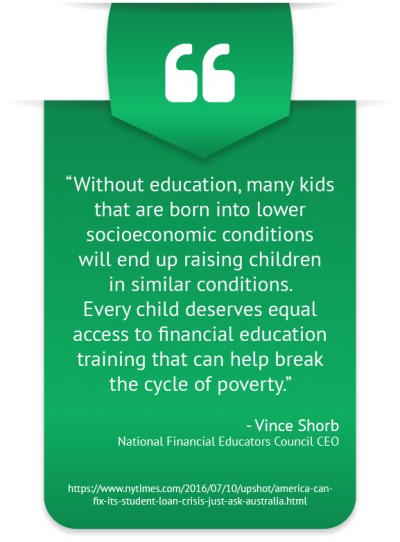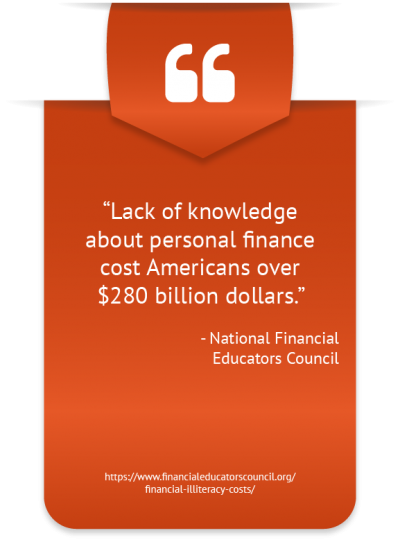 What the Experts Say About Financial Illiteracy
"I think people don't understand compound interest because typically no one ever explains it to them and the level of financial literacy in the US is very low." – James Surowiecki, journalist at The New Yorker and author of "The Financial Page" column
"Without financial literacy, divorce rates soar, families rupture, and women stay with abusive men for financial security. A lack of jobs contributes to riots and illegal activity. Name any situation and it goes back to money. We need to focus on poverty eradication." – John Hope Bryant, CEO of Operation HOPE
"The good news, though, is that all of us can improve the security of our futures through financial literacy. With a better understanding of the basics of finance—how to save, budget and invest—we can increase both our earning potential and our prospects for a solid financial future." – Reba Dominski, President of U.S. Bank Foundation
The Dominican Republic says that financial literacy initiatives can simplify financial conceptions to help participants translate their knowledge into real world behavioral change. In addition, as evidenced by the difference between the effect of the two programs on firms and for entrepreneurs, the authors note that programs should be tailored based on the target audience to maximize potency (Poverty Action Lab). https://www.povertyactionlab.org/sites/default/files/publications/124_303%20Rules%20of%20Thumb%20AEJ%20Apr2014.pdf
40.2% of those with low levels of financial literacy relied on parents, friends, and acquaintances as their most important source of financial knowledge, compared to 20.8% of those with the highest levels of financial literacy (National Bureau of Economic Research).
http://www.nber.org/papers/w13565.pdf
A mere 31% of young Americans thought that their high school education adequately taught them good financial habits(Bank of America). https://about.bankofamerica.com/assets/pdf/BOA_BMH_2016-REPORT-v5.pdf
Financial Illiteracy Statistics Demonstrate the Devastating Consequences
Financial illiteracy has become a point of concern for communities and governments worried about the effects such a critical lack of knowledge can have on the lives of individuals. Limited access to financial literacy classes and education leave people woefully unprepared. Equipped with only a partial and inadequate framework for thinking about financial decisions, too many individuals submit to making poor financial choices with long-term consequences that are difficult – if not impossible – to correct. Preventing and mitigating financial illiteracy requires the continued efforts of employers, governments, and the financial education industry.
[1] National Financial Educators Council, "
Financial Illiteracy in America
"