Financial Illiteracy Definition
Investopedia gives a financial illiteracy definition by way of defining financial literacy. They indirectly define financial illiteracy as not being able to reduce debt over time, pay bills in a timely manner or even reconcile a bank account. As shocking as it may seem that people in the US lack these skills, Investopedia quotes an even more shocking statistic from the Financial Industry Regulatory Authority (FINRA) which states that a full 63% of Americans are financially illiterate. That is, almost two-thirds of Americans don't know how to manage the most basic operations of money that are necessary for everyday life. At the same time, a direct financial literacy definition is hard to find.
Ignoring Financial Illiteracy Does Not Make It Go Away
Formal financial illiteracy definitions are scarce, but it is the state most Americans are in: unable to manage their finances effectively, which ultimately leads to a failure of reaching their financial goals, if they even have any. Those who fit the description of an individual described by a financial illiteracy definition are inadequately saving for retirement, spending more than their budget dictates and making other financial decisions that provide short-term gratification in exchange for negative long-term consequences.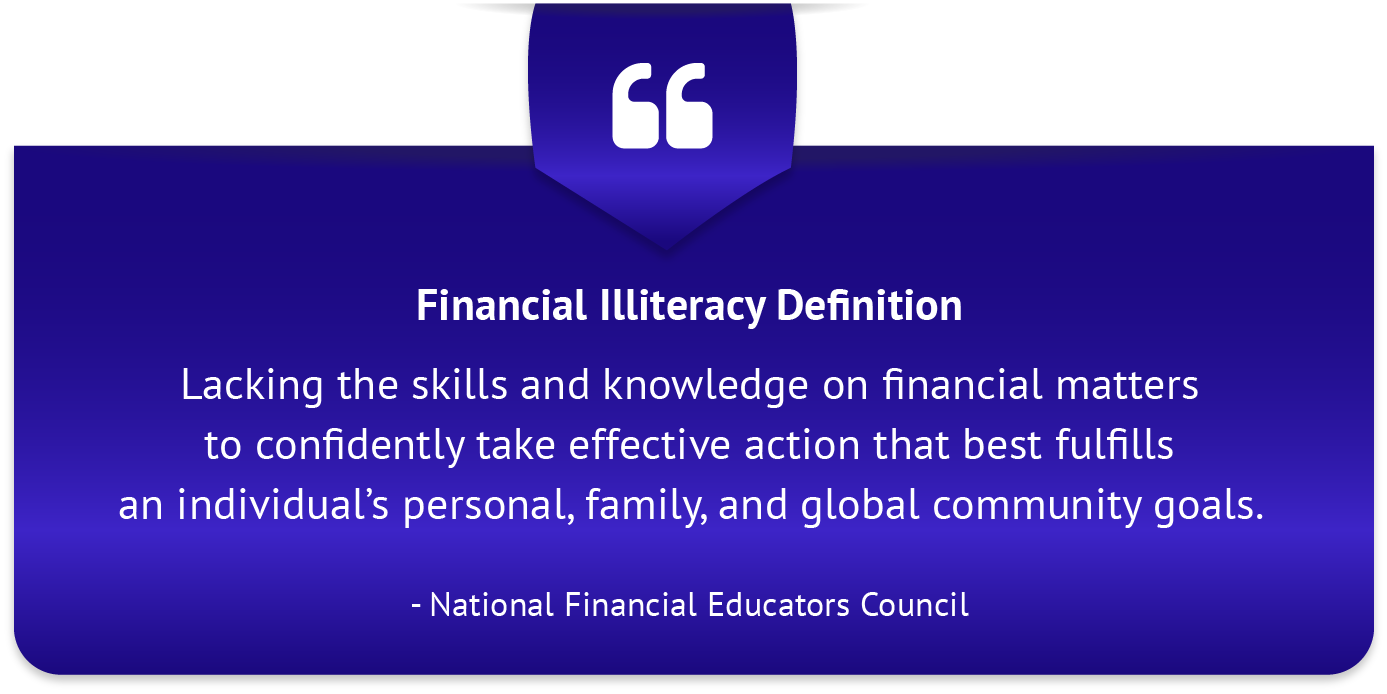 Definitions of Financial Illiteracy from Organizations
"Lacking the skills and knowledge on financial matters to confidently take effective action that best fulfills an individual's personal, family and global community goals" (National Financial Educators Council).
"The ability to make informed judgments and to take effective decisions regarding the use and management of money" (Australian Securities and Investment Commission). https://download.asic.gov.au
"Financial literacy is the education and understanding of various financial areas. This topic focuses on the ability to manage personal finance matters in an efficient manner, and it includes the knowledge of making appropriate decisions about personal finance such as investing, insurance, real estate, paying for college, budgeting, retirement and tax planning" (Investopedia). https://www.investopedia.com
"Financial literacy is a combination of financial knowledge, skills, attitudes and behaviors necessary to make sound financial decisions, based on personal circumstances, to improve financial wellbeing" (Australian Securities and Investments Commission).
http://www.financialliteracy.gov.au
Confronting Financial Illiteracy with Knowledge and Application
While poor financial education may deliver some knowledge, it will leave people almost as ill-prepared as those who are financially illiterate. If financial literacy education is to be effective, it must follow the best practices outlined by distinguished organizations. The curriculum must be designed to maximize positive behavioral change. While financial knowledge may make learners feel more confident, they can only be truly empowered if they take their financial lives in their own hands and use what they have learned towards bettering their financial health.
The Coalition of Higher Education Assistance Organizations (COHEAO) stresses 'deep learning' through interaction with the students and with interactive portions of the curriculum that encourage understanding (Coalition of Higher Education Assistance Organizations).
http://www.coheao.com
The Consumer Financial Protection Bureau (CFPB) encourages financial literacy initiative to construct a multi-stage project to assess whether there are more potent methods by which to reach low-income and minority communities (ConsumerFinance.gov). https://files.consumerfinance.gov
An additional year of schooling increases the probability of having an investment income by 4.4% for whites and 1.7% for blacks (Harvard Business School). http://www.people.hbs.edu
The Money Taboo Helps Financial Illiteracy Proliferate
85% claimed they were 'somewhat' or 'very' unlikely to discuss their amount of credit card debt with strangers, more than the percentage of respondents who would avoid divulging details about their love life (CreditCards.com). https://www.creditcards.com
Only one in five (19%) say they are not knowledgeable about annuity products in retirement (1 or 2 on a 7-point scale), suggesting many overestimate their knowledge of annuities (The American College). http://retirement.theamericancollege.edu
65% of adults in the United States report using a saving account (National Foundation for Credit Counseling). https://www.nfcc.org
A statistically significant association was determined between negative financial habits, such as gambling among Australian youth, and the influence of peers and parents (ScienceDirect.com). https://www.sciencedirect.com
"Many entrepreneurs struggle to understand payroll taxes, health care and other thorny issues… In other words, they don't have the financial literacy to scale their businesses and attract investors." – Daymond John, CEO of FUBU and Sharktank host
"I think people don't understand compound interest because typically no one ever explains it to them and the level of financial literacy in the US is very low." – James Surowiecki, journalist at The New Yorker and author of "The Financial Page" column
Financial Illiteracy is a Crucial Deficiency
Financial illiteracy definitions, whether defined by a government agency or a prominent financial education provider, focus on the plethora of negative effects that are associated with a lack of financial understanding. A simple financial illiteracy definition is the opposite of financial literacy (see financial ability definition) —a deficiency of the financial competencies that would allow individuals to make economic choices aligned with their long-term financial goals. The cost of financial illiteracy is to great and this problem should be seen as an impairment as significant as not knowing how to drive.