Take a Personal Finance Class Online
New innovations provide students the ability to take a personal finance class online that connects them with learning outcomes based on their level of knowledge and experience. The eVolve platform presents participants with learning outcomes that challenge users to move toward higher depths of knowledge. This proprietary eLearning system was created to help you digest what you learn, and then transform that knowledge into action.
eVolve also offers great flexibility – some offer the platform as a self-study course, while others use it as blended learning by merging the digital learning into in-person classrooms, workshops, or camps. The personal finance course online method takes a learner-centered approach, employing scaffolding, simulation, PBL, case studies, and other research-based best educational practices.
Personal Finance Classes Online Free for Flexible Application
The robust eVolve system is amenable to a variety of uses and designed according to the latest in educational research methodologies. Some of its outstanding features include: 1) a dynamic, one-of-a-kind user experience; 2) adaptive learning pathways based on participant interest, test results, and current knowledge; 3) an eye toward molding positive action and behaviors; 4) learner-focused instruction based in constructivist theory; 5) interactive, engaging content; 6) a comprehensive assessment battery to gauge change and progress; 7) gamification aspects; and 8) maximum accessibility based on CAG 2.0 standards set forth by the WWW Consortium.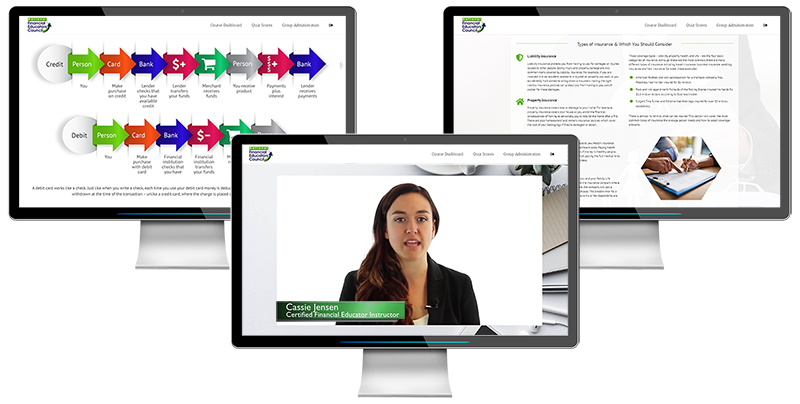 Financial Life Guide Important Piece of Personal Finance Class Online
One key piece of the eVolve personal finance class online is the Financial Life Guide, a project-based learning activity that guides participants through a lifetime's worth of full financial planning. Budget creation, both for now and in the future, is the first piece in the Financial Life Guide, followed by development of retirement plans and investment strategies. Investigating the home-purchase process is next, and then obtaining a copy of one's credit report.
Another segment of these proprietary online financial literacy programs helps students prepare to make major purchases; a further one leads them to set up a debt payoff plan or a debt avoidance strategy. Deciding on educational pathways and setting clear lifestyle personal finance goals round out this project to develop a full lifetime financial plan.
All these activities send students down a positive path that gets them off on the right track when it comes to managing their finances.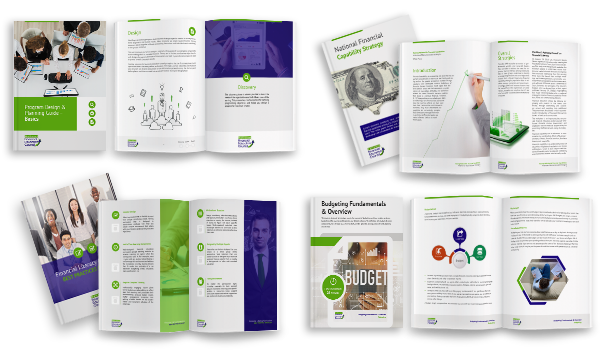 Options for Delivery, Pacing in Personal Finance Classes Online Free
This eLearning platform also offers variability in delivery and pacing of the lessons according to your selected schedule. In terms of delivery methods, choose between blended or flipped classroom formats, presentations by an instructor in person, or self-guided study where participants move through the coursework unsupervised.
In regard to pacing, select from among these options: adaptive pacing where the students are sent to review content that poses difficulty for them; pacing based on student progress, where they are moved to the next module when they successfully complete tests; or pacing based on time, where you set a feature to release course modules on a specified timeline.
Learning Management System
To help you manage participants in your personal finance class online, the eVolve program has a powerful Learning Management System (LMS) that centralizes all the features of the online learning. Using proven eLearning strategies, the course can support either synchronous or asynchronous learning.
Through project-based learning activities, students assimilate the content and learn to apply the knowledge in their own lives. One such activity is the Financial Life Guide that leads them to build full lifetime financial plans. The API in the LMS tracks data on all the various activities in which learners participate, and communicates those data with you so you can consolidate the information with other systems. Such data are key to evaluating the effectiveness of students' online learning.
Many of today's high-quality educators have begun to recognize the value of teaching financial literacy classes in their communities. But did you know that you could find materials to support teaching personal finance online course, with lessons that fit your students' unique learning needs and schedules? A new web-based learning program called Evolve, sponsored by the National Financial Educators Council (NFEC), is now available to anyone who would like to improve the financial capabilities of their students and neighbors.
Those who are interested in teaching others sound practices for handling personal finances should look into this engaging, interactive platform. Evolve leverages best practices for eLearning to present a high-quality curriculum that inspires students to take positive action toward managing money and ensuring their financial futures. And since the NFEC is 100% independent, Evolve is solely educational – so students are never exposed to advertising or promotions.
The Evolve curriculum materials were created with the guidance of an expert panel of curriculum advisors including educators, financial professionals, and eLearning advisors. The collaborative effort between the NFEC and the expert members of this Curriculum Advisory Board has yielded state-of-the-art learning tools that bridge the gap between theory-based instruction and real-world application.
Some of the unique features of the Evolve platform for presenting this online personal finance course curriculum include: 1) a flexible design that can be adapted to suit a variety of schedules and learning outcomes; 2) micro-learning format where lessons are split into manageable, easy-to-remember topics; 3) practical activities that build a sound financial foundation and give participants viable action steps for the future; 4) an adaptive personal learning experience; and 5) interactive content that employs video, simulative content, games, and other interactive tools to enhance user experience and aid in achieving long-term material retention. Expect a unique user experience due to the engaging content and vivid design.
Any educator – or concerned community member – with an interest in building the financial capabilities of the students they serve should investigate the Evolve eLearning platform. The combination of high-grade financial literacy curriculum with advanced eLearning technology makes this system ideal for a variety of blended learning options.