Online Personal Finance Course
eLearning Financial Literacy Platform Designed around Research-based Education Principles to Deliver Measurable Results
The NFEC's eVolve online personal finance course leverages best practices in online personal finance education. Educational-grade content and vivid design create a unique learning experience where participants take action toward building a sound financial foundation.
Participant Learning Platform
Providing a great user experience was a top priority in the development of eVolve. Vivid content creates an authentic, dynamic learning experience designed to accommodate all learning styles. Videos and interactive learning tools comprise the eVolve education platform.

Practical & Rooted in Research-based Education Principles
Most 'online personal finance programs' on the market today are just videos and articles put on a website – they are not eLearning. eVolve balances instructional methodologies with practical learning needs that inspire participants to take action.
Practical: Activities have Participants Build Their Financial Foundations The course has participants work on their personal finances through real-world activities.
Instructional Methodologies: Research-based Educational Strategies Grounded in constructivism, eVolve employs a learner-centered approach. Education strategies include: scaffolding, simulation, project-based learning, personal planning, and case studies.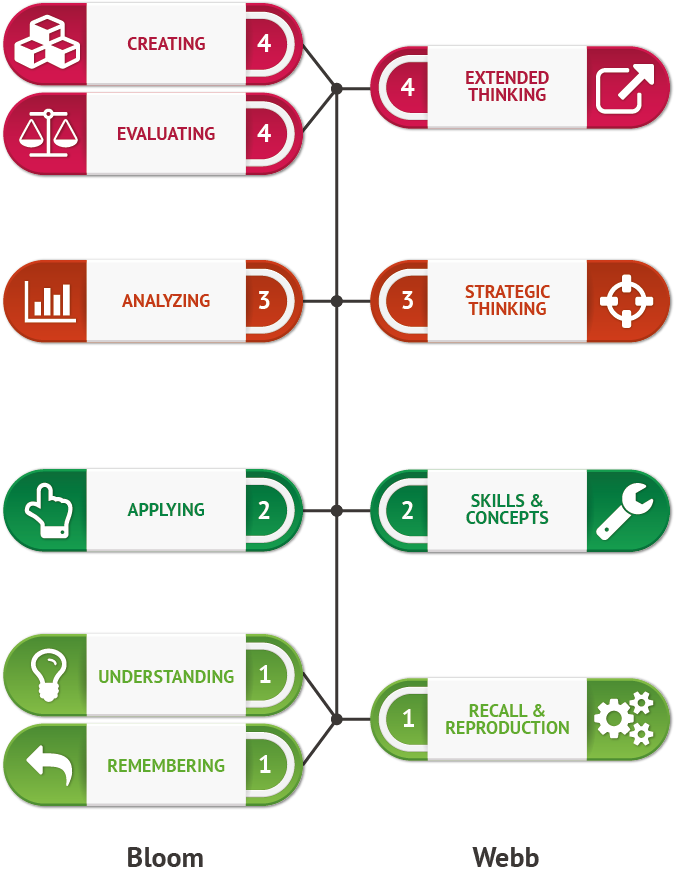 Measurements & Need-based Assessments
Self-assessment tools help learners understand what lessons will help them most now so they can focus the education on improving their own immediate needs. This Adaptive Learning strategy provides a personal learning experience based on each individual participant's interest and lesson accomplishments.

Flexible Course Formats & Robust Learning Experience
The online personal finance course is comprehensive and designed to help people address the most important areas of their finances. The platform is flexible and can accommodate both self-directed and instructor-led learning.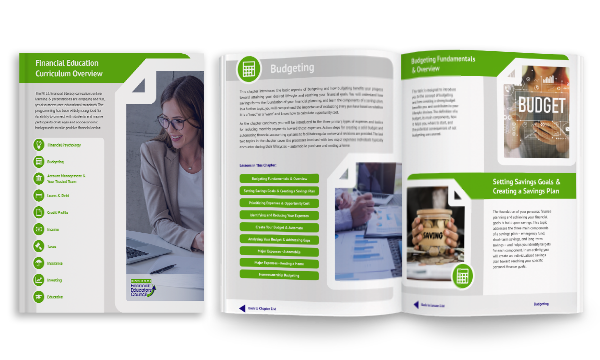 Facilitator Backend Management – Learning Management System (LMS)
The eVolve Learning Management System gives the course facilitator the ability to monitor student progress, view test and quiz results, download reports to Excel spreadsheets, and set up student groups.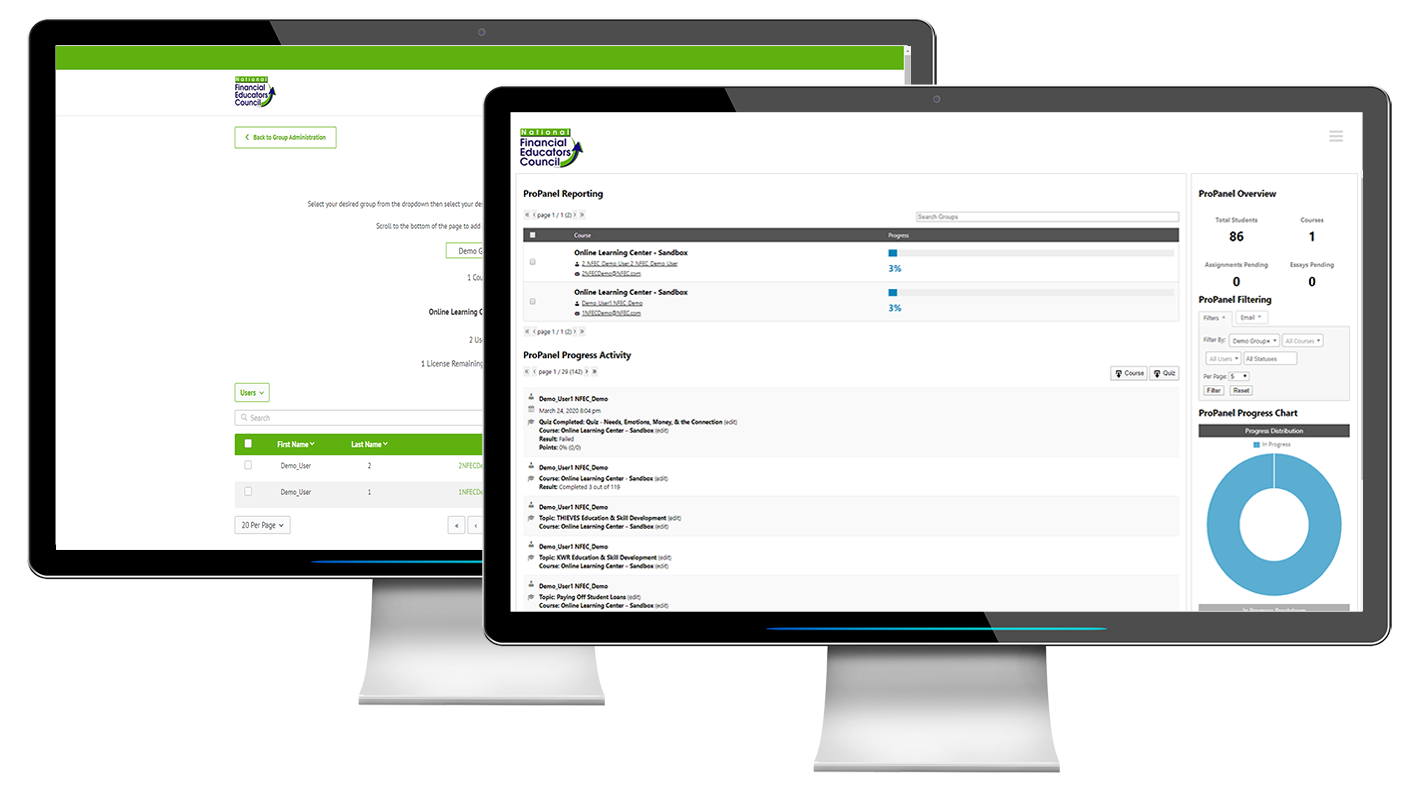 Additional Options: Branding, Promotion, & Funding Resources
For those looking to market, fund, and promote online learning, the NFEC provides turnkey solutions. These options give you the ability to align the program with your brand and put you in position to scale.
Drag the Circle Left and Right to View OLC Branding Changes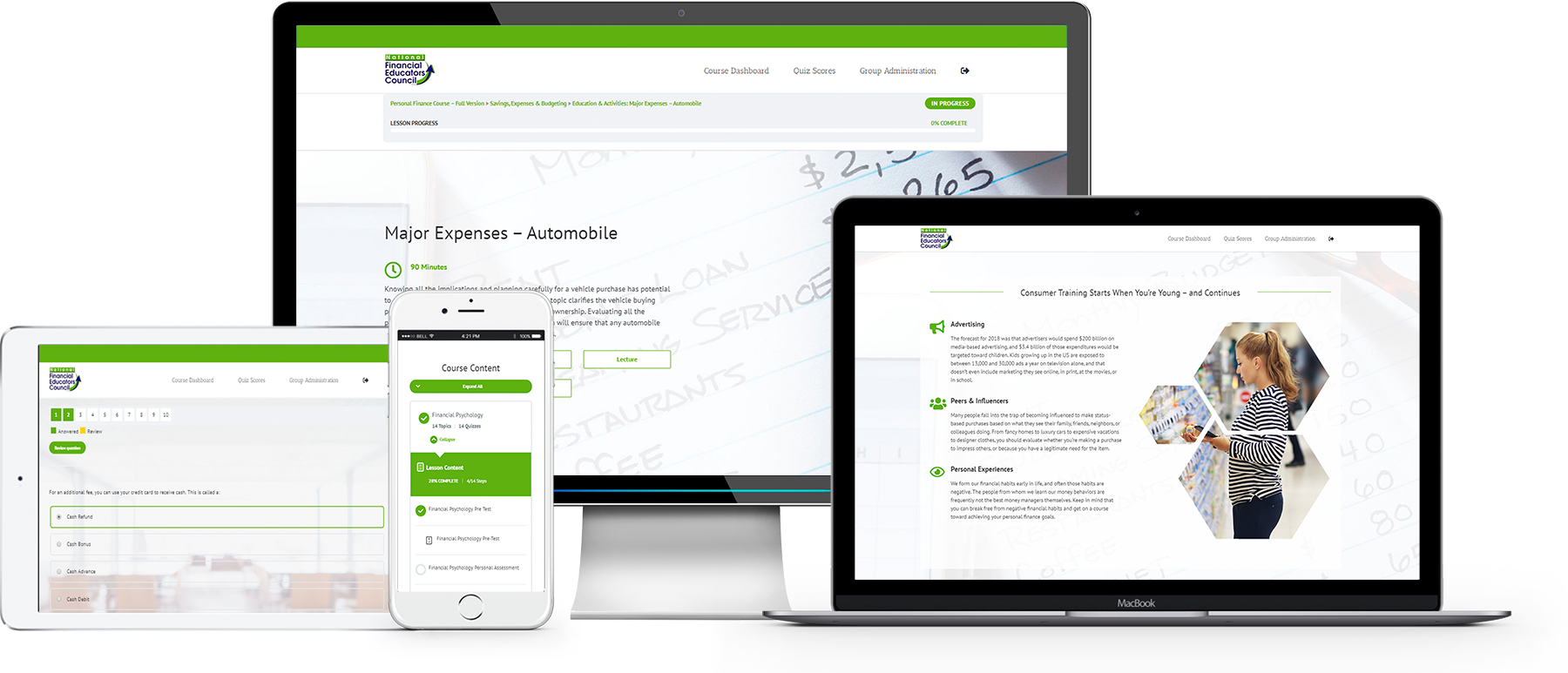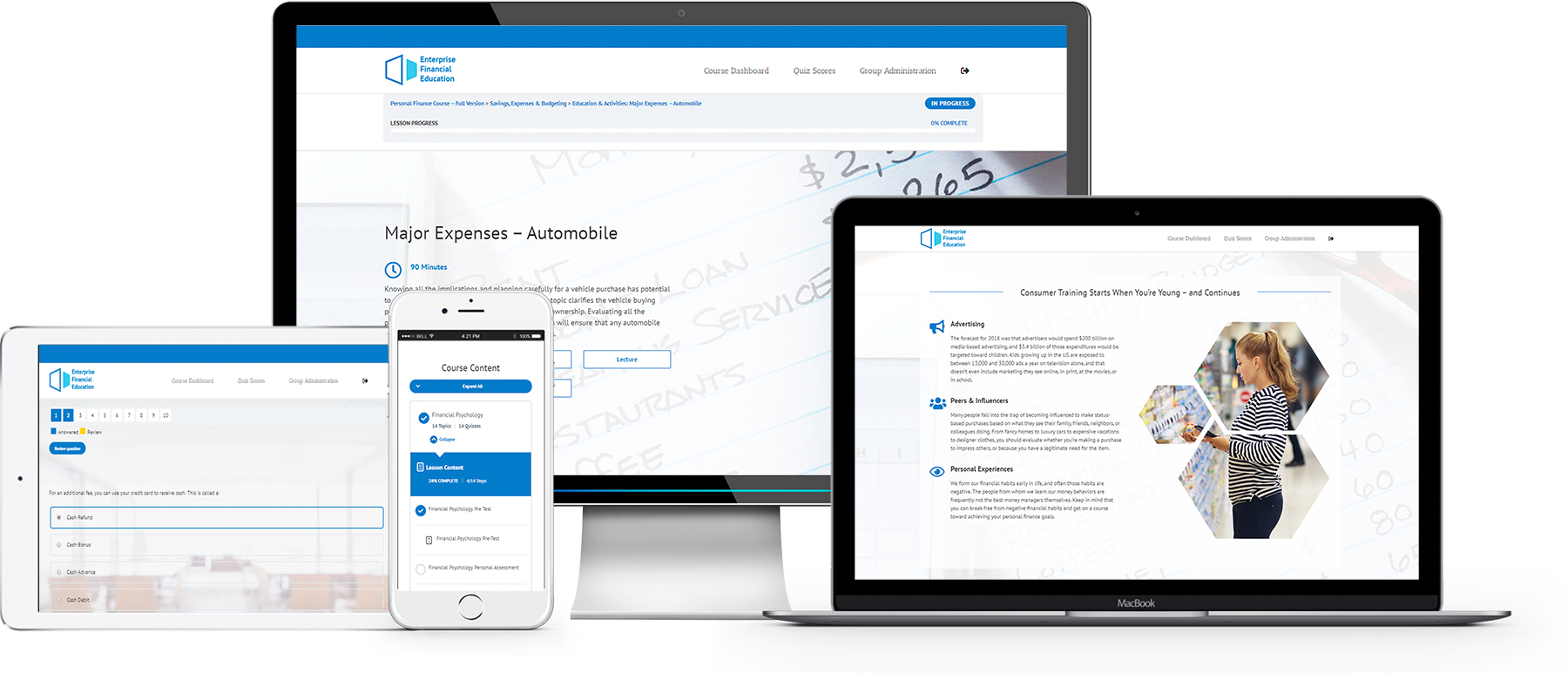 Packages & Pricing
We eliminate your risk with a 1-year guarantee of up to 100% of the purchase price. The guarantee is simple. We offer the most comprehensive and highest quality financial education programming based on these 3 important criteria: Educational Quality, Scope of Resources, and Overall Quality. If you find any other program that exceeds the NFECs resources on these 3 criteria – you are eligible to receive a refund up to $495 or the amount of the purchase price of up to 50 student licenses, whichever is less. Read the complete terms – click here.