Money Management Online Course Maximizes Real-world Application
Practicality and age-appropriate scaffolding are key aspects of the National Financial Educators Council's money management online course, known as eVolve. This program centers instruction around the learner – focusing on ways to help students build sound financial foundations and then translate what they learn into practical action.
This interactive, highly-advanced personal finance course online learning platform is established on constructivist learning theory, meaning students construct their own understanding by completing hands-on activities that simulate real-world financial challenges and decisions. The programming connects learners with outcomes that inspire them to progress into higher depths of thinking and knowledge acquisition. Project-based learning, case studies, and simulations are part of this comprehensive online learning experience.
Attractive Highlights of the Free Online Money Management Course
Based on up-to-date research evidence and best practices for online learning, the eVolve money management course online has multiple features. Multimodal instruction has been identified as part of an integrated model for online education. The features include:
An authentic, dynamic, and vivid learning experience tailored to the user

Personalized learning based on a student's interests, test results, and lesson accomplishments

Just-in-time learning features that trigger participants' prior knowledge about action steps to take when making major money management decisions

Learner-focused educational approach that leverages scaffolding, simulation, PBL, micro-eLearning, and case studies
Interactive aspects that engage and involve students in learning

Integrated tests that assess change in financial capability and behaviors

Gamification features like badges, points, and bonuses

Meets CAG 2.0 accessibility standards posed by the World Wide Web Consortium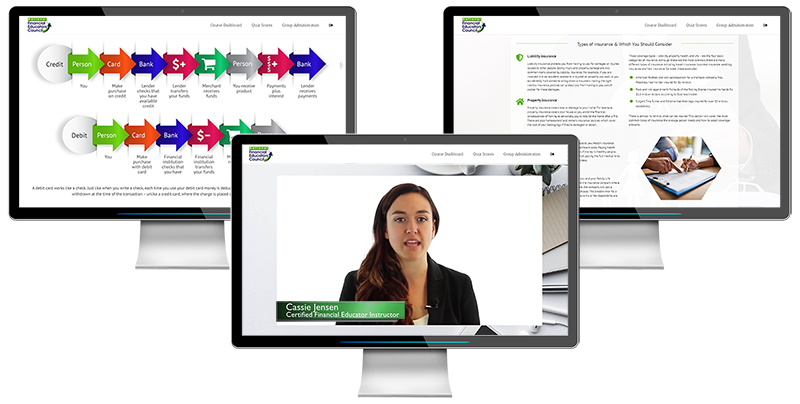 Free Online Money Management Course Tool – the Financial Life Guide
The eVolve free online money management course goes far beyond just providing education: participants are inspired to take real action toward improving their personal finances. This goal is accomplished by providing learners with the Financial Life Guide – an activity that encourages students to build financial foundations that will help them address life situations they'll face in the real world.
The Financial Life Guide walks learners through creating budgets, retirement plans, and investment strategies; exploring how to purchase a home; obtaining their credit reports and planning for major purchases; strategizing to pay off or avoid debt; choosing ongoing educational options; and setting clear financial goals that support their desired future lifestyles. All these topics become part of the participants' complete financial plans, which the Guide enables and empowers them to construct.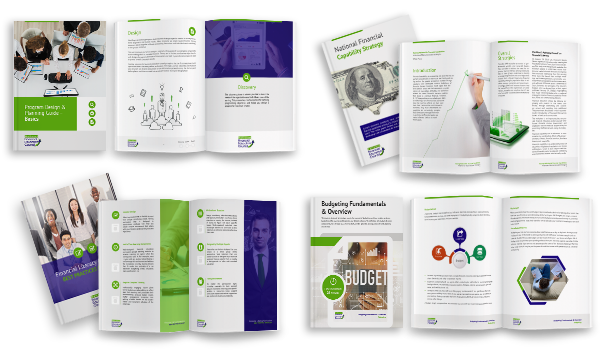 Choose among Pacing and Delivery Possibilities for the Money Management Course Online
You have several options regarding how to pace and/or deliver the money management course online. Here's how eVolve can be customized:
Delivery Options
Self-guided. Students can move through the coursework on their own and unsupervised, because eVolve has built-in accountability and reporting.

Instructor-guided. The eVolve system also supports in-person instruction with presentations, instructor's guide, PowerPoint, student guides, activity sheets, and quizzes.

Flipped/blended. Use some hybrid of live and online teaching.
Pacing Options
Time-released. Release lessons to the participants based on a predetermined schedule.

Progressive. Set features that guide learner progress based on when they reach educational benchmarks and pass tests.

Adaptive. The learning pathway can adapt by having students review content they find challenging.
Learning Management System Backs Up Money Management Online Course
The Learning Management System (LMS) that accompanies the eVolve financial literacy online course is a robust complement to the eLearning platform. The NFEC developed this proprietary LMS to incorporate what research evidence has identified as best practices for online learning – flexible pacing, comprehensive reporting features, gamification, adaptability, simulations, and other proven eLearning techniques.
The Dashboard of the LMS also offers instructors flexibility in managing classes and student activities. One feature is the Financial Life Guide, a comprehensive financial capability curriculum activity that students complete which guides them through developing a lifetime financial plan. Even learners who have chosen the self-study option are encouraged to complete this Guide, which covers lessons about life events for which they need to plan and inspires them to build a strong financial foundation.