Personal Finance Learner Certification, Learner Standards & Financial Wellness Indicator
The NFEC is committed to measuring the impact of financial education programming. Testing, surveys and empirical measures of behavioral adoption are some of the tools used to gauge program impact. Two tools we've made available to the public include our Personal Finance Certifications & Standards and the Financial Literacy Wellness Indicator.
The purpose of the NFEC's Personal Finance Certification is to provide standard-based assessments that demonstrate achievement of set learning outcomes. This provides the learners, educators and the organization leading the initiative independent verification of their accomplishments.
The Financial Literacy Wellness assessments gauge your current financial situation; your feelings and attitudes toward money, as well as your motivations, interests, and willingness to learn and adopt positive financial habits. The purpose of these surveys is to paint an accurate picture of where your current financial wellbeing and project your financial wellness and needs in the future.
Proficiency Levels & Personal Finance Learner Certifications Available
The Personal Finance Certifications issued are based on Blooms Taxonomy of Higher Order Thinking and Webb's Depth of Knowledge (DOK). These frameworks outline cognitive rigor of the material and provide a clear framework for assessments. Three levels of certification are available: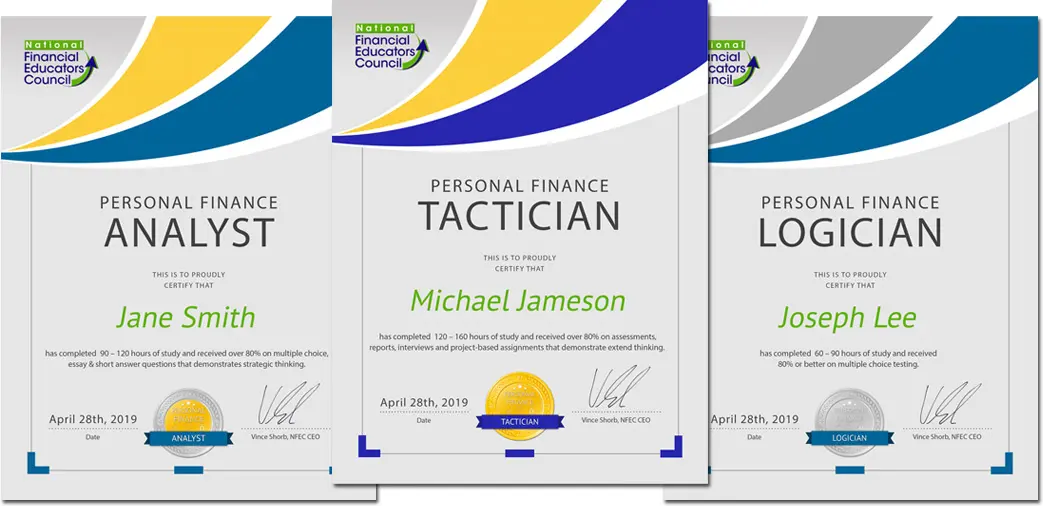 Personal Finance Tactician Certificate
(DOK Level 4 – Extended Thinking)
At this level participants are given questions that require complex reasoning and analysis; they possess the ability to connect lessons with other concepts. Learners reach this Certification level after receiving higher than 80% on assessments, reports, interviews, and project-based assignments that demonstrate extended thinking.
Personal Finance Analysis Certificate
(DOK Level 2 & 3 – Skill/Concept/Strategic Thinking)
Level 2 Activities have participants connect information in the Recall group to be able to solve problems. Lesson plans at this level ask participants to develop relationships between concepts and interpret data. Level 3 Activities require higher cognitive rigor like planning, reasoning, and explaining the process used to derive the answer. Learners reach this Certification level after receiving an 80% or better on multiple choice, essay, and short-answer questions that demonstrate strategic thinking.
Personal Finance Logician Certificate
(DOK Level 1 – Recall)
These assessments test student's ability to recall information like a name, fact, quote, or other basic piece of information. At level 1 they should be capable to perform basic calculations or apply a formula. Learners reach this personal finance certification online level after completing multiple choice testing and receiving a score of 80% or better.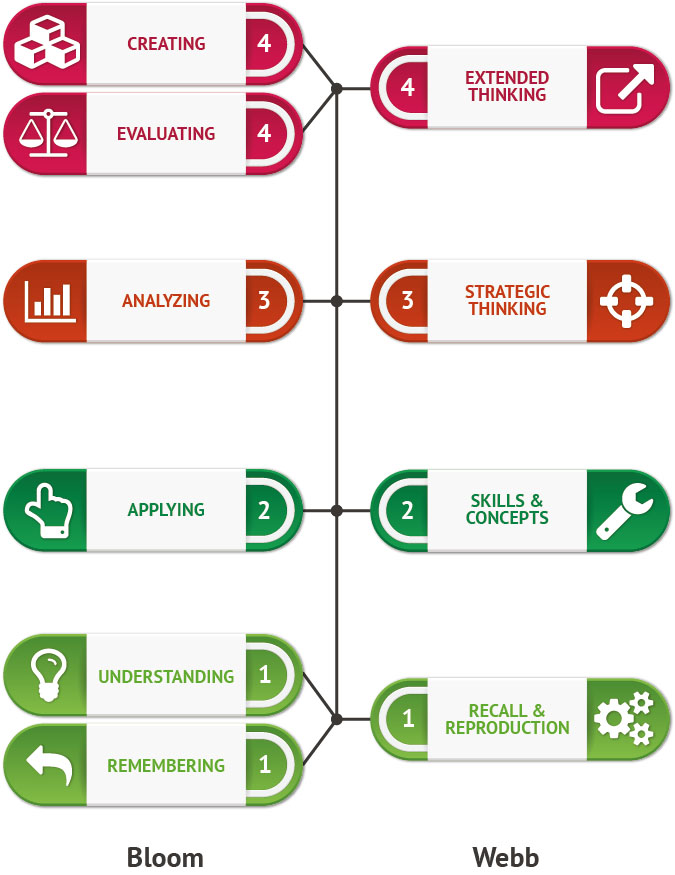 Financial Wellness Indicator
The Financial Literacy Wellness assessments gauge your current financial situation; your feelings and attitudes toward money; and your motivations, interests, and willingness to learn and adopt positive money habits. The purpose of these surveys is to paint an accurate picture of where you currently are, and project your financial wellness and needs in the future.
Select Your Desired Assessment
Provide Your Answers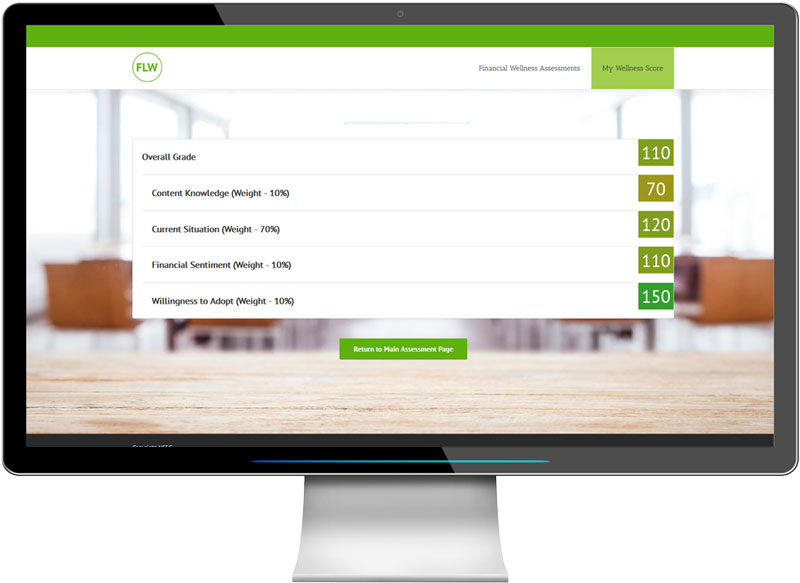 Review Your Individual & Overall Scores

Topic Overview

For those age 14 and up Certifications are available in 10 personal finance topic areas and an overall Certification:
For youth that range in age between 3 and 13 the Personal Finance Certifications are available in 5 topic areas:
Certification Age Segmentations
The development team found that the age breakdowns in existing industry guidelines did not align with student's cognitive abilities to evaluate key concepts. To address this problem, the NFEC team interviewed educators and sought research to provide evidence-based reasoning for the age breakdowns of the Certification age levels.

The youth personal finance certifications are separated into 4 groups: 1) PK – 2nd grade, 2) 3rd – 5th grade, 3) 6th – 8th grade, and 4) teen and adult. The NFEC separated each age range grouping into 'beginner,' 'intermediate,' and 'advanced' categories using Webb's Depth of Knowledge framework. This design gives the instructor flexibility to assess and push participants to encourage higher levels of achievement.
Both the Core Knowledge Theory and Piaget's Theory also were explored during personal finance certification assessment development. Piaget's cognitive development theory says that children learn by reconciling inconsistencies through four developmental stages. In some instances the Core Knowledge Theory challenges Piaget's theory by saying that age or developmental stage matter less than the level at which a child engages with particular theories about the world. Yet while these theories differ in some respects, they also share commonalities. Piaget's Theory supports current researchers to conclude that effectively teaching kids about money must connect lessons to existing cognitive structures; core knowledge theorists hold that effective education will relate to existing theories or models. Both schools of thought emphasize that children are active learners who filter new information to fit with their current beliefs. (1)
The personal finance certification assessments were developed using Piaget's Theory of Cognitive Development as a model and their understanding of key concepts – separating material based on cognitive abilities (pre-operational ages 2 to7, concrete operational ages 7 to 11, and formal operational for those older than age 11). The NFEC converted the ages to grade levels to ensure that students had the cognitive abilities and skills necessary to successfully complete the lessons at each level.
Above age 11, the learning barometers were separated based on students' math abilities and understanding. In the 7th and 8th grade (ages 11 to 14) students are learning the skills essential to making fundamental personal finance calculations, including negative numbers, rates, decimals, and basic statistics needed to solve personal finance problems.
For younger children, the NFEC also explored the key concepts featured in the report 'Financial Literacy Programs Targeted on Pre-School Children: Development and Evaluation,' including development of the concepts of number, time, money and income, value, market and exchange, choice, and social values.

The NFEC asserts that high school students can and should learn advanced personal financial planning topics. Starting in high school, most students possess the cognitive abilities (according to Piaget's Theory of Cognitive Development) and math skills needed for the majority of the personal finance lessons. The learning outcomes for high school students and adults of all ages are the same and the standards have been broken down into beginner, intermediate, and advanced lessons based on the Depth of Knowledge framework.
The NFEC's Personal Finance Certifications used when teaching personal finance are the same for teenage and adult learners. We hold younger learners to the same standards as we do our adult graduates. They possess the cognitive and skills needed to achieve Master-level Certification and demonstrate extended thinking. Youth and adult learners are able to connect lessons with other concepts.
It is important to note that, although the subject matter taught to teens and adults is similar, the NFEC's Framework for Teaching Personal Finance highlights the importance of understanding the audience and modifying how lessons are taught to maximize appeal to the targeted ages. The Framework also addresses the importance of providing a timely financial education – for example, reaching participants when they are considering a major financial step. Younger learners may lack experience but they typically have suffered shorter periods of person financial problems and less ingrained habits than their adult counterparts.
Test Facilitation & Results Gathering
Organizations seeking personal finance certification have 3 options:



Contact Us to Learn More & Arrange Your Preferred Method of Testing

1. Financial Literacy Programs Targeted on Pre-School Children: Development and Evaluation by Karen Holden, Charles Kalish, Laura Scheinholtz, Deanna Dietrich, and Beatriz Novak at the University of Wisconsin-Madison.
Achieve a Personal Finance Certification
People with the desire to achieve a Personal Finance Certification will find what they're looking for at the National Financial Educators Council. The NFEC has a certified educator in personal finance program that meets top standards for academic rigor, while also offering practical applicability that improves instructors' educational impact.
Whether you are interested in serving individuals or groups, this Personal Finance Certification program will prepare you to bring an important service to your community – top-grade financial education. NFEC certificate holders take their place among the most highly-qualified instructors in the financial literacy space, with ability to mold and alter participants' financial behavior patterns to guide them toward greater financial wellness.
Standards for Gaining Personal Finance Certification
The NFEC's personal finance certification program is guided by the first national standards that set forth the qualifications and performance criteria financial educators must meet. These standards clearly define the teaching framework, learner goals, communication resources, and public assurance benchmarks for those who become distinguished with the Personal Finance Certification.
Personal Finance Certification Learner Program Empowers Instructor to Reach Goals
Want to know how earning your finance certification can empower you to reach your goals for teaching money management? Read the following example to learn how it helped someone else reach his goals:
A man volunteering for a nonprofit group felt a powerful call to teach adults key money management skills, but had no idea where to turn. One of his friends directed him to the NFEC website, where he discovered multiple opportunities to earn his Personal Finance Certification – a designation that would give him confidence to teach along with established credentials to make his efforts credible.
As a graduate of the personal finance certification program, he also learned that the NFEC would help him brand his campaigns. Once he had completed a couple of successful events, he capitalized on this offer by having the NFEC customize all his resources and handouts with the logo and colors he'd selected. This brand recognition lent him additional credibility as his program expanded to scale.
Using not only live presentations but also technology-based lessons, blended learning, webinars, and blogs, he was able to reach a broader audience with the top-notch financial education his personal finance certification program had prepared him to deliver.
Share This Article