Discover the Best Methods for Teaching Personal Finance
Teaching Personal Finance is an undertaking that interests many people currently. Perhaps you are one of them. If so, read here to discover a step-by-step method that has shown real results.
The 8 Mainstays of Teaching Personal Finance

1. Teaching Personal Finance Requires Process, Best Practices

Teaching Personal Finance is a skill people can acquire by following a specific process. The story that follows outlines how the resources offered here support and reinforce that process in a real-life situation.
"How does a person get started Teaching Personal Finance?" asked Cory Baines one day. Cory worked as a telemarketer in a call center. He and his co-workers, all Millennials with aspirations to move up in the company, were interested in getting some money management knowledge, but weren't sure where to turn for information. Cory decided to take the lead and learn everything he could about teaching personal finance. What was the process? What were the best practices in the field? By doing a straw poll among his colleagues, Cory found out that they wanted to know how to increase their savings and prepare to invest.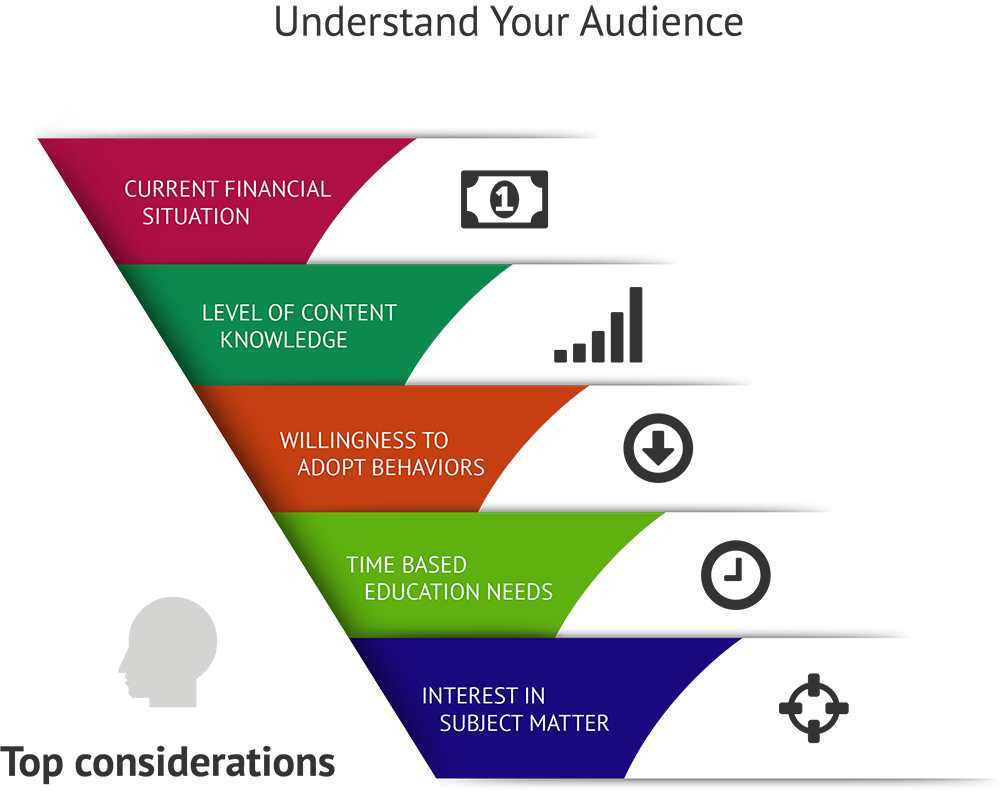 2. Evaluating Audience Objectives Key Component of Teaching Personal Finance
Cory asked his supervisor if there might be an opportunity for teaching personal finance at one of the call center's monthly staff meetings. The supervisor agreed, because she believed gaining money skills might increase employee productivity. She left it up to Cory to set up the training for the following month's 90-minute staff meeting. Since Cory just had a moderate amount of time, he opted to start with an overview of the subjects, with the hope that they could go more in-depth at future meetings. He set a goal for them to reach the Skill/Concept Level of Webb's Depth of Knowledge Theory (Level 2), where they could recall basic information and apply it to solve problems.
3. Teaching Personal Finance: Adjust Delivery to Audience Demographics

Cory had some original goals in mind for Teaching Personal Finance. Now he needed to discover his options for delivering the material. He did some research and found out that he could choose from a variety of pacing and delivery methods. He and his co-workers were all Millennials working in a white-collar profession, so Cory settled on informal live instruction for the meeting, with technology-based components to follow.
4. Focus Educational Topics to Meet Learner Goals
Cory now faced a decision regarding how to focus the education – what subjects should he cover while he was teaching personal finance? He had already learned that his colleagues wanted to know more about building up savings and how to prepare for investing. Because he just had 90 minutes for the first meeting, Cory decided he could best achieve his objective of getting them to Webb's Level 2 by initially focusing only on savings plans.
5. Choose Who will be Responsible for Teaching Personal Finance

Who would be responsible for Teaching Personal Finance to the call center employees? Cory needed a highly-qualified educator with demonstrated skill in both pedagogy and managing personal finances. Once again, he weighed in with his supervisor. Turns out she knew one of the other managers in the building was a CFEI (Certified Financial Education Instructor). Cory had solved his problem with ease!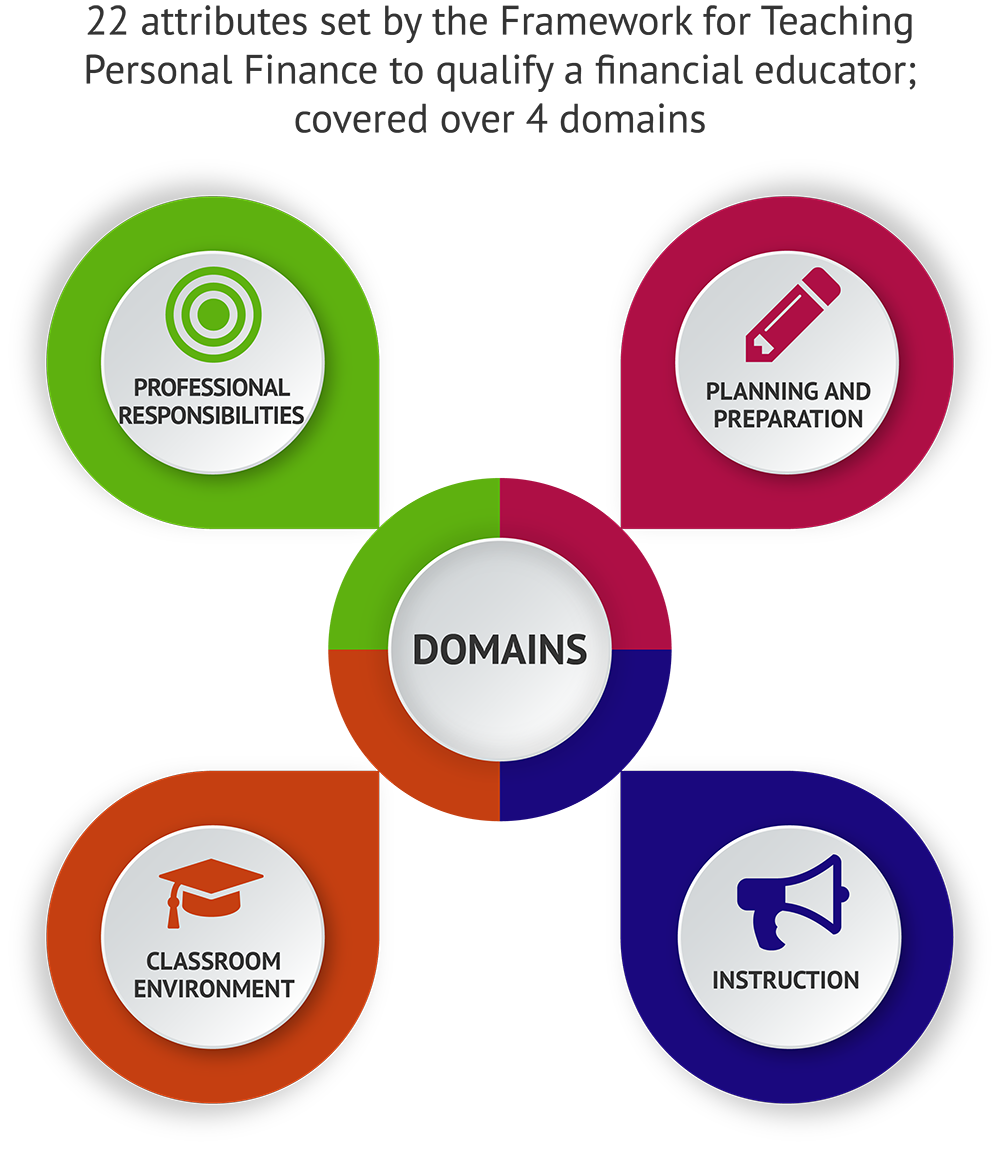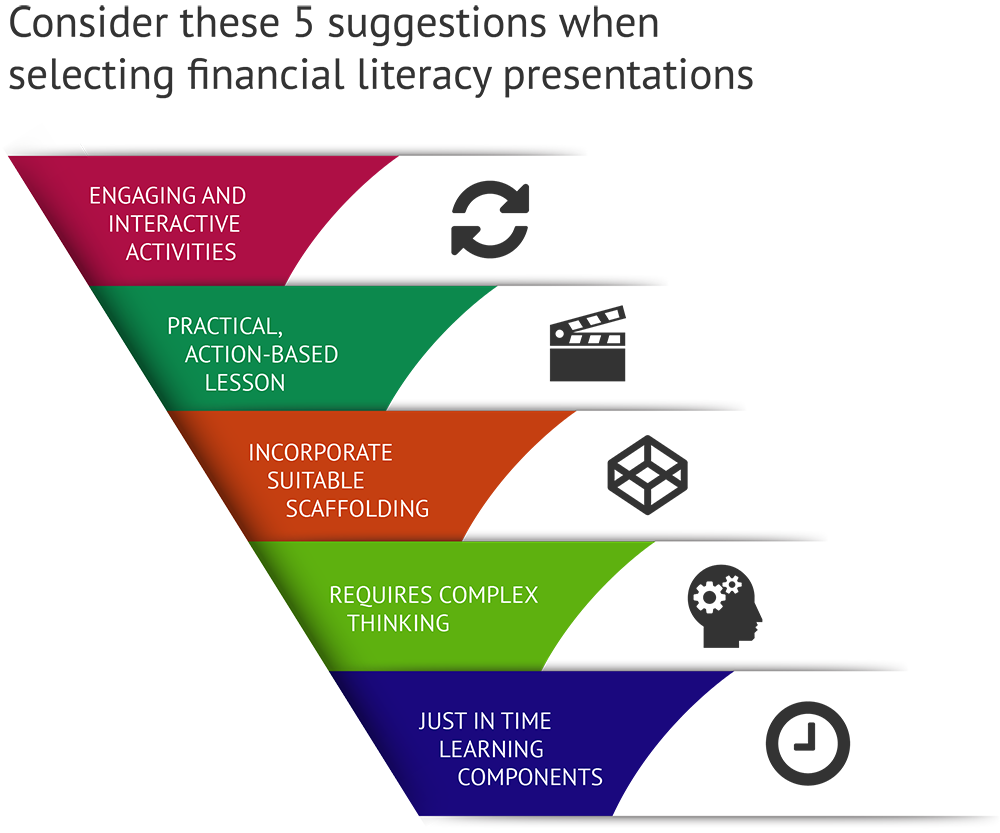 6. Action-based Lessons One Choice for Teaching Personal Finance

What curriculum should Cory use for Teaching Personal Finance? He was looking for something with practical lessons based on getting participants to take action. He reached that goal by choosing a curriculum that covered the topics according to a flexible schedule and using engaging, interactive activities.
7. Assess and Report Results to Leverage Success

Cory also wanted to report the results of the initial effort toward teaching personal finance. Why? Because he could leverage any success to gain support for future programming. That's why he had the instructor conduct pre- and post-training quizzes, which uncovered an average improvement of 35% on knowledge about savings among the 14 call center employees who attended the staff meeting. Cory wrote a report of these results and gave it to his supervisor for distribution to the management team.
8. Long-range Results Require Ongoing Effort

Cory had learned that a single training would not be enough to give Teaching Personal Finance a long-term result. The call center employees would need to be supported and reinforced along their journey toward increasing their savings and preparing to invest. Cory consulted with his supervisor about ongoing education possibilities. The supervisor arranged with the company to match employees' deposits in their savings accounts up to $200 in the first month after the training. Cory's efforts were really making a difference!
Teaching Personal Finance
The NFEC offers a Certification program that helps people with a passion for teaching personal finance gain the credibility and skills to maximize lesson impact. Graduates of the Certified Financial Education Instructor coursework take their place among the highest-qualified financial educators. They have proven their dedication to teaching personal finance by successfully completing this comprehensive coursework.
CFEI graduates are invited members of the Personal Finance Speakers Association, the first national speaker's bureau dedicated to financial education experts and advocates. The NFEC's goal is to provide organizations access to qualified speakers nationwide, and to expand the PFSA's reach to the global community (22 countries as of 2012).
For those interested in teaching personal finance, the CFEI professional development program is the preeminent financial educator training course.
The PFSA is the first national speaker's bureau that features financial education experts, advocates, and presenters with a platform to promote their message.
Organizations: this is your one-stop shop for top personal finance presenters, keynote speakers, and trainers.
Featured CFEI Graduates
We thank our graduates and recognize their outstanding accomplishments. Read about their programs and motivations to teach personal finance.
Financial Education Instructor – Standards
The NFEC has developed National Financial Educator Standards that define the knowledge and skill sets individuals should possess before they are qualified to teach financial literacy.
Event Production
The NFEC offers a variety of full-production events. From small workshops to high-profile celebrity productions, the NFEC has an event to meet your organization's goals.