Personal Finance Testing Center
The Personal Finance Testing Center provides complimentary tests and testing results. Organizations and individuals are welcome to use these online evaluation materials for pre-and post-testing, self-assessment, and/or to improve their understanding of various financial literacy topics.
The Center was developed with three objectives: providing resources for financial educators, offering tools for people interested in improving their financial knowledge, and giving the media up-to-date information about the current state of financial education. The data gathered using the personal finance testing center resources will be used to help adapt NFEC programs to accommodate different learner needs.
The NFEC's financial literacy test results have been featured in Huffington Post, The Hill, Yahoo Finance, Business Insider, MarketWatch, Forbes, CNBC, and many major media outlets. More than 60,000 people from all 50 states participated in our financial literacy test and surveys.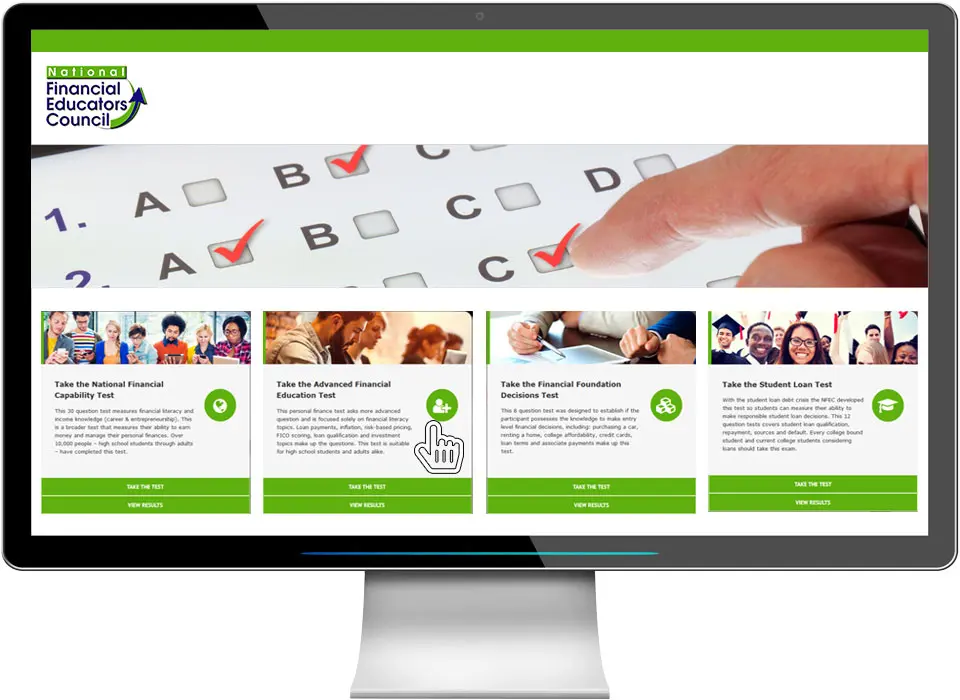 Select & Take the Test
Select Test to Participate In – All Complimentary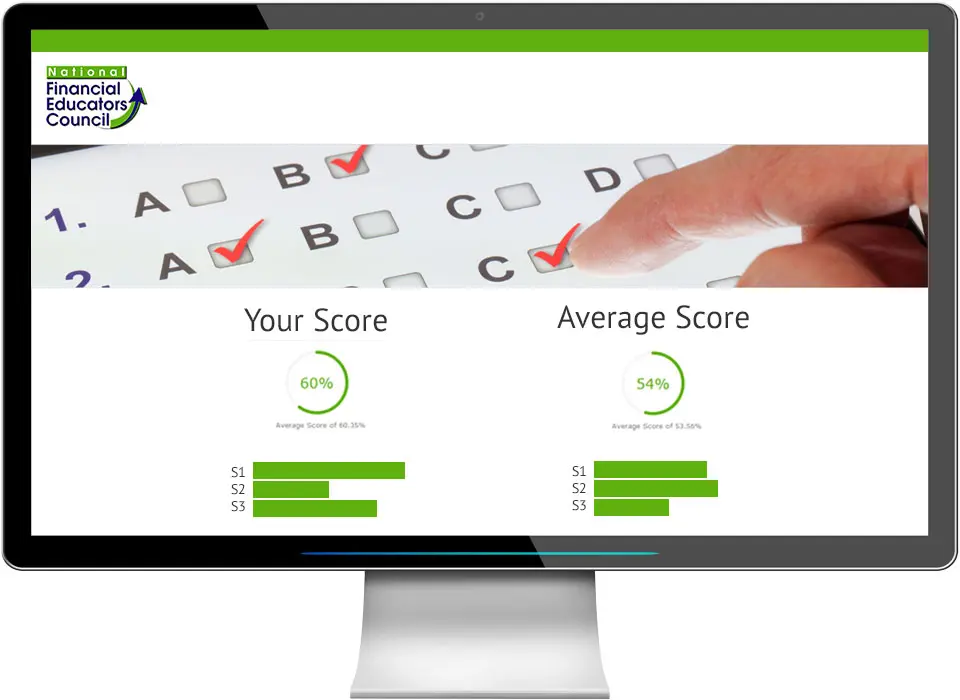 Receive Results
Receive Immediate Results & Compare with Others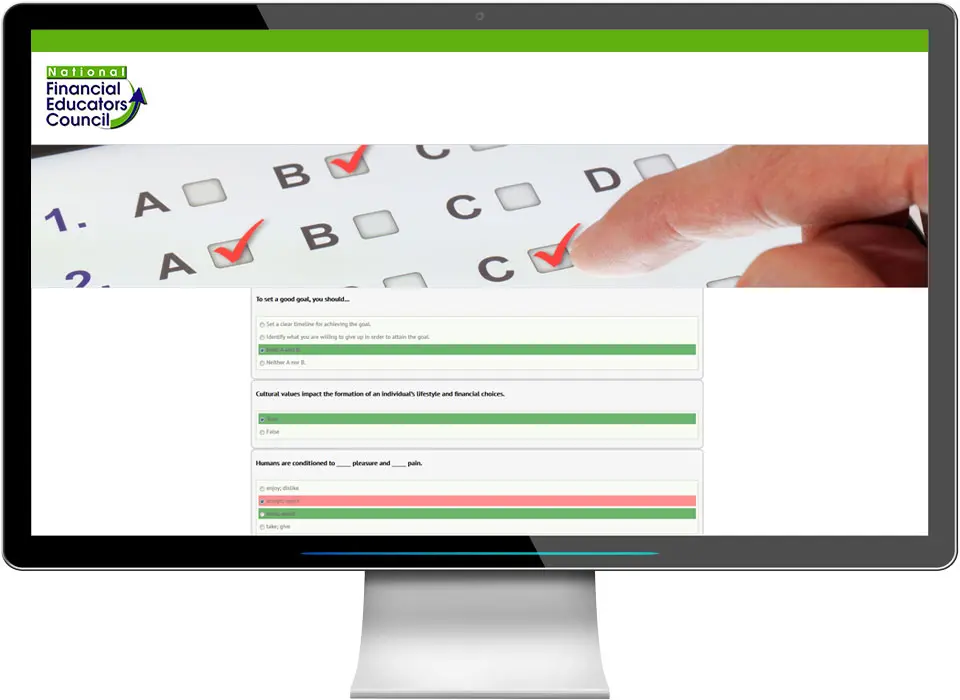 View & Learn
View the Questions, Correct Answers, & Learn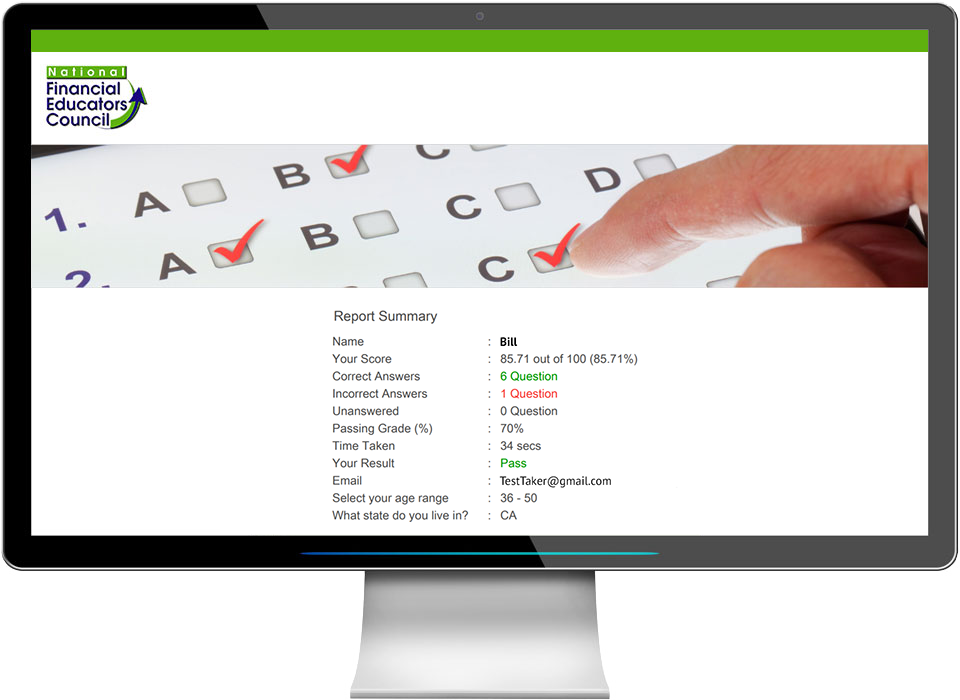 Educators & Course Facilitators
Each student will receive results via email after they complete the test. To receive students' results, have them forward their emails to you.
The National Financial Educators Council, a public benefits corporation, its owners, officers, directors, employees, subsidiaries, service providers, content providers, and agents (referred to as "NFEC") do not offer, recommend, or sell any financial products. The NFEC is a financial education company – all of the information is purely educational. The NFEC is not a financial adviser or licensed to sell any financial products. The NFEC does not and is not licensed to sell securities, insurance, investments, or any financial products. None of the information provided is intended as investment, legal, tax, insurance, or financial advice. The NFEC does not endorse any financial service companies, offer or solicitation of an offer to buy or sell, or provide an endorsement of any company, security, fund, or other offering. Every financial decision carries risk and results of our educational services always vary. The content is provided 'as is' and without warranties, either expressed or implied. The NFEC does not promise or guarantee any financial outcome from your use of our education or coaching services. Under no circumstances will the NFEC be liable for any loss or damage caused by your reliance on the information contained herein. It is your responsibility to evaluate any information, opinion, advice, or other content. Please seek the advice of professionals, as appropriate, regarding the evaluation of any specific information, opinion, or other content.