A Personal Finance Quiz is a Powerful Guide and Asset
With a personal finance quiz from the NFEC, a financial literacy program can determine many things about the students. Their level of understanding can be revealed, along with hidden attitudes and behaviors toward money. A personal finance literacy quiz can be used to evaluate understanding and track progress. Personal finance quizzes can provide proof of success to the students and the program. Proof of success can help procure funding for the program and continuing education for the students.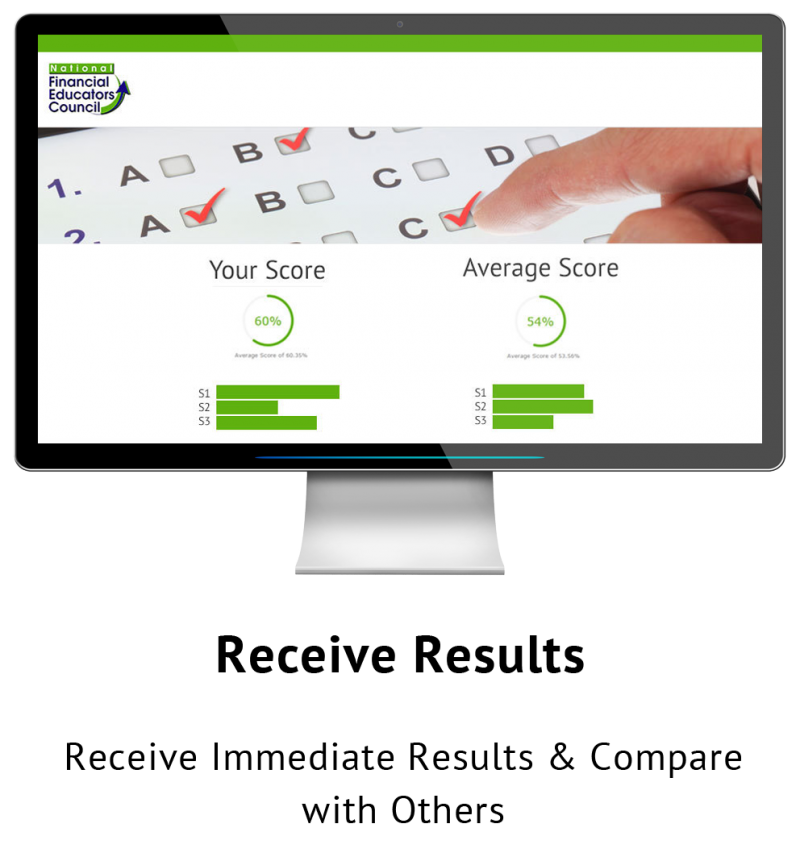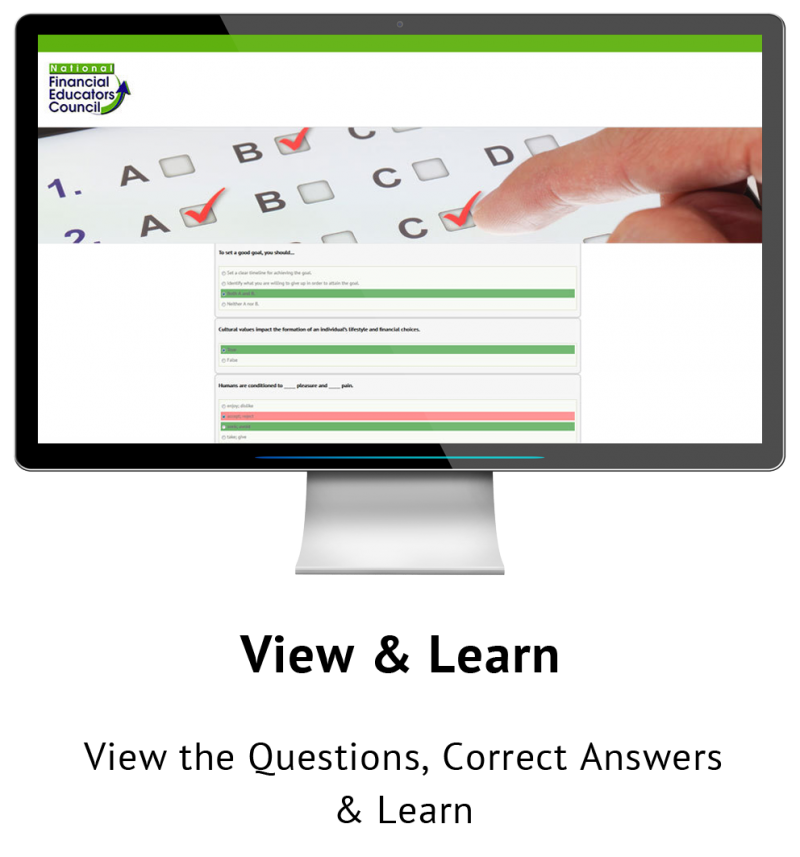 Take a NFEC complementary personal finance quiz of your choice and get your results via email.

Personal Finance Chapter Quizzes Measure Many Aspects of Learning
Personal finance literacy quizzes at the end of each chapter are useful to track many aspects of a students' knowledge throughout the program. We measure the level of financial knowledge, but we don't stop there. We make sure that students understand the First Step to take toward financial wellness. We go deeper to understand the Financial Sentiment of each student and make sure they realize the impact their finances will have on their lives. Changing financial behavior takes time and focus and accurately measuring behavioral change is challenging. A periodic personal finance chapter quiz will prove a useful guide.
A Personal Finance Quiz Will Reveal Depth of Understanding
We make sure the curriculum stays in line with the students' level of understanding. We follow Bloom's Taxonomy of Higher Order Thinking Skills to make sure our courses teach the right thing at the right time. Trying to force advanced knowledge onto someone who is not ready for it can have catastrophic effects on any program. If a student is just learning how to apply her new knowledge is not ready for a test in evaluation. Forced learning before a student is ready often ends in failure for everyone involved.
You know that a financial literacy initiative can usefully be designed around suggestions from potential attendees. That way you improve the program's chances to exceed attendee hopes and address their specific learning capabilities. But the pre-event survey is just one piece of the measurement identified by the National Financial Educators Council (NFEC) as important to assess program outcomes. A personal finance quiz, administered at pretest and post-test, will quantify program success for both the participants and the sponsor.
All financial education programs should set clear and realistic goals and plan to evaluate how well the program reaches those goals. The NFEC has a financial literacy assessment designed to do exactly that. This organizational leader in the financial literacy arena is committed to improving the financial capabilities of our country's citizens, and measuring program effect is an important piece of the event planning puzzle.
Desired outcomes should be identified early in the planning process so the program is designed around educational objectives. Then the financial literacy test is critical for measuring overall impact. At the very least, the NFEC recommends assessing three financial literacy areas: motivation to learn more, knowledge across standard financial topics, and ability to state initial steps for positive action.
Personal financial literacy quiz questions asked of participants after they complete the class should be sure to include all the topics that are covered in the coursework. The NFEC can help organizations design custom tests that accurately represent the instruction. The questions should be practical in nature, and ask participants to describe hands-on action they can take to improve their finances.
Another key feature of the follow-up financial literacy quiz should be having students describe how future iterations of the program might be improved. They should be asked to rate the quality of the materials and the presentation skills of the instructor. The personal finance quiz and all the components mentioned are important to guide planning for future events.
Why should a financial literacy instructor conduct personal finance quizzes before and after each class? That question was raised to the National Financial Educators Council, a leading provider of personal finance education resources, materials, and services nationwide. According to the NFEC, measurement of a program's impact is essential to accomplish a variety of objectives.
First, conducting a personal finance quiz pre- and post-instruction offers a glimpse into the ability of the curriculum to raise key financial competencies. If the instructor compares post-test to pre-test results, he or she gains a quantitative analysis of how well the program worked in terms of building the participants' knowledge base. The financial literacy quiz also should ask how motivated participants have become to change their money habits, and whether they can define action steps toward improving their financial futures.
Second, quantifying results provides important data that can direct the improvement of future presentations. The NFEC already has measures in place to assess the effects of their financial literacy initiatives. Their curriculum, personal finance games and other resources can be used in a wide variety of formats, from a one-hour workshop to a full-scale community event hosted by high-profile celebrities. Regardless of event size, the instructor should always measure changes in participant knowledge around the topic areas that were taught.
Finally, the instructor should conduct a less formal personal finance survey by talking face-to-face with participants. This consultation could usefully happen both before and after the event, and could be conducted either with individuals or in small groups. One goal of the informal discussions is to let the participants help to plan an event that best meets their needs. Another objective is for the instructor to get participants to give quotes and testimonials about the experience. With participant permission, the results of the financial literacy quizzes can be leveraged to gain media attention and garner support for future classes.