Don't Underestimate the Power of a Financial Literacy Quiz
How do you know if your financial literacy education program is a success, if you don't measure and track the students' progress? Not testing is like trying to set a speed record without a stopwatch. A financial literacy quiz system will guide your program to maximum success by pointing out possible weaknesses you might not have seen.
Quizzes and tests are a standard part of the NFEC's curriculum. They are an essential evaluation tool for educational programs and individuals interested in learning more about finance. Start today. Just pick your subject matter, take a test and reviewed the emailed results.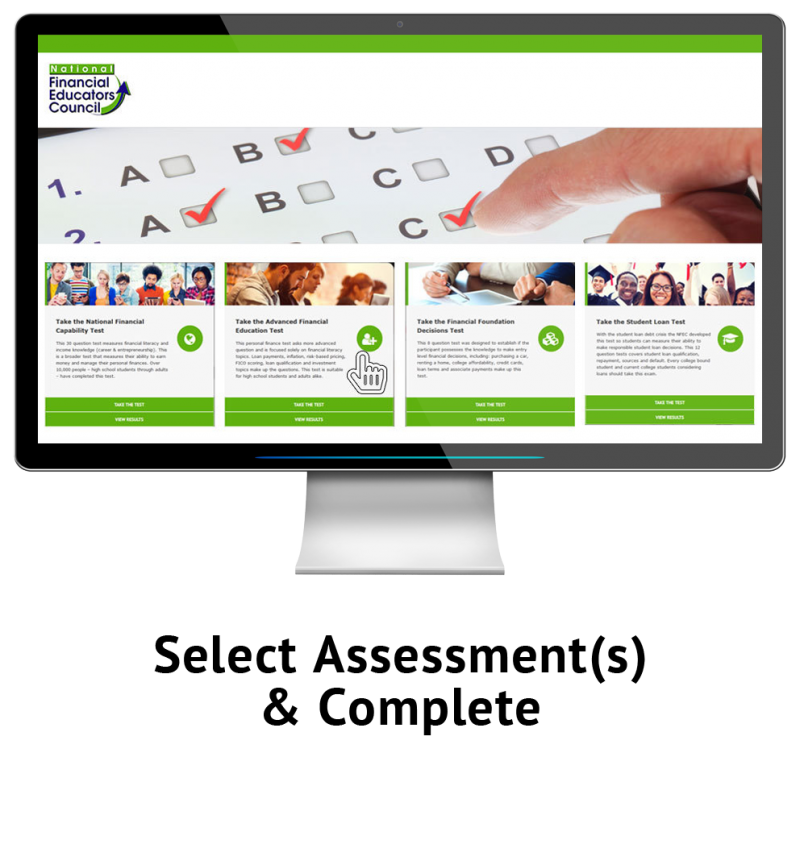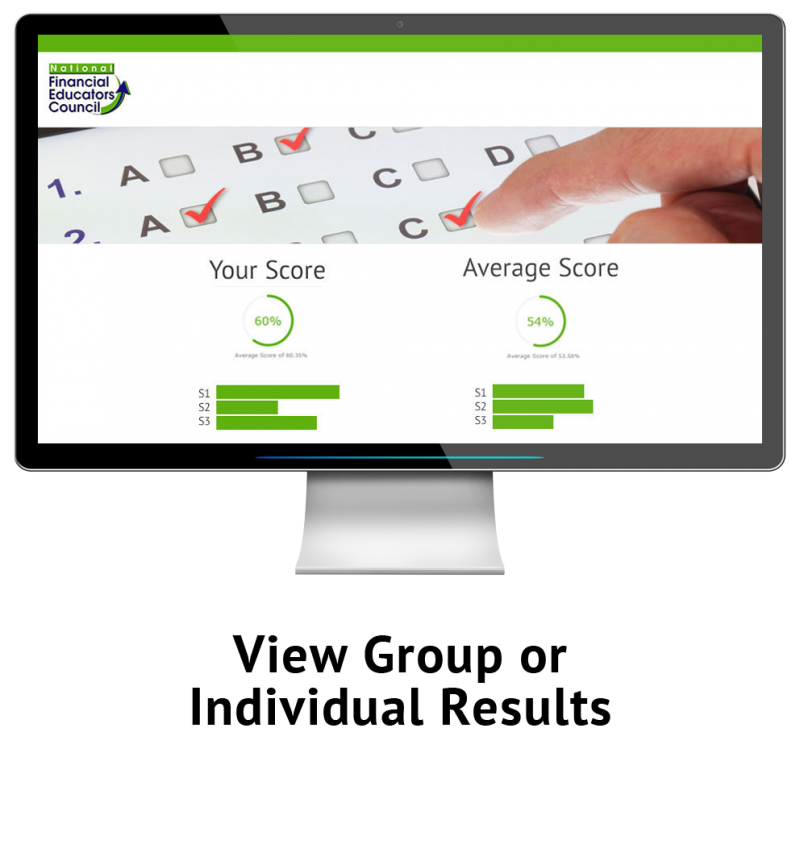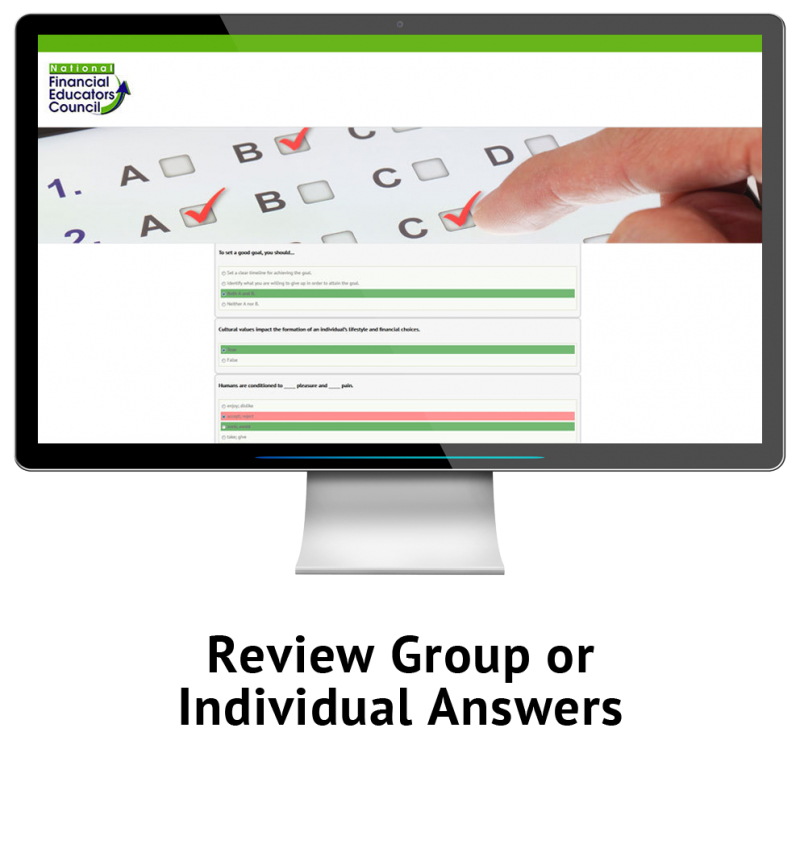 Take a Financial Literacy Quiz Today! We'll email you the results when you're done.

Strategic Financial Literacy Quiz Answers Uncover Hidden Obstacles
The answers to our strategic quizzes reveal more than just financial knowledge. They measure long-term success of a program by tracking a student's progress after class ends. The curriculum includes designing a personal financial system which is to be implemented one step at a time, after completion of the course. Measuring the financial situation of students before and after a financial course is the ultimate determination of success.
We also measure deeply personal aspects of personal finance. These are often unconscious and can be the difference between success and failure. If a person has a bad internal association with money, increased knowledge of personal money management techniques might never be implemented. If a person treats money poorly, their behavior might sabotage conscious efforts toward financial wellness. All financial literacy classes should consider the behavioral side of personal finance.
Can You Find Financial Literacy Quiz Answers in a PDF?
A simple financial literacy quiz pdf can answer the question of how deeply the students are grasping the knowledge. We measure this on scales of Bloom's Taxonomy and Webb's Depth of Knowledge. If a student doesn't understand how to apply basic skills and concepts, they can't be expected to strategically analyze the material. If a course tries to teach advanced phases of learning before the basic is mastered, students will get frustrated and lose interest. That's why measuring the depth of understanding is critically important to the program's success.
Leading financial education organizations such as the National Financial Educators Council have become increasingly aware that measurement must form a cornerstone of curriculum delivery. Toward that end, the NFEC designed their financial literacy quiz to monitor the level at which students retain the information and incorporate the learning into their daily behavior. Only then will we know the curriculum's true effectiveness.
For example, to measure participants' knowledge of personal finance, quiz them about all the topics the NFEC has identified as key financial literacy standards: Emotional Attachment to Money, Credit and Debt, Setting up Accounts, Budgeting, Skills Growth, Income, Networking, Long-term Planning, Risk Management, Investing Basics, and Community Service.
Using a financial literacy test to measure practical skill, according to the NFEC, provides students with the type of experiential learning that ensures the material has direct impact on their short- and long-term goals. In addition, the quiz can illuminate those areas where students may need more instruction and practice.
The NFEC also provides a certification program which turns out the top personal finance speakers in the country. These speakers know that an effective financial literacy program depends on being able to demonstrate positive change in the participants' knowledge. That means conducting the money management quiz both before and after the training to find out how much they've learned.
There are many practical money matters upon which you might test students to determine the effectiveness of a financial literacy curriculum. For example, you could ask them the best way to set up bank accounts in order to pay bills on time. You might inquire about the best ways to plan for a career and compare job offers. Or you could query participants about how to create a savings and investment plan that leads them toward achieving their goals and living their desired future lifestyle. The most important thing to remember is that you must ask questions that directly assess the topics you are teaching in the coursework.
The NFECs' Financial Literacy Quiz was developed through years of research and conducting interviews with over twenty-thousand people nationwide. The test is designed for all ages (12 and older) and can be used as a pre- and post-test in conjunction with the NFECs' financial literacy curriculum or as a way to measures one's current financial capability. This can also be used as a learning tool. The correct answers are provided for those that take the financial literacy quiz to aid in the education process
The NFEC has determined there are three significant areas that measure one's financial capability. Most financial literacy quizzes measure only one area – current financial knowledge. While this is important for measurement it lacks key areas that contribute to a person's overall financial capability.
The NFEC measures ten personal financial education subject matters that align with financial education standards and each topic is measured on three key areas: motivation to learn, current knowledge and recognition of the first step.
Measuring a participants 'motivation to learn' personal finance topics guides organizations on how to teach financial literacy most effectively. The NFEC's Certified Financial Education Instructors are taught to use the Stages of Change Model which provides clear guidance when measuring a participant's willingness to learn. Once identified, the proper financial literacy lesson plans and education style can be chosen.
Knowledge of personal finance subject matter is also measured over the ten key topics contained within the financial literacy quiz. Measuring ones knowledge allows National Financial Educators Council to determine areas that the participants understand and those topics which they may need to cover again.
The ability to recognize the best first steps a person should take toward improving their finances is the third area measured during the NFECs' financial literacy quiz. A goal of all NFEC material and training produced is to move participants to take positive action toward their financial goals. NFEC classroom studies have shown that often participants have the knowledge; however, they don't know what to do first. The lack of being able to identify the 'first step' toward improving their finances often leads to confusion and inaction.
The NFEC provides the online financial literacy quiz free of charge and encourage people to share it with others. The NFEC is gathering data to raise awareness about the financial illiteracy epidemic and we commend you for your interest in improving the financial capability of your community.