A Financial Literacy Assessment Tracks Changes
A financial literacy assessment can be an individual test. Over time, a series of assessments will track changes. The NFEC's curriculum includes a complete financial literacy assessment test system. Pre and post testing provide proof of improvement that grant-providers love. Students also love it because they can list the experience on applications for work and school. Pick your area of interest and take a NFEC personal finance assessment today. Review your results as soon as you're done.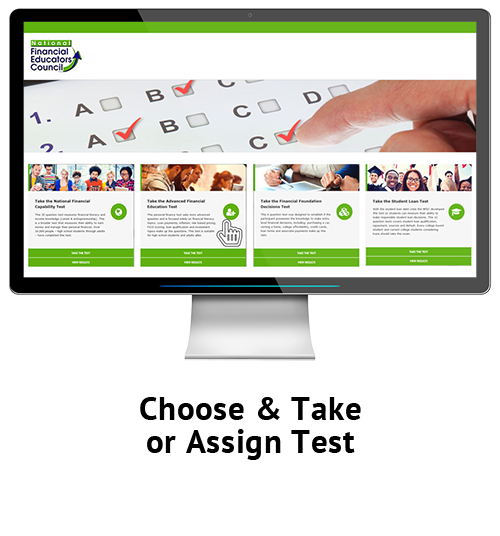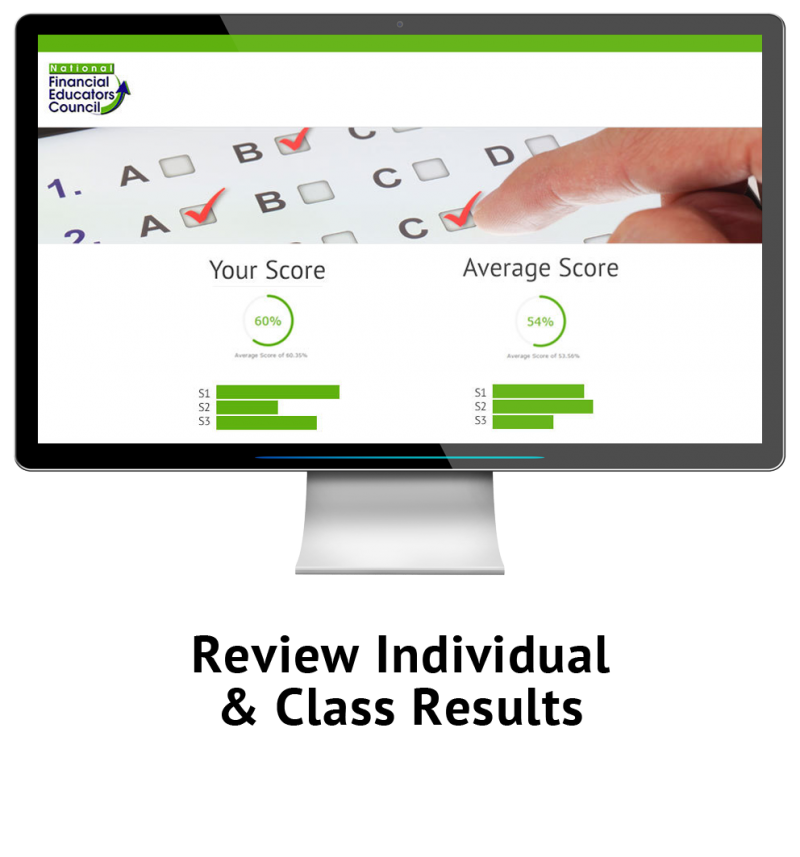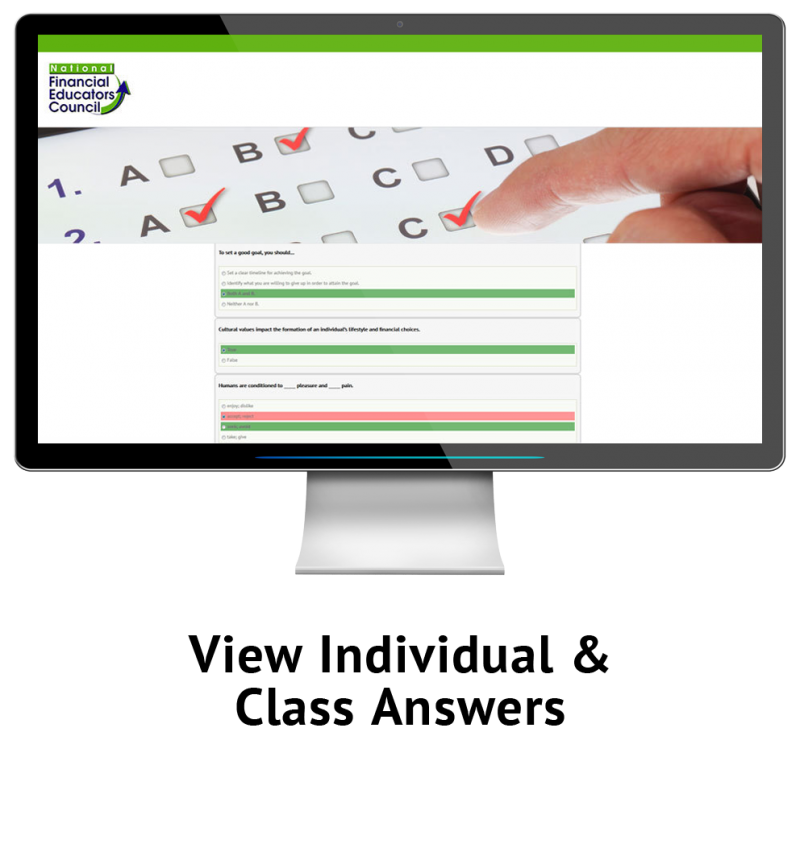 Take a NFEC National Financial Literacy Assessment Test and See Where You Stand. Review results via email when you're done.

NFEC's National Financial Literacy Assessment Test Program Will Show Hidden Factors
We can all agree that it's important to track the student's knowledge of finances. After all, that's the point of what we're doing. Or is it? What if a student learns everything and does great on financial literacy assessment tests, but doesn't use what he's learned? Is the program a success in this case? If the majority of students don't improve their financial situation after completing the program, it cannot be deemed a success.
We measure success by tracking actual financial behavior and situational improvements. The NFEC financial literacy assessment tests measure and track deeper issues such as a student's attitudes and behaviors toward money.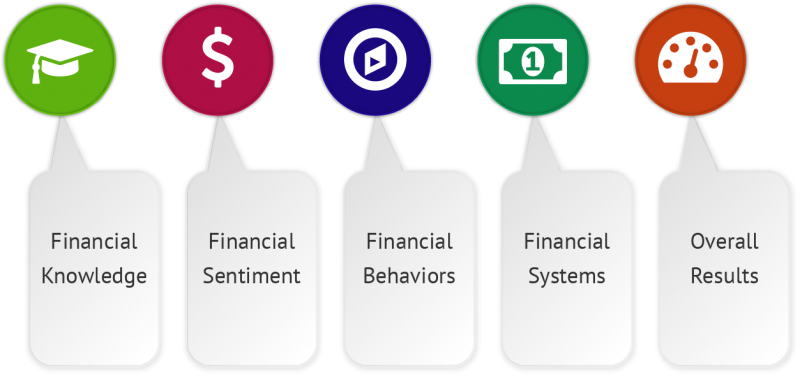 National Financial Literacy Assessment Test Tracks Knowledge Processing
People's processing of information takes place in known stages of learning. Both Webb and Bloom have mapped out this well-defined process in corresponding theories with minor differences. Knowledge can be gained only by following the systematic progression. When we know how well the students know the material, we can teach to that level of understanding. Staying aligned means you are teaching to the student's sweet spot, where they are challenged but not frustrated, confident but not bored. NFEC includes this type of assessment as standard in their financial literacy programs.

The National Financial Educators Council (NFEC) has released the results of several research studies designed to measure current financial capabilities, gather opinions about money management topics, and identify gaps in knowledge to be addressed by financial education curriculum and campaigns. First, in a supply- and demand-side study, the NFEC conducted more than 1,000 face-to-face interviews with citizens around the world about their current financial situations. Results of this study were compiled into a GAP assessment report that guided the development and fine-tuning of the NFEC financial education curricula.
Second, the NFEC collaborated with noted statistician Edward Halteman, Ph.D. to develop a financial literacy test for high school students. Administered online in 2012-13, this survey tested young people's knowledge base around key personal finance topic areas. Survey questions were based on national financial literacy standards. This study found that high school students would definitely benefit from receiving more financial education; less than 30% of the 1,309 youth who completed the test were able to score above the 70% mark, and the average score was 58%.
The third study represented a measure of adult attitudes toward money management and financial education, an analysis that supplemented the student financial literacy test. A total of 452 adults responded to a web-based questionnaire between November 2012 and August 2013. The survey asked respondents to offer their opinions about various financial education matters. For example, one item asked how big a problem it is that most college students do not understand the ramifications of taking out a student loan. Most respondents (93%) stated they believed this problem was either "big" or "very big."
The NFEC conducts empirical research to provide an evidence base to guide financial education curriculum development and event planning. In addition, study results are published into comprehensive reports that the NFEC uses to raise awareness for the financial literacy movement. As this movement gains momentum on the international stage, the results of the personal financial literacy test provide impetus that will motivate more concerned citizens to become involved. Thus the NFEC will move that much closer to achieving its mission to increase the financial capabilities of people around the globe.
Financial Literacy Assessment Measures Key Educational Standards
In order to present a financial literacy campaign for maximum effect, conducting a financial literacy assessment to measure participants' competencies before and after the campaign is a crucial step. The National Financial Educators Council (NFEC) offers just such an assessment to help ensure that campaigns evaluate all the elements that are important for success.
The NFEC has identified ten topic areas in which participants should become proficient in order to achieve basic financial competence: Credit and Debt, Accounts and Budgeting, Financial Psychology, Income, Skill Development, Business Relations and Networking, Risk Management, Investment, Long-term Planning, and Social Enterprise. The NFEC's financial literacy test is carefully designed to assess participant comprehension and capability in each of these knowledge areas.
In addition to these essential money management topics, the NFEC's financial literacy exam is constructed to measure people's positioning along the continuum of readiness to take action. This assessment of readiness includes measuring each of the following:
Motivation: How motivated are the participants to learn about money? The test measures people's understanding of how money affects their day-to-day lives and potential futures, and whether they relate personal finance knowledge to their ability to reach their dreams and goals.
Knowledge: As noted above, this financial literacy quiz measures participant knowledge across the full range of key content areas.
Recognition of first steps: The NFEC's test is different from other assessments because it is not restricted to just measuring knowledge. The organization believes that a sound financial literacy program must also teach participants to recognize the first steps toward accomplishing their financial goals, and give them the confidence and intention to take initial action.
All these pieces are indispensable to accurately measuring the financial capabilities of the target audience for a financial literacy initiative. Learn more about the NFEC financial literacy test.