Developing Successful Financial Literacy Programs for Adults
Do you need to figure out a winning strategy for designing successful financial literacy programs for adults? You have arrived in just the right place. Our hard-working team has carefully crafted a detailed walkthrough that explains each step in a winning process that will result in you organizing a top-notch financial education program.
Financial Literacy Programs for Adults: At a Glance
In Practice: Beginning the Journey
In the scenario that follows, you will get a taste of how a professional successfully pulled off designing a series of top-notch financial education programs for adults:
Dwight is a bank manager, where he manages a small local branch for a national retail bank. He supervises 18 bank tellers, who are mostly between the ages of 30 and 50 – and most of them are parents. After various bank tellers had approached him asking for advice when it came to their personal financial situations, Dwight had an idea: he could organize some sort of financial literacy program for adults that they could all benefit from. They were a family at their branch, after all. He was quite well-versed on healthy money management concepts, but he wanted to get a little bit of help to ensure that he successfully reached his goal.
After performing a sample survey with a small number of the bank tellers during their lunch breaks, he realized that this team needed financial literacy programs for adults that could provide them with just the primary fundamentals of money management.
Goals for Financial education programs for adults
Dwight knew that his goal for the immediate future was to teach his bank branch team some financial knowledge that could help improve their families' financial situations as soon as possible. Because the entire team had packed schedules and little free time on their hands, he realized that they would only be able to give one hour per week to this endeavor – at the most. That's why he was alright with designing condensed financial literacy programs for adults that centered on just most important concepts.
For the end of this journey, his eventual hope was that each member of the tam would reach the "Applying" phase of knowledge.
Setting Out on Your Path
Dwight, with his objectives clearly laid out in front of him, had to then turn his energy toward selecting a delivery method for his financial education programs for adults. This group of bank tellers, unfortunately, had schedules that were all over the place, so he knew that designing a program that was based on the internet would be the most efficient route to take with this bank branch.
Getting it Right on the 1st Attempt
Then, Dwight needed to find a way to severely slash down through the clutter and select the primary focus of his financial literacy programs for adults. Due to the fact that most of the bank tellers on his team were heads of their households, he opted to plan the programs with a principle focus on healthy credit scores and planning for a secure retirement.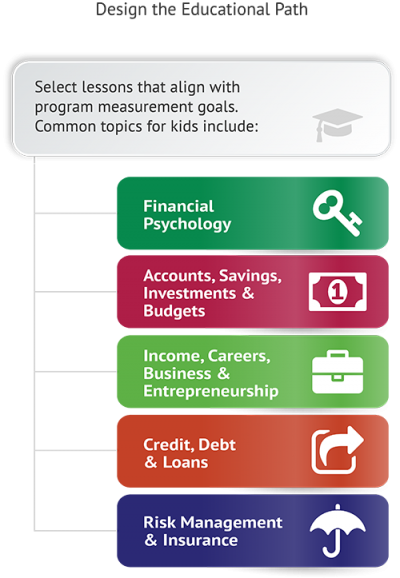 Getting the Help You Need
Next, Dwight needed to try and seek out an educator with the appropriate experience to present his financial literacy program for adults to the group of bank employees. He went searching for a seasoned instructor that had a provable track record, in addition to an impressive level of knowledge related to personal finance.
The sole educator he ended up selecting for his financial literacy programs for adults was an instructor that was certified through NFEC – who was easy to contact.
Financial Literacy Program for Adults: The Setup
Dwight needed an engaging that would be motivational, even with these time and scheduling limitations he was up against. He decided to make sure that he created a program that would be realistically divided up into smaller, modular units that can be done whenever the bank tellers had some free time to spare.
Visualizing Impact
Out of the 18 bank tellers (all of whom participated), 17 were able to complete the first of Dwight's financial education programs for adults – with a 19 percent improvement rating (for the group, on average). He then pulled the final data and generated a document that highlighted just how much progress the bank employees had made.
Taking Pride in Advances
Dwight realized that this group would only be able to apply what they had learned if he could provide them with future support moving forward. When the first of his financial literacy programs for adults was over, he wrote them all individual hand-written letters of congratulations so that they would be inspired to continue learning about money-related habits and financial health.
He ended up choosing to give all the tellers follow-up financial literacy program for adults, once every three weeks or so, in order to enable them to retain what they learned with him the first go around.
The primary goal of getting a job is to produce income so you can live your desired lifestyle, and most people understand that obtaining a college degree increases one's chances of landing a higher-paying position. But nowadays it's becoming less clear whether getting an advanced degree will pay off in the long run. In the National Financial Educators Council's financial literacy programs for adults, they explore this question in depth to guide participants toward making practical life decisions.
We all need income; that's a basic fact of life. We must have money coming in so we can pay for food, shelter, clothing, and all the other necessities of living. And statistics prove that getting a Master's degree can make you an average of $9,000 per year more than you would make without the Master's. What you need to do, according to the NFEC financial literacy program, is balance the additional money you stand to earn against the cost of obtaining the degree. So it becomes clear that advanced education has more value if you obtain that education while you're young. You will have more working years ahead to offset what you pay out to get the degree.
The NFEC is a social enterprise organization that provides personal finance training for all ages. At the college level, their programs serve not only to educate young adults in effective money management. Colleges and universities also can leverage these resources to achieve various goals. For example, building financial competencies is attractive to several potential funding agencies, so colleges can leverage the NFEC campaigns to obtain grants for financial literacy programs.
The bottom line is that getting higher education builds knowledge, and you can't entirely put a price tag on knowledge. And financial literacy programs for college students are an essential part of their fundamental education, giving them practical skills to succeed in the real world.
NFEC Helps Salvation Army Dallas with Customized Financial Literacy Programs for Adults
The National Financial Educators Council is an independent, for-profit social enterprise organization with a commitment to building people's financial competencies. The NFEC has been developing financial literacy programs for adults for the past seven years. Recently they designed a custom program to serve the constituents of the Salvation Army in Dallas, TX.
This adult financial literacy program was based on the NFEC's Financial Recovery Course and custom-adapted to help Salvation Army Dallas clients improve their unique financial situations. The coursework included curriculum, student guides, presentations, and a comprehensive educator training program. The NFEC also gave the Salvation Army DFW Metroplex its Financial Recovery Course Virtual Learning Center as a grant donation.
In reference to this custom adult financial education program Chrystal Carlisle, Social Services Supervisor of the Salvation Army Dallas said, "The program is going wonderfully. Our clients have been very receptive of the information and presentation."
Four Salvation Army staff members successfully completed the financial education instructor training and earned the NFEC's Certified Financial Education Instructor (CFEI) status. These newly-certified staff reported feeling confident and prepared to deliver financial literacy programs to their members.
The customized financial literacy curriculum for adults empowers Salvation Army DFW Metroplex to help participants proactively address their financial concerns using practical, hands-on lessons. "The adult financial literacy course answers many of the questions people have and helps participants feel an instant boost in their financial confidence," states the NFEC's Cecile Abad. "Longer-lasting results develop over time."
The Salvation Army DFW Metroplex Command serves five Texas counties with a mission to care for the poor, feed the hungry, shelter the homeless, clothe the naked, love the unlovable, and befriend the friendless. As Vince Shorb, CMO of the NFEC commented, "The NFEC commends Salvation Army Dallas for their financial literacy programs for adults. It helps people overcome short-term financial needs and pick up the skills to make a lasting difference in the lives of those they reach."
Best Scenarios to Make Financial Literacy Programs for Adults
Do you have a burning interest in financial literacy programs for adults? If so, you've alit upon the correct website. In the sections that follow, you can learn more about the singular features of adult audiences that you should keep in mind, plus ways to tailor instruction to meet their specific needs along the road toward positive behavior change.
Optimum Financial Education Programs for Adults Classify their Financial Situations
Three primary classifications describe the financial situations in which most adults find themselves today. The Recovery category is defined as those who have encountered one or more of the common mistakes people make with money, listed below:
• Negative habits developed in childhood
• Problems that get out of hand
• Unable to define how much money they really need
• Don't know how to calculate ROI accurately
• Lacking guidance from qualified, trusted individuals
• Listening to inexpert advice from friends, coworkers, etc.
• Making decisions based on emotion (e.g. fear, greed)
The second category is Foundation, where adults need to work on securing their financial situation near-term, and can begin setting longer-term goals. The third and final classification is Growth: for adults who have achieved a secure foundation and now can work toward growing their wealth.
To Develop a Financial Literacy Program for Adults, First Assess their Readiness to Change
Financial education programs for adults face the necessity of first evaluating how ready they are to change their behaviors. At the NFEC, we suggest referring to the "Stages of Change Model" developed by Prochaska et al. in the late 1970s. This theoretical framework posits several stages, at any of which an adult learner may stand in terms of his/her readiness to modify behavior.
Following we describe the Six Stages of Change and how they influence a financial literacy program for adults:
Precontemplation. People at the precontemplation stage are not considering taking any action, and might not even realize they're making bad money decisions.
Contemplation. At the contemplation step people are starting to notice that their choices may be causing them problems.
Preparation. When people get to "preparation" mode, they're getting ready to act. They might just need a little direction to get started.
Action. By the time they reach the action stage, people have changed their money management behaviors in some way. They need to maintain their momentum to keep going forward.
Maintenance. Getting folks to the maintenance stage is the goal of the NFEC's financial literacy programs for adults. Here they have made behavioral change, and just need the educator to help them stay the course.
Termination. The termination phase is where people have made good money behaviors a habit.