Starting Point for College Financial Literacy Programs
This page represents an excellent starting point for individuals and organizations with the desire to launch college financial literacy programs. The resources here offer tips for choosing topic content and developing programming that speaks to the common background effects with which college-aged young adults must deal.
The Best College Financial Literacy Programs Cover these Topics
In order to design the best college financial literacy programs, organizers will find the following tips helpful. This section discusses three prominent workshop topics that a college-based program should consider covering.
How will young adults pay to attend school? College isn't free, and prospective enrollees need to discover funding mechanisms prior to showing up on campus. This workshop presents various sources for funding, educational return on investment, creating a college budget, and selecting a career path.
What knowledge and skills do they need to live on their own? Independent life demands that young people know how to goal-set, budget, purchase vehicles, organize expenses, handle credit, and obtain sufficient insurance.
What will they do after they leave school? On average, students leave college owing thousands of dollars on student loans. Learning how to repay their loans on the best terms and designing a plan for life after school becomes imperative.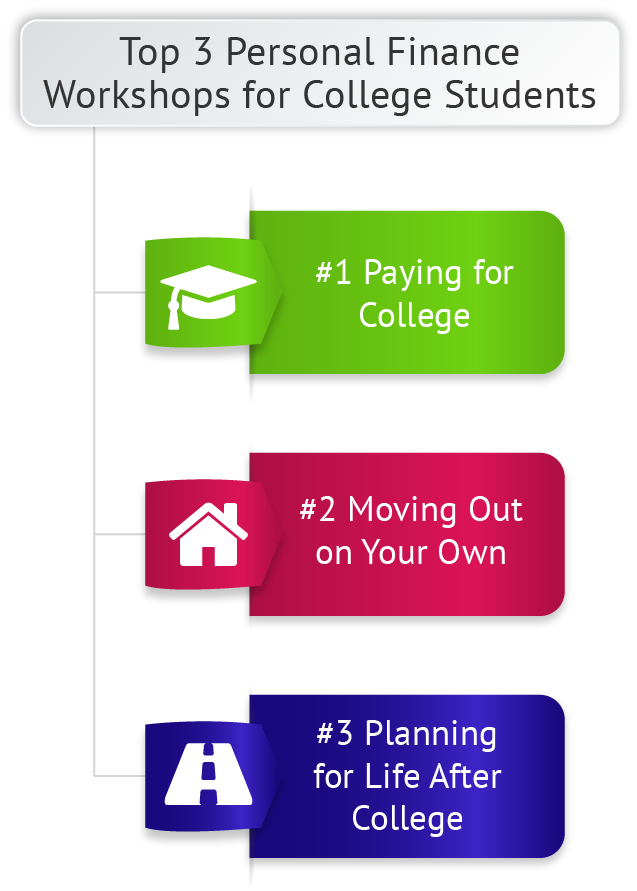 Financial Literacy Programs for College Students – Background Factors to Consider
Young adults have probably developed a full set of financial habits against the backdrop of multiple influential factors. These factors include the parental financial situation, behavioral modeling, financial sentiments they've formed, education about money, and level of systematization of their finances.
It's not hard to see how the parents' financial status has bearing on the young adults' money-handling capabilities. Along with parental influences, impressions are exerted on college-aged youth by their peer group, environment, and – maybe most significant of all – advertisers. Financial literacy programs for college students should strive to counter any influences that may have contributed to negative habits.
Anxiety, fear, and embarrassment represent common negative emotions people develop toward money. These feelings can get in the way of people reaching their goals, and college financial literacy programs that help resolve negative emotions can be especially advantageous. Since most young adults have not received adequate financial education as part of their upbringing, college is a prime time to provide them with key money management skills.
One such skill is the ability to systematize their personal finances. Preparing students by providing the systems and support they need to achieve success in their early financial decisions will be a fundamental piece of the best college financial literacy programs.
In spring 2013 a community college took a huge step toward improving the lives of its students and building trust and goodwill among parents, faculty, staff, and the larger community. How? They launched a series of college financial literacy programs to give students practical tools that will serve them for the rest of their lives.
Institutions of higher education can meet a variety of objectives by promoting financial literacy for college students. In this example, the community college featured 20 events and reached hundreds of participants with live instruction and events. Using a holistic approach to promoting financial wellness, they reached a variety of people including current and prospective students, parents, staff, adult learners, and on-campus groups.
All these programs were made available to the community college by an independent organization known as the National Financial Educators Council (NFEC). This organization has a social enterprise business model and a commitment to increasing financial capabilities worldwide.
Supporting college students and financial literacy provides several avenues for a college to accomplish its goals. In this case, the college presented a series of workshops and was able to demonstrate that the courses made a positive impact on the financial literacy of the attendees. In fact, 50% more of the participants passed a financial knowledge test after taking the workshops than were able to pass before completing the coursework. Not only did they improve their knowledge, but participants also reported feeling much more confident about money topics and believed the workshops would benefit them in the future.
The success of the NFEC programs derives in large part from the high quality of the personal finance speakers they use. These speakers undergo intensive training in how to engage audiences and make the workshops fun. Members of the NFEC's Personal Finance Speakers Bureau are available to promote financial literacy at community colleges around the nation.