Producing Financial Literacy Programs for Youth
Those individuals and organizations with a desire to produce financial literacy programs for youth will do well to read the information that follows. This website sets forth the common challenges that adolescents and young adults come up against, and also defines the topic areas that will provide them the greatest benefit in terms of personal finance planning.
Youth and Young Adult Topic Areas for Financial Literacy Study
If youth are going to become prepared to meet the financial demands of adulthood, they need to learn how to make certain practical decisions about their money. That's why financial education programs for youth should center around three specific topics: how to pay for college, how to move out independently, and how to purchase a truck/car.
Coming up with a strategy to pay for college requires setting career goals, making a budget, figuring educational ROI (return on investment), and investigating various funding sources (granting agencies, scholarship foundations, work-study, etc.).
Moving into an independent living situation depends upon having the ability to support oneself, set financial objectives, budget for expenses, obtain insurance policies, and manage credit. Your financial literacy program should underscore these features.
Buying a vehicle for transportation draws upon such skills as negotiating with a car dealer or private party, selecting insurance coverage, fitting the purchase into a budget, and uncovering all the expenses involved, such as regular auto maintenance and fuel costs.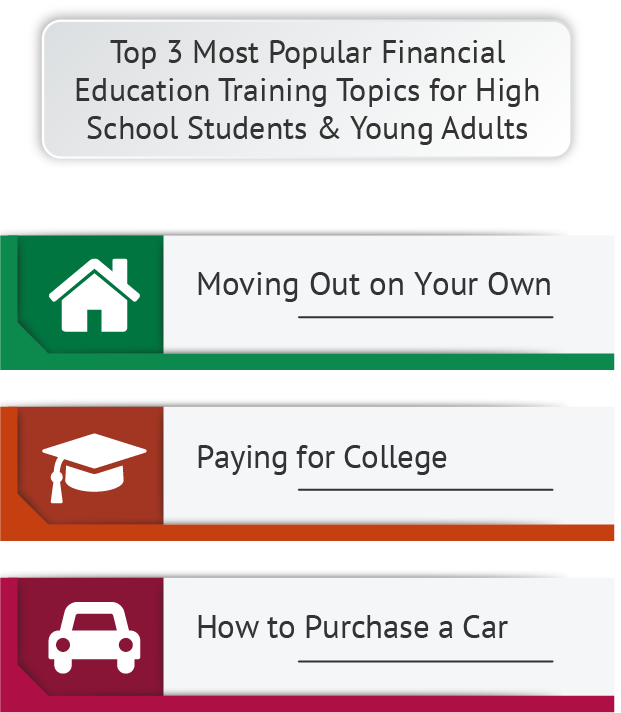 Financial Education Programs for Youth: Look at the Underlying Motivators
Developing high-grade financial education programs for youth can only be accomplished if you examine the factors that go into a young adult's financial upbringing. Youth are exposed to a variety of influences as they grow up, many of which have powerful effects on their financial wellbeing.
As they graduate from high school, some young people will have financial accounting systems in place like checking accounts and retirement plans, but many will not. Helping them organize their personal finance systems appropriately should be one facet of financial literacy programs for youth.
Since a lot of parents are failing to teach their children money skills, regardless what they say, it's vital to offer adolescents a genuine financial education. They will benefit from learning practical money management skills that apply to the real world. They also influence their children's financial sentiment. Do they operate from a standpoint of calm and confidence, or are they saddled with fear and greed? Financial education programs for youth can help shape a positive relationships with money no matter any of their parents less than postive influences.
Young adults have already instituted some financial habits into their daily lives. Whether they're spenders or savers, planners or those who "wing it," these behaviors can become entrenched and make a huge impact on their financial futures.
The money behaviors kids have adopted start with the situations they've encountered in their families. Youth learn a lot just by watching how their parents use money. If they come from families with high SES, for example, they'll learn different skills than kids from lower economic status families. Regardless, all young people have the opportunity to seek financial security if they are able to attend financial literacy programs for youth.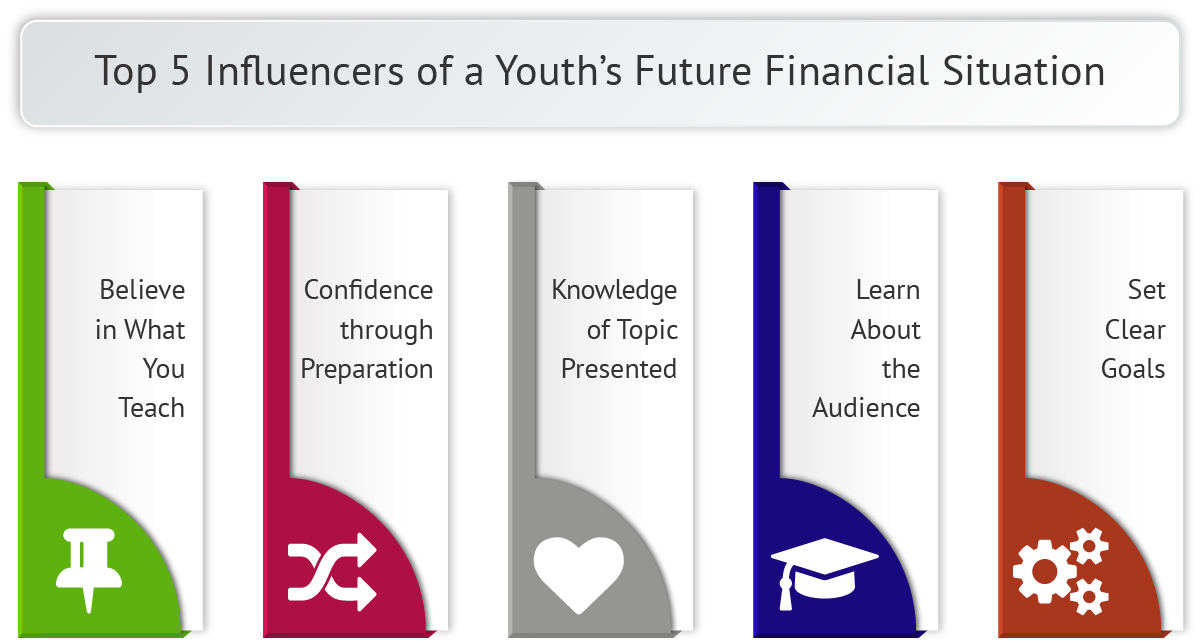 Financial Literacy Programs for Youth: Overview
Do you need to plan helpful financial literacy programs for youth? Have you been searching the internet, but nothing reliable has popped up? This is your lucky day, because you've found what you've been looking for right here. Our team has carefully built an in-depth blueprint that details every step that you should take on the journey toward designing your very own financial literacy programs.
A Pragmatic Path toward your Goal
Below, the following example presents a scenario in which a professional successfully managed to achieve their goal of building financial education programs for youth at their own job:
Asher works as a supervisor at a local amusement park, where he is overseeing an assistant manager training program – where he is responsible for 21 new hires. This group was mostly between the ages of 17 and 19, and several of them had approached him asking for personal finance-related advice since the summer program started. He came up with a rock-solid idea: he would plan some sort of financial literacy programs for youth that they could all learn from! He was quite knowledgeable on the topic of money management, but he still didn't want to embark on this endeavor alone – so eventually he would reach out for some help.
After doing a little surveying with some of the trainees during lunch one day, Asher quickly realized that what this group of new hires needed was a crash course on the core fundamentals of personal finance and healthy money habits.
Set Goals: Financial Literacy Programs for Youth
Asher realized that his near-term objective was to teach this group trainees some key personal finance principles that would help their financial lives sooner rather than later. This group had overlapping, but confusingly conflicting schedules, so he knew that he couldn't ask them to participate for more than an hour per week. That's why, when it came to the financial education programs for youth he was planning, he was happy to do a condensed version of what he would do in a more long-term situation.
Near the end of this series of programs he would plan, his eventual goal was that this group of trainees to rise to the "applying" level of knowledge in this topic of money management.
Positioning a Successful Program
Asher, who had defined his objectives at that point in his journey, had to start to focus his attention on picking the ideal delivery method for this first set of programs. This particular group of trainees at the amusement park had wildly varying work and school schedules, so he understood that an online achievement-based solution would be best.
Financial Education Programs for Youth: Concentration
Asher then needed to do some critical editing and whittle down the financial literacy programs for youth into a more narrowed focus. This group of amusement park trainees was all made up of high school students or recent high school graduates, so he decided to plan the program around establishing healthy credit habits and savings.
Getting Qualified Help in Your Journey
Asher, further along in his path toward executing his first program, needed to seek out an experienced professional that would be able to help present the financial education programs for youth clearly this to this group of young trainees. He went about finding a qualified instructor that had a glowing track record and enough experience in personal finance as a topic.
The educator Asher finally chose was a Certified Financial Education Instructor with credentials from NFEC – who was quite easy to contact upfront.
Why Format Design Matters
Asher would need a program that would still go off without a hitch in the face of the inconvenient schedule limitations he was confronted with. For this reason, he decided to design flexible financial literacy programs for youth that could be divided into modular units that can be completed by the trainees whenever they could squeeze it in.
The Value of Data
In the group of 21 amusement park trainees, 19 were able to successfully complete the first program that Asher planned – with a 24% average level of improvement when all was said and done. Asher then gathered up the resulting data and produced a detailed report in order to demonstrate to the tellers exactly how much they had advanced together in the first of his financial education programs for youth.
The Learning Road Never Ends
Asher knew, as everything concluded successfully, that this group would be able to reach their highest potential if he could keep providing them with resources to continue their learning journey. After the dust settled, he jotted down personalized emails congratulating them and motivating them to keep focusing on what they had learned through their financial literacy programs for youth.
In the end, Asher chose to continue offering follow-up programs once every 2-3 weeks, so that the trainees could keep advancing down the road of personal finance knowledge.
What is the single best way to secure our country's future? The answer is: by supporting our children to live successful lives. Children are our future. So what is the best way to help our children live successful lives, you ask? The answer is: by supporting youth financial literacy programs.
Teaching youth the proper beliefs, attitudes, and skills for handling money does far more than ensure that they'll have money in their pockets. Financial literacy for youth means they will build the foundation to become contributing society members and the ability to give back to their communities and country.
Parents and other concerned citizens who care about the welfare of our nation's youth and the future of our country can find financial literacy curriculum by contacting the National Financial Educators Council (NFEC). This organization sponsors and supports personal finance education across the country, for all ages of kids from a variety of backgrounds. Visit the NFEC website for information, advice, and free tools (www.NFEC.org).
Giving youth the ability and responsibility to earn, spend, save, and share money builds confidence and self-esteem. Trusting teens to manage money and share in household financial decisions helps them understand the value of money and appreciate its uses. To get a financial education, youth usually turn to their parents first. They hear their parents discuss money issues; they watch parents' facial expressions and listen to their tone of voice. If you pay attention you probably will realize that money is a topic in nearly all of your daily conversations. Thus kids are exposed to constant input about the family's financial successes, struggles, and decisions.
Learning to share financial resources helps young people begin to understand that life is not just all about them. Gaining money management skill also teaches them family and community values, the value of trade and giving. That's how financial literacy for teenagers makes our country a better place.