Developing Financial Education for College Students
Providing high-quality financial education for college students has never been more important than it is today. The resources you'll find on this page are designed to guide the development of financial education programs that are age-appropriate for college students.
Just-in-time Preparation for Real-world Financial Realities
Just before young people venture out into the real world is the right time to teach them how to meet the financial challenges of adulthood. We've identified three top topics for helping college-age students move toward financial wellness:
Paying for School. Subject matter for this workshop includes how to plan for university, figure return on investment, and the plethora of funding options for which a student may be eligible – scholarships from foundations, grants from the government, and other financial aid.
Moving Out. Incoming college students will appreciate learning the personal finance side of the moving out process, including how to set reasonable goals, budget, buy a car, pay expenses, and get insurance.
Life After School. To reach financial wellness, college students need to create a plan for what they'll do after they complete their schooling. This workshop covers student loan repayment options, career planning, and other life skills.
To Achieve Financial Wellness, College Students May Need to Change their Habits
Financial education for college students must include features meant to help them address any negative financial habits that have become ingrained into their day-to-day lives. Truly getting to know this audience requires understanding the myriad influences they've encountered since childhood.
Even the circumstances into which college students were born makes a difference. When approaching financial wellness college students are influenced by the socio-economic conditions they experienced while growing up. These circumstances in turn had impact on their behaviors, which started being shaped the minute they were able to understand what money was.
Parents, peers, and the media exert powerful effects on young people's attitudes and beliefs about money. A financial education for college students program needs to help them form positive sentiments and emotional attachments to personal finances.
College-aged young adults are unlikely to have received top-grade financial education prior to entering their higher education institution of choice. And at the same time, college students are barraged with credit card offers. This combination of factors sets young adults up for a host of potential problems upon graduation.
One of the key features of high-quality financial wellness college students programming should be helping them avoid financial mistakes. Just one simple error in handling credit can stay on their records for seven years or longer. Getting into debt at an early age can put them at risk for major problems in the future.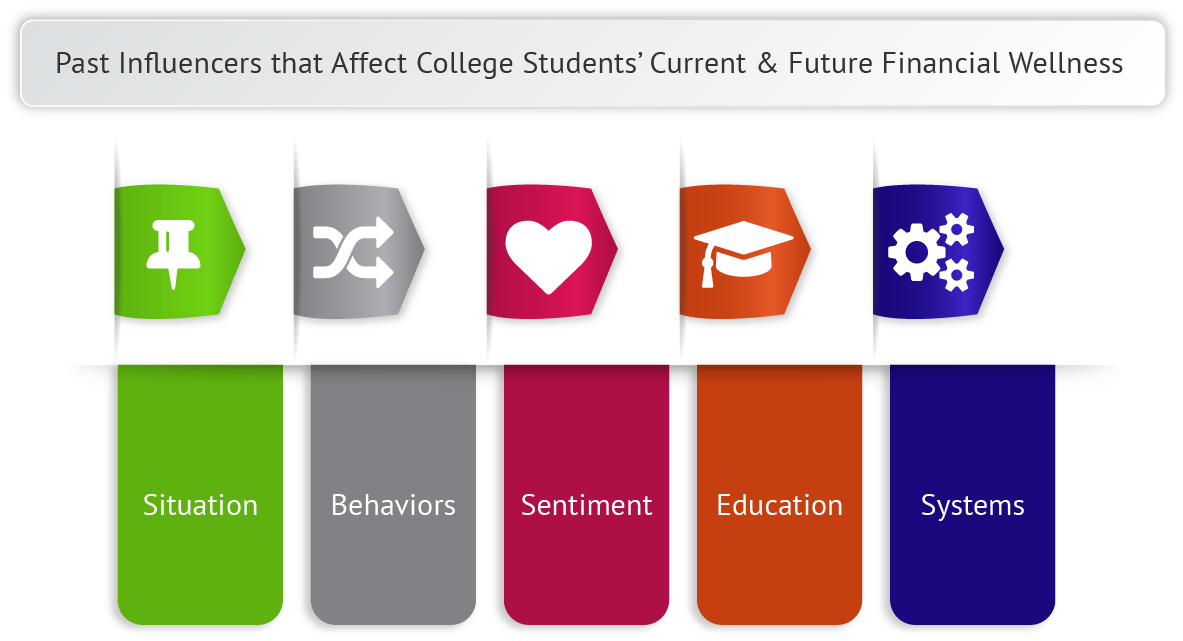 Financial problems have reached epidemic proportions in our country. Financial issues contribute to a variety of troubles many people face today, from crushing debt to retirement shortfalls. This epidemic hurts individuals and communities alike.
The financial literacy movement is at a tipping point – colleges, trade schools and other stakeholders contribute toward a global push to improve financial capabilities among the world's citizens. You are invited to join the financial literacy movement in a way that aligns with your personal, business, and philanthropic goals.
How the Higher Education Industry Participates
Per the Consumer Financial Protection Bureau report, as a nation we spend about $670 million per year on financial education. The growing demand in higher education is being spurred by regulatory pressures, increased funding and social interest, and growing competition among various stakeholders.
Currently, colleges and trade schools make up a small portion of financial education programming. There is a significant gap in the field of higher education when it comes to ensuring that students are prepared for the financial realities they will face after graduation.
Colleges and trade schools participate in two main ways:
Serve Current Student Body
Hosting events, workshops and classes

Conducting awareness campaigns

Integrating personal finance into existing classes

Student-led financial education programs

Special events – i.e. events for new students
Serve the Broader Community
Financial education program donations to feeder schools and nonprofits

Offering Certification programs for educators

Thought leadership in the space – promoting standards & best practices

Providing a variety of financial education resources to the community
Top Participation Reasons
With student loan debt levels above $1 trillion, there is a renewed focus among policymakers to address the student debt problem. Colleges and trade schools that are proactive in addressing this problem will avoid problems of student loan defaults and will do a great service for students.
Sustainability is the key to long-term success and scalability of any financial education program. It is important for organizations that want to make a lasting difference in their communities to adopt a model that funds ongoing financial education programming.
Relationships & Revenue
Enroll New Students

Supporting Existing Students

Add Revenue Centers (sponsorships, grants, classes, etc.)
Philanthropic
Support Students' Financial Wellbeing

Engage Alumni in Financial Services

Strengthen Existing Programs
Brand
Strengthen Positioning & Brand

Receive Media Awareness & Build Community Goodwill

Limit Negative Exposure by Proactively Addressing Regulations
New Innovations Upgrade Program Options
Among the vast array of programs that have cropped up over the past decade, few – if any – can claim to draw upon solid empirical evidence of best practices for financial education. This failure can be attributed to a lack of experience, personnel, capital, and executable processes.
The current reality is that most financial education programs are a random mixture of resources that lack overall campaign design. Few organizations have adequate measurement systems in place, and even fewer know how to use the data. This shortcoming results in financial education programs that are short-lived, suffer from poor participation rates, and offer limited brand benefits.
But it doesn't have to be this way.
Recent research, process, and technology breakthroughs allow individuals and organizations of all sizes to contribute in a meaningful way to promote the financial literacy movement. Even if you are just starting out, you can lay a foundation for your initiative based on available best practice data.
Financial Education for College Students
When higher learning institutions choose to present financial education for college students, the benefits go far beyond helping the students. The National Financial Educators Council (NFEC) provides a set of services and materials that also support important institutional goals. The NFEC is a social enterprise organization that implements comprehensive financial literacy campaigns aligned with the objectives of the colleges and universities they serve.
For example, a state university in the Southwest United States has leveraged NFEC resources to create a campus-wide peer-to-peer financial education initiative. Financial companies have a vested interest in supporting such campaigns and, in this case, the university attracted the sponsorship and support of a banking institution with major influence in the area. The university was able to build this relationship using the NFEC's outreach tools, which are proven effective for garnering financial backing.
Financial literacy for college students also may be leveraged to obtain grant funding. Foundations and government agencies often seek out programs that succeed at improving the financial capabilities of participants. The NFEC provides pre- and post-testing as well as longer-term measurements that demonstrate program success. They also offer support and consultation throughout the grant application and planning process. And when they learn money management, college students prepare to face real-world challenges and have a greater chance of achieving success as adults.
The NFEC offers holistic financial education services that are far-reaching, appealing, and sustainable. Colleges and universities across the country now may benefit from these initiatives. Collaboration with the NFEC can help schools and other organizations achieve a variety of objectives including student acquisition and retention, media exposure, community networking, fundraising, and much more. And all these goals are achieved within the context of improving the money management skills of college students, thus helping to ensure their successful futures.