Guidance to Tailor Financial Literacy for Youth

Building programs in financial literacy for youth requires sensitivity to the unique problems adolescents face related to money. If you have an interest in tailoring such a program for a youthful audience, this is the place to be. The information that follows provides guidance on how to choose the right topics to help kids navigate the financial real world.
Foremost Topics to Reach Teenagers and Young Adults

Any undertaking to teach financial literacy for youth should make an effort to meet them where they are. In other words, the programming should emphasize the topics that have most value to their life decisions. That way, kids stay engaged and are more likely to translate learning into action.
This sort of just-in-time preparation might constructively focus on what adolescents need to know in order to become functioning adults. For example, we should prepare young people to meet the challenges of living on their own. They'll need to understand how to rent living quarters, manage their transportation needs, schedule and pay for utilities, purchase renter's insurance, and handle credit.
The transportation component of living on one's own may involve buying a car. Car-buying is a delicate process with many potential pitfalls. Youth financial literacy programs can maximize their benefit by helping kids clarify the hidden expenses of vehicle ownership, fit those line items into their budgets, bargain for the best car at the best price, complete loan applications, and select adequate insurance coverage for their vehicle and location.
Are these specific youth planning to attend university? If so, programs in financial literacy for youth could help them illuminate various funding options to pay for college. Before they take out costly student loans that will saddle them with debt for decades, the program could demonstrate other funding sources such as grants, scholarships, and part-time employment.
Getting to Know Your Audience Helps Increase Youth Financial Literacy

Before you start teaching youth financial literacy courses, it's vital to understand your audience and the trials they're either facing now, or are likely to encounter in the near future. For one thing, adolescents have been exposed to millions of advertisements over the course of their lifetimes. Just think of the messages those commercials have impressed on their young psyches. There are a host of psychological problems to which advertising may contribute – from moral decay, to lack of patience, to social apathy. When teens see images of their peers in ads and feel that those images represent a look or status they can never attain, their self-perception declines and they can fall into depression.
Self-efficacy in regard to money is another key concept for instructors to understand when conducting financial literacy for youth. Self-efficacy means the ability to deal with a given situation successfully. In the context of finances, that means having a positive attitude toward money management and the confidence to act upon one's knowledge and capability.
An effort to increase youth financial literacy will achieve best results if it helps young people enter the world prepared to meet the challenges of life head-on. Practical instruction in setting up bank accounts – including savings, checking, and retirement – is a central piece of encouraging kids toward developing practicable money management systems. Getting these systems in place early lays the foundation for a positive financial outlook.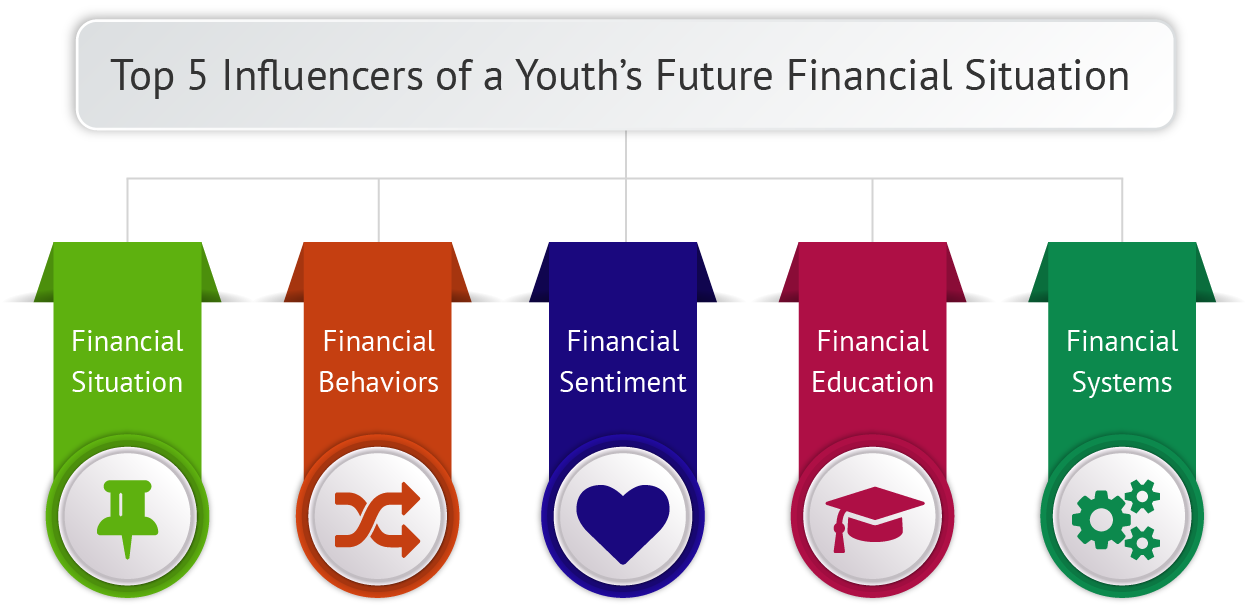 Youth Financial Literacy
New research links positive credit outcomes to mandated youth financial literacy courses.  A FINRA funded study released demonstrates the effectiveness of state mandates on financial education for high-school students.  It showed improvements in credit outcomes for young adults who were exposed to rigorous financial education programs.
You can read more about the FINRA study and others in the National Financial Capability Strategy report.
The FINRA Investor Education Foundation's report 'State Financial Education Mandates' found that 3 years after implementing a financial education mandate credit scores of participants improved by 11 points in Georgia, 16 points in Idaho and 32 points in Texas. It also demonstrated that 90-day delinquency rates on credit accounts decreased in all three states.
Foreclosure, huge personal debt loads, bankruptcies—Americans today face horrendous financial challenges. Most people experiencing these problems could have avoided them if they had only received a youth financial education when they were kids. Yet even today, few (if any) schools include personal finance in their regular curriculum. Dealing with funding cuts and meeting test requirements leaves little room for public schools to support money management education.
Why is financial literacy for youth so important? In the long run, young people need to learn practical steps for handling money wisely to secure their financial futures. A high school student today probably faces a retirement without benefit of pension or social security funds. Learning the value of savings and compounding interest will help these young people decide to set aside the money they'll need to retire.
But people may not know that those that take courses that offer comprehensive financial literacy curriculum will have positive effects in the short-term too. More than two-thirds of college students today will have to move back in with their parents post-graduation. Moreover, only 20% of those students' parents say their children are prepared to deal with the financial decisions they'll have to make after they get out of school. Entering the financial real world poses difficulties for many young people, but learning practical personal finance lessons can have an immediate impact.
Making life easier for young adults is what the National Financial Educators Council (NFEC) is all about. This independent, socially responsible organization promotes youth financial education, financial literacy, and life skills through a variety of events and services.
For young people, gaining financial literacy skills will offer immediate benefits and help instill good money habits for the long-term. Learning to manage money well affords young adults the capability to live a full, worry-free lifestyle.