Where Can I Find Comprehensive Personal Finance Resources?
Where should you look to find the best personal finance resources? The NFEC offers the most comprehensive financial literacy resources toolkit available today – from all-ages curriculum packages, to workshop resources, to full-scale events that can reach thousands of attendees.
These wide-reaching Personal Finance Education Resources go much farther than just teaching financial knowledge. Grounded in empirical research, the materials also engage the affective dimensions of learning and behavior change. In other words, they address the emotional aspects of money management that often leave people feeling overwhelmed and paralyzed when they think about money. NFEC has the best personal finance resources because they help learners actively process and apply the learning into day-to-day financial decision-making, for example, choosing where to bank.
Meaningful Application is Key Characteristic of Best Personal Finance Resources
The NFEC has designed its personal finance education resources – in accordance with research-based principles – to account for the fact that each individual has a unique set of financial habits, emotional connections with money, and financial realities. The curriculum centers around financial events that learners may already be experiencing, or are likely to experience; and instructors help students drill down on their motivations and reasons for learning. This meaningful engagement builds learner interest in the content and increases the practical significance of the lessons.
Some of the evidence-based instructional methodologies around which these financial literacy resources for teachers were developed include:
Backwards planning to support learner progress toward clearly-defined outcomes;

Active learning techniques (visual, social, self-regulated, and project-based);

Audience adaptation so instructors may scaffold and adjust activities accordingly;
Focus on the affective elements of learning and motivation in general, and on changing financial behaviors specifically;

Recommendations for helping participants develop systems that support their behavior change; and

Long-term follow-up and ongoing support.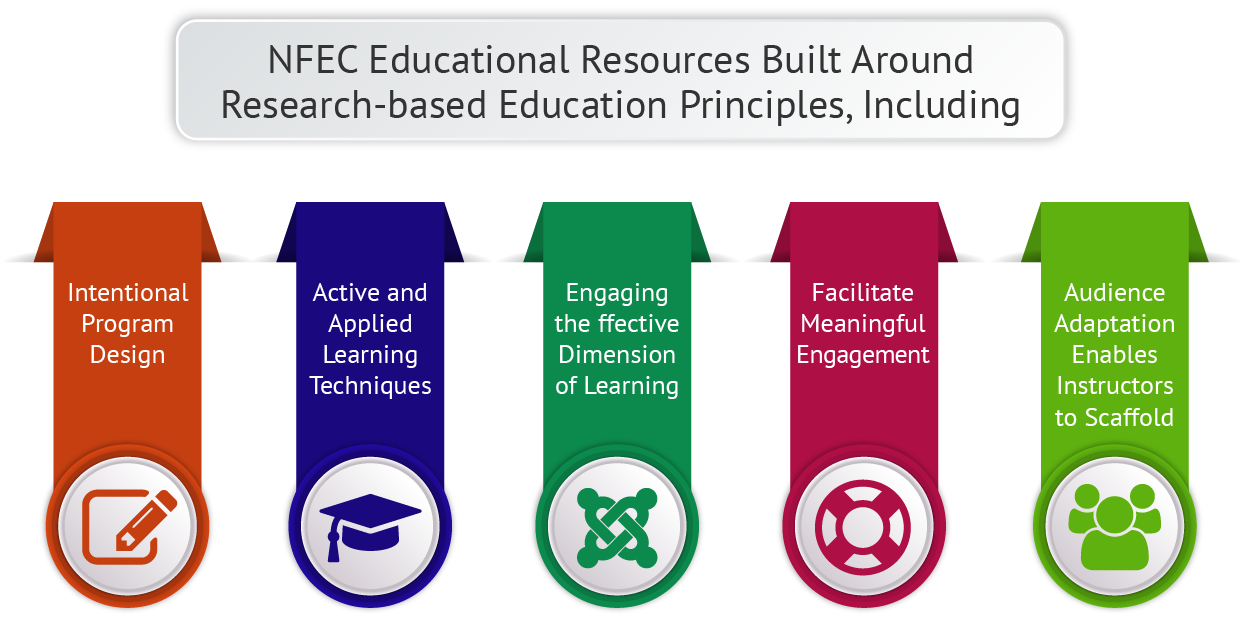 NFEC Personal Finance Resources Combine Multiple Approaches
When participants can see how information applies to their daily lives, they're more likely to remember what they've learned. So how do you achieve this outcome? By combining a mixture of educational touchpoints and delivering learning in multiple ways. That's why NFEC Personal Finance Education Resources have multimethod approaches built in.
The instructional mix includes personal, technological, and supportive delivery options. In addition, educational touchpoints are separated into three phases: pre-program, during program, and post-program. NFEC personal finance education resources for pre-programming include marketing, promotions, registration forms, invitations, and assessments. During the program, you can take advantage of signage, handouts, and tools for anticipatory education. At post-programming, employ audience recognition, continuing education, and report generation tools.
Featured by The Federal Reserve
The NFEC's state-of-the-art multimethod approach to financial education has been featured by the Federal Reserve.
Social entrepreneurs and community organizations with a passion for making people's lives better might consider joining the financial literacy movement. Organizations like the National Financial Educators Council (NFEC) provide personal finance resources that are designed to help people become able to make the qualified money decisions that can improve their financial situations and thus their lives.
The NFEC is an independent education organization that shares financial literacy resources with leaders and community groups around the globe. Available resources include presentations and curriculum; a certification program for those who wish to become financial education instructors; high-profile events and full-scale financial literacy campaigns; marketing and promotional materials; and online learning centers. All these learning tools are designed to be engaging and fun for participants, while remaining aligned with core educational standards.
For organizations that wish to share the financial literacy message with their members and communities, the NFEC offers turnkey solutions in personal finance education resources. If you are a financial professional who wants to help people improve their financial situations, the NFEC will help you position yourself as your community's go-to person for speaking engagements, promotions, and initiatives related to financial literacy.
Once you become recognized as the financial literacy expert in your community, you can leverage NFEC resources to fulfill your business, philanthropic, and personal goals. As stated in the organization's personal finance books, there are steps you can take to gain position as a leading financial literacy advocate:
Donate some of your time and personal finance resources to helping the underserved in your community.
Take a personal finance course that gives you credentials and certification as an educator, like the NFEC's Certified Financial Education Instructor program.
Update your bio sketch, social networking profiles, and marketing materials to reflect your positioning as a social entrepreneur seeking to improve the lives of others.