A Simple Money Management Quiz Offers Multi-Layered Value
Not only does a money management quiz show student progress, it also guides the financial educational program toward success. Quizzes provide feedback on how the course is progressing and its efficacy. They also show proof of success, to be used by students on resumes and college applications, and by program facilitators to help get funding and expand.
The NFEC offers complimentary tests and includes them in every educational course. If you're interested in taking a money management assessment, just pick a topic and take the test. We'll email your results as soon as you submit the completed test.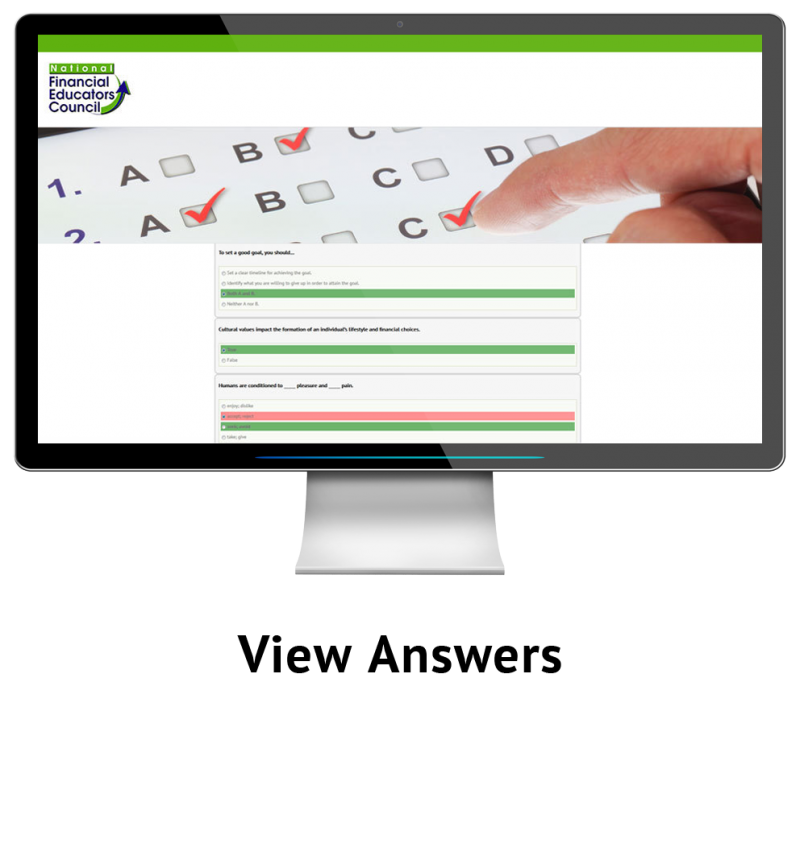 Take a Personal Money Management Assessment Today! We'll email you the results.

Take a Personal Money Management Assessment Today! We'll email you the results.
When administering a money management assessment, it is important to reveal all aspects of a person's relationship with money. Our money management quizzes don't stop at financial knowledge. We search deeper to reveal a person's attitudes and behaviors toward money. These powerful forces are often unconscious and can undermine all conscious efforts to become financially sound. Our curriculum includes creating a personal financial plan. After the course and financial literacy exam is complete, we measure the students' implementation of their plan. This reveals the students' improved financial situation, which is the ultimate measure of success for any financial literacy program.
A Money Management Assessment Quiz Reveals Depth of Knowledge
The right money management questions can show the students' level of understanding on Webb's Depth of Knowledge scale. Keeping track of this is very important because teaching to the students' level of knowledge keeps them challenged, confident and engaged. If the curriculum is teaching Strategic Thinking to students who are still struggling to grasp the Skills and Concepts, they will quickly become frustrated and lose interest. They might even learn to distaste the subject matter. This preventable tragedy that might last a lifetime can be bypassed with a simple money management quiz.
Evaluation forms a crucial element of any educational program, and financial literacy efforts are no exception. If we don't measure how much the students learn, we'll never know if the instruction made a difference. The National Financial Educators Council (NFEC), a world-renowned social enterprise organization dedicated to raising financial capabilities, recommends a money management quiz as one component of an accurate evaluation.
The NFEC says three measures are important to adequately evaluate a financial literacy program: 1) an initial survey to ask participants about their needs and interests; 2) a financial literacy quiz to measure their current levels of knowledge; and 3) consultation with attendees before the event.
The initial survey should ask potential students to identify the topics about which they most want to learn, and logistical questions about best days, times, and locations for the event. This survey also should ask if they're experiencing current financial struggles that motivate them to learn about money. The financial literacy test should cover the topics that are going to be taught in the coursework. These topics should be based on the results of the initial survey and tailored to the individual audience.
Conducting this test both before and after the class will give you an idea of the level of money management skill the students actually picked up. Writing a good test is fairly easy to do. The NFEC approach to teaching money management is practical, so the test should cover real-world applications of the topics you taught during the class.
The final evaluative piece is administering the money management quiz. In addition to conducting the money management survey pretest, consulting either individually or in small groups with the participants allows them to become part of the planning process. That way they will buy into the program and feel a sense of ownership. You'll ensure that the topic areas and program delivery really address their concerns and build value for the event.