Military Financial Literacy
The National Financial Educators Council provides active military financial literacy and veterans financial literacy resources, support, and training to organizations that serve veterans and/or active duty military personnel.
With its social enterprise business model, the NFEC is committed to serving U.S. veterans and active duty military personnel. As part of its American Dream Movement, the NFEC offers resources complimentary to select organizations that work with the individuals who have served or are serving our country. We also offer a military discount to individuals. The movement's objective is to provide military service people with access to training and materials that will help them make sound financial decisions aligned with their life goals.
Recent Legislation Related to Military Financial Literacy
The U.S. Government has shown its dedication to promoting financial literacy among the military services by mandating financial services training and counseling for all armed forces personnel. As of July 2016, law USC 992 requires the Department of Defense to provide comprehensive financial literacy training to all members of the U.S. armed forces.
The Office of Financial Readiness (OFR) is charged to fulfill the requirements of this law. OFR provides training at each touchpoint indicated in the legislation; and makes Personal Financial Managers/Counselors available through Family Centers set up for servicemembers.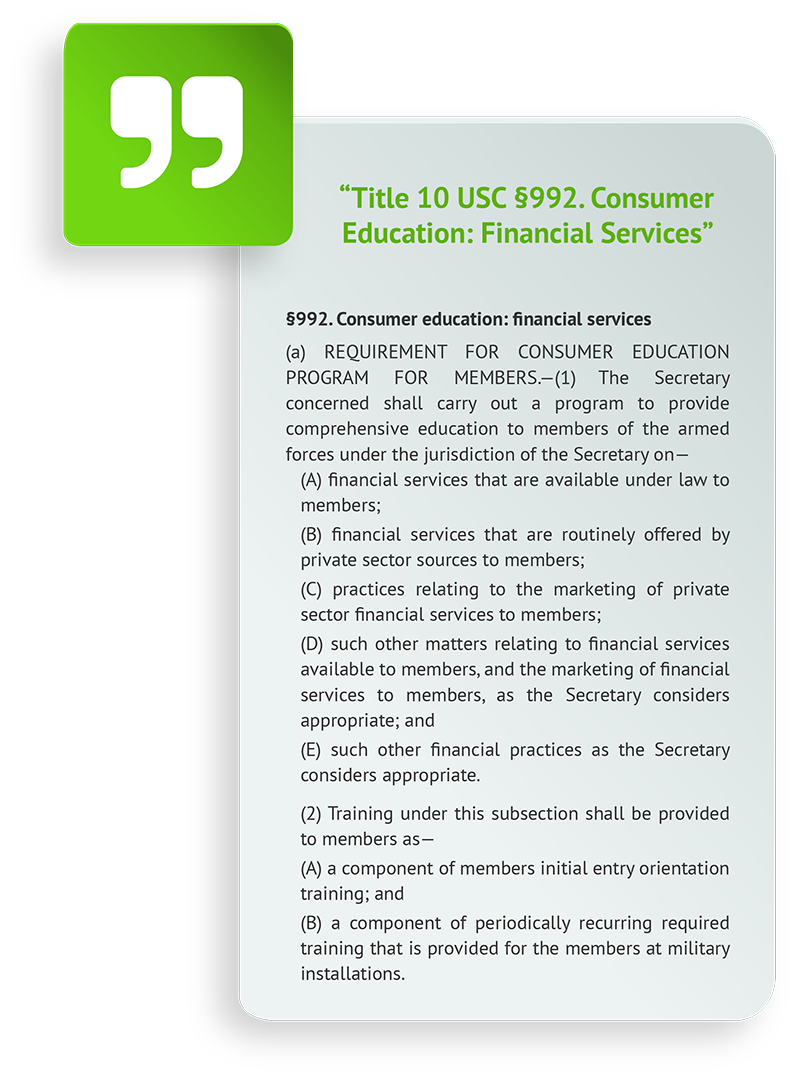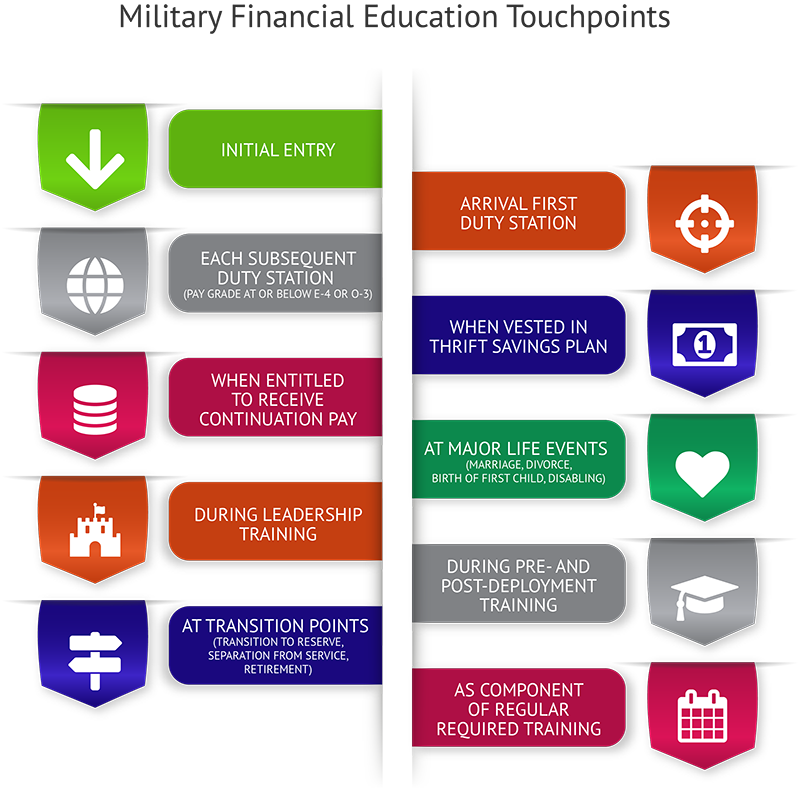 Financial Training Delivery Schedule
The legislation requires that military servicemembers undergo financial training at significant time points in their duty, including the following: initial entry training; arrival at first duty station; at each duty station transfer; during leadership training; at time of investment in the Thrift Savings Plan (the military retirement vehicle); and upon promotion, pre-deployment, or post-deployment. The training is also given at each major life event occurring during the member's service, including important life events like marriage, divorce, birth of first child, and disabling illness or condition.
The regulation requiring comprehensive military financial literacy training mandates that a broad set of money management topics be covered. The following subjects must be offered as part of the instruction: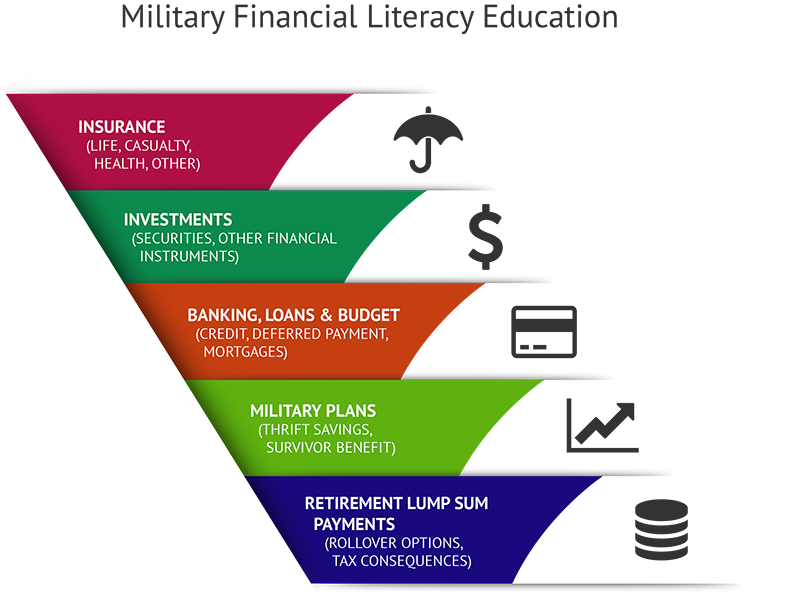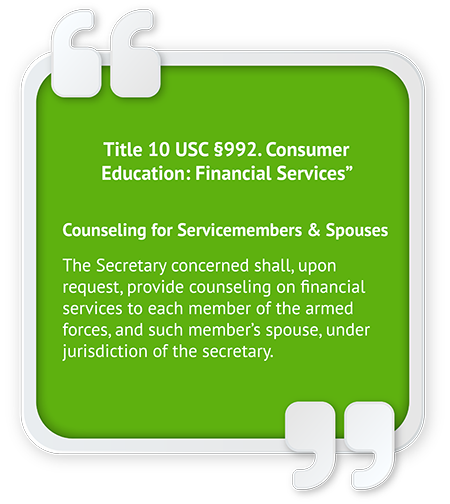 Financial Counseling Services
In addition to the well-timed military financial literacy instruction, the law requires financial counseling services to be available to all military service personnel and spouses, upon request. These services are provided by counselors who are well-qualified through education, training, or experience to offer helpful financial counseling to armed forces members. Counselors may have no conflicts of interest and must exhibit dedication to providing helpful counseling and information about financial services and related marketing practices to military servicemembers and their spouses.
Why is Military Financial Literacy So Important?
There are a variety of reasons why active military and veterans financial literacy is important. Statistics show that military personnel have significantly higher debt and fewer assets than civilians, according to the National Foundation for Credit Counseling (NFCC) in a 2015 survey. And in a spring 2016 survey of 8,000 active-duty servicemembers, veterans, and military family members, USAA and Blue Star Families discovered that 63% of those surveyed were experiencing stress due to their current financial situations, and 37% reported feeling insecure about their financial futures. Increasing military financial literacy is crucial to alleviating the financial stress our military personnel and veterans are facing.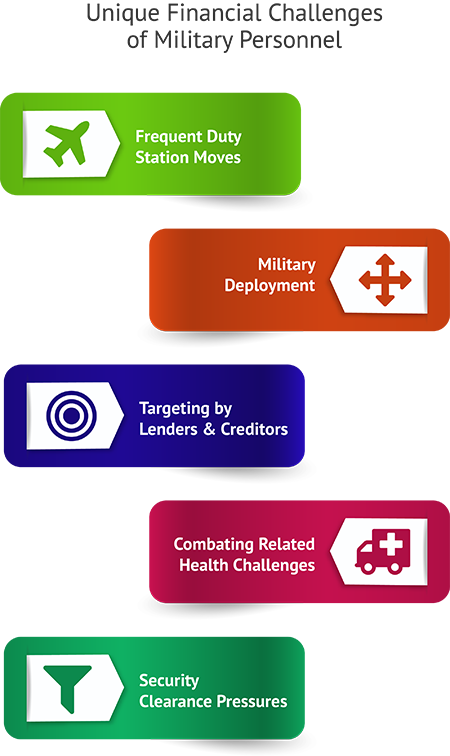 The NFEC provides solutions for the USC 992 mandates by training staff members both to teach financial education and to provide financial counseling. The NFEC's Financial Educator Training and Financial Counselor Training packages have been customized to align with the legislative mandates and proactively address the financial education needs and concerns of military personnel.
Instructors and counselors who participate in the training courses learn to develop learner profile reports to guide the financial training at the mandated touchpoints. They are guided through the process of establishing clear learning outcome goals, and methods for gauging and measuring participant progress.
The National Financial Educators Council's provides complimentary military financial literacy resources, training and support to organizations that serve veterans and active duty military personnel.
The NFEC is a social enterprise committed to serving our country's veterans and active duty military personnel. As a part of its American Dream Movement, the NFEC is providing the complete Military Money Skills Program complimentary. The objective is to provide our troops with access to workshops that will help them make sound financial decisions aligned with their life goals.
The current employment and economic situation has caused many to become concerned about their financial futures. An increasing number of veterans and active duty military personnel in the armed forces are experiencing challenging financial issues ranging from excessive debt, to credit problems, to lack of savings, to short term loan fees. Many even face the possibility of bankruptcy, foreclosure and homelessness.
We encourage you to support our campaign and share it with your friends. Visit the American Dream Movement Facebook page – click here.
Those organizations that currently serve veterans and military personnel may visit the military financial literacy page to gain access to complimentary workshops, training, and resources that will help you empower those you serve.
The NFEC's Certified Financial Education Instructor training was provided complimentary to the Arizona Attorney General's Office. Their mission is to provide a financial education to soldiers before they deploy and the NFEC supported them with training & resources. To see video coverage of this event, please click here.
The NFEC provided complimentary workshops to the veterans served by the National Veterans Foundation. The NVF provides counseling services and other resources that help veterans improve many aspects of their lives, including financially. To see video coverage of this event, please click here.
How to Receive the Military Money Skills Program Complimentary
You must possess a desire and commitment to share the NFEC military financial education program to current and former military personnel.
The opportunity is open (at no cost) to concerned citizens, nonprofit organizations, or social enterprises that currently serve veterans and active military personnel.
At least one of your organization's representatives must graduate the NFEC Certfied Financial Education Instructor training program. The educator training course takes about 12 hours to complete.
You must pass the NFEC review process; applicants may be turned down for any reason. The NFEC's goal is to reach 100,000 veterans and active duty military personnel with this program, so we are highly-motivated to ensure that you deliver the program effectively.
The National Financial Educators Council receives title sponsorship of the financial literacy program. This sponsorship provides an avenue for the NFEC to increase program exposure and reach more people. According to the terms of this sponsorship, participating organizations are required to mention the National Financial Educators Council on all marketing and media releases; and to include the NFEC logo and direct link to www.FinancialEducatorsCouncil.org on any and all material associated with this initiative (websites, fliers, press releases, etc). All other sponsors must be approved by the NFEC.
Each time a military financial literacy event is conducted, you must provide the NFEC with an accurate head count to help quantify outreach effectiveness.
Financial Illiteracy Epidemic
The current economic situation has caused many of our veterans and active duty military personnel to become concerned about their financial situations. An increasing number of men and women in the armed forces are experiencing challenging financial situations ranging from excessive debt, to credit problems, to lack of emergency funds, to added fees from late payments. Many even face the possibility of foreclosure. These issues have dramatic impact on the lifestyle and wellness of a large number of veterans and active duty military.
Financial concerns play a significant role in creating feelings of stress, relationship issues, and unhealthy coping behaviors, and can affect many areas of one's life. In its article titled Treatment of the Returning Iraq War Veteran, the Department of Veteran Affairs states the following in reference to PTSD: "Returning veterans are likely to feel overwhelmed with problems, related to workplace, family and friends, finances, physical health, and so on. These problems will be drawing much of their attention away from the tasks of therapy, and may create a climate of continuing stress that interferes with resolution of symptoms."
Providing a financial literacy campaign that serves our veterans and active duty military personnel can help them avoid the money management problems so many people now face.

Solution – Military Financial Education Programs:
Your organization can help our soldiers and veterans proactively address their financial concerns by providing the NFEC's military financial literacy coursework. Adding financial education services can offer solutions to many money problems. Recent informal studies have demonstrated that helping our veterans and active duty military personal improve their financial capability can help lower stress levels, improve self-esteem, aid with reintegration, and greatly contribute to their overall wellness.
Self-Hosted Military Financial Education Package
Bring the Military Financial Education Curriculum and Presentation Package to those you serve. Experienced educators and financial professionals collaborated to create this curriculum, which is designed to align with educational standards while being practical in nature—so participants can apply the information to their day-to-day lives.
The NFEC's military financial programs provide maximum flexibility to fit a variety of course lengths. You can easily adapt the financial literacy coursework to concentrate on a variety of subjects: debt, budgeting, savings, investment basics, financial planning, credit, and loan qualification are all topics included in the financial literacy program for military and veterans. The National Financial Educators Council provides the resources, training, and tools you need to host a comprehensive military financial literacy program. The program can include:
'Certified Financial Education Instructor' Coursework. It is essential for your organization to have a qualified financial education instructor who desire to start teaching financial literacy with confidence. This video training course takes approximately 12-18 hours to complete; graduates receive a Certified Financial Education Instructor (CFEI) certification. A staff member or volunteer from each organization must graduate this course before the organization will receive the additional material. The NFEC places a high value on qualified educators; however, we can teach a person from any background to deliver the information if they are committed to completing the training program.
Financial Literacy Curriculum and Student Guides. Receive the comprehensive financial literacy lesson plans, which contain detailed instructions on how to deliver the coursework.
Military Money Skills Workshop PowerPoint Presentation. Receive the Military Money Skills Workshop, which provides detailed financial literacy lessons to help people improve their financial situation. Whether they are in financial recovery or planning for retirement, this course covers key topics, including establishing a personal budget, savings plans, account management, loans and debt, topics related to insurance, and tips on clearing up or building a credit history. This military financial literacy program is designed in modules to allow customized presentation.
Military Money Virtual Learning Center. The NFECs virtual learning center provides a resource to answer basic participant questions and to reinforce lessons learned in class.
Surveys, Pre- and Post-Testing. Receive detailed pre- and post-tests to measure the program's immediate impact. The NFEC also provides surveys to measure long-term change in your participants' financial capability.
Grant Guides, Sponsorship Forms, and Marketing Material. The NFEC is focused on helping organizations develop sustainable financial education outreach initiatives. Sustainability often requires financial literacy grants, sponsorships and other fundraising for program support. The material we provide can help you raise funds, increase awareness, and gain volunteer support.
The NFEC commends you for helping our active duty military personnel and veterans receive the military financial education program.