Financial Literacy Lesson Plans: Immediate Access and Review
If you have been scouring the internet in search of financial literacy lesson plans, you likely already know how taxing it can be just to find some easy-to-understand and engaging resources out there. Well, you don't have to worry any longer, because you just came to the right place. We've put together a top-to-bottom guide that outlines every step needed to successfully build a high-quality financial education program, which is just part of our larger effort toward helping both organizations and individuals find financial success.
The NFEC offers financial literacy lesson plans to both people and firms all across the world, with material that's adjustable for any specific group – including every age group and socioeconomic background.
These solutions are both engaging and practical, but they also maintain an element of fun.
1. Financial Literacy Lesson Plans in the Real World
Let's go through an example of how these resources have enabled people to use financial literacy lesson plans in the real world:
Martin is the assistant director of an event planning organization, overseeing a team of 16 interns who are all learning about the industry. As their mentor, he wanted to present them with some engaging financial literacy lesson plans, but he had now idea how to go about doing this. It was a topic he knew a lot about, but he didn't have much teaching experience – so he decided to look elsewhere for help in conveying these highly important lessons.
Having already informally spoken with the interns about it, he realized that the majority of them barely had any fundamental knowledge on money management at all, and that they would most benefit from easy-to-understand, helpful material on this topic.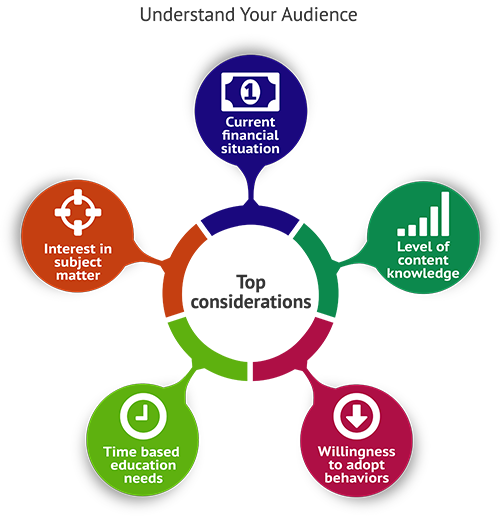 2. The First Step: Personal Financial Literacy Lesson Plans
His initial plan in this journey was to somehow help this group obtain a solid understanding of this subject area without any assistance, via a round of workshops he would hold himself. He wanted to get them some help with their individual financial situations as soon as possible, so he decided that it would be okay to present them with a fundamentals course that only focused on the essential principles. Looking at the long run, however, he was hoping for them all to become semi-pros when it comes to personal financial management.

3. The Right Approach to Financial Literacy Lesson Plans
Since Martin had already chosen his near-term ideas and had a vision for the future, his next move would be to decide how to provide the group with this critical material. What should he choose for the delivery tactic? How about the pace of the teaching? He would prefer to opt for a self-paced, low-pressure course to give this group, especially taking into consideration their drastically varying schedules and availability. Which, in the end, led him to choose an online program that presented financial literacy lesson plans in a non-boring way.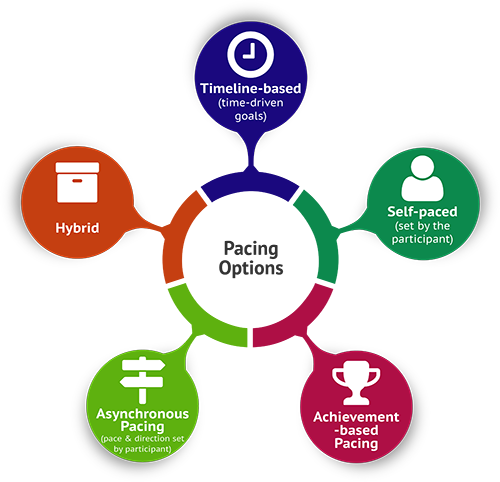 4. Mapping out a Course Blueprint
What Martin realized he needed to do next was narrow down the subjects on which his program would focus. Since his audience was pretty much made up of all novices in the subject area, he opted to keep his financial literacy lesson plans focused around only the fundamental ideas of personal money management.
5. Selecting a Central Focus
Martin needed a financial literacy lessons option that tackled these areas with the use of interactive and appealing activities, and one that also had the ability to fit around the group's various schedules. Because of that exact reason, he opted to go with a learning pathway that was both flexible and modular.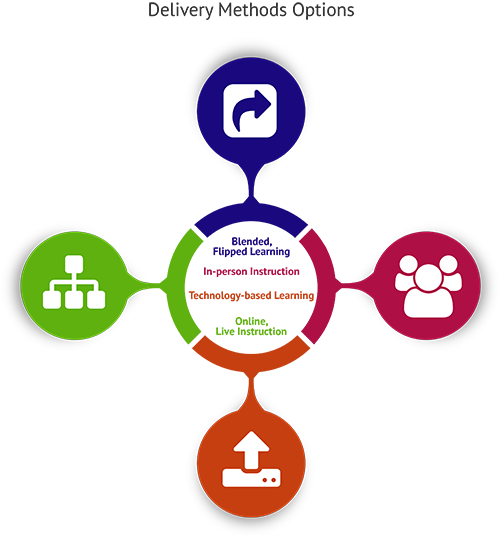 6. Seeking Out Assistance for Fun Financial Literacy Lessons
Martin would certainly be able to handle teaching a modular, point-by-point course to this group, but he was worried that this approach might cause them to become bored. This brought him to the next question at hand: could he reach out to a different teacher who was skilled in giving fun financial literacy lessons? As it turned out, there was an NFEC Certified Educator qualified to do just that – so he got in contact with her for some assistance.
7. Making the First Substantive Move
Out of the 16 interns in his group, every last one of them (100%) completed the course fully. From that group of 16 interns, 15 of them (94%) completed a brief questionnaire indicating that they – through the course – had "significantly" boosted their level of knowledge when it comes to money. After the survey was completed, Martin decided to create a detailed report that would illustrate the results and demonstrate how impactful this example of personal financial literacy lesson plans was to the group.
8. Don't Forget the Follow-Up
Martin understood that this first portion was just getting the ball rolling, and that this group of interns would probably benefit from continued personal financial literacy lesson plans in order to apply what they learned to improve their real-world financial lives. Just after the initial leg of the course ended, he wrote out personal, motivational email notes to each person who joined the program – offering his congratulations and emphasizing how vital it is that they keep on studying these concepts if they want to achieve their own personal finance goals.
To enable the group to best remember what they learned, Martin offered every one of them monthly follow-up programs that would be very closely related to the first session. This way, he would have a chance to help them keep building on the foundation they had already established.
Compile and print the financial literacy lesson plans you need with a few clicks.
Maximum Flexibility You can compile only the specific lessons that you'll be teaching, outputted as a PDF file.

Consultant Positioning You no longer need to sell a pre-defined workshop. Take time to understand your client's/student's needs and produce their custom solution.

Print Anywhere; Anytime On demand compositions. Print from your office, a professional print center, or at the venue for the extra, unexpected students that show up.

Save Money Only produce lessons you intend to deliver. Control print quality (B&W/Full Color; Simple/Perfect Binding, etc.).
Financial Literacy Lesson Plans
Using the NFEC's financial literacy lesson plans, instructors build rapport and connections with audiences of all ages and backgrounds. And these fun, engaging lessons also meet core educational standards. Participants from all walks of life will leave inspired to take positive financial action.
The NFEC is 100% independent. That's why its financial literacy lessons are strictly educational—no marketing or promotions are presented. To guide lesson development, the NFEC put together a Curriculum Advisory Board of educators, financial professionals, and experts in financial education. This collaboration has yielded financial literacy lesson plans that are firmly based in theory, yet readily applied to practical use.
Lesson Plans & Presentations – All Ages The NFEC offers engaging, fun and interactive curriculum for all ages – kids, teens, and adults. Over 400 hours of presentation material accommodates a variety of educational goals and formats.

Customized & Private-labeled Presentations The NFEC provides a full range of customized financial literacy programming and promotions to meet your needs. The NFEC can create new programs or modify existing materials to meet the needs of our supporters.

Financial Literacy Framework & Standards Review big ideas and content standards designed to encourage the highest achievement by participants. Complimentary interactive website helps you understand the skills needed to improve one's financial capabilities.
Choosing Effective Financial Literacy Lesson Plans
With the recent economic trend more parents, educators and youth are interested in courses that deliver practical financial literacy lesson plans.
Whether your students choose to attend a community college or a big name university, proving a financial education before they graduate high school will have a lasting benefit. Most of our children earn their diploma with plenty of school smarts will lack the financial skills needed as they start their journey into adulthood.
Delivering real world financial literacy curriculum that is aligned with national standards to them prior to their departure from high school can help them avoid common pitfalls that many of their peers will face after graduation. This can also help them gain the independence that most college graduates will miss out on. Today, over half of college graduates will end up moving back home with their parents.
Financial education services are not limited to our youth only. In reality, the majority of people (all ages) need a course on money.
For many of us, we received our money education the hard way – instead of receiving training from our parents, schools or through professional financial literacy programs many of us learned through trial and error. If you are like me there weren't personal finance program for kids. Unfortunately, when it comes to money, the trial and error method of learning is costly.
Teaching financial literacy lesson plans to young adults before they leave home is important. A quality personal finance curriculum will help prepare our children for the complex economic system that we now have. Repetition of the money management lesson plans they pick up at home or in school will help make a real difference in their life.
Before choosing any financial literacy lesson plans make sure to select ones that will provide them practical guidance as they meet educational standards.
1. Ensure the financial literacy lesson plans meets National Financial Literacy Curriculum Standards. The standards are designed award curriculum that is practical and educational in nature. Finding NFEC certified lesson plans should help to narrow your search.
The National Financial Educators Councils' financial literacy standards are the highest in the industry, and they also meet national and state level requirements. In addition, the curriculum can be integrated and fulfill standards for English, Economics, Mathematics and Social Studies.
2. When reviewing financial education curriculum, ask yourself – 'Does this course deliver its content in a fun entertaining way?' If it meets most of the National Financial Literacy Curriculum standards and focuses on delivering financial literacy lesson plans in an entertaining way – this may be the course for you.
3. Activities should match your children's learning style. Research shows we all learn in our own way so find one that best fits your child. If your child is a visual learner you may want to pick up financial literacy lesson plans that have a lot of videos. For the hands on learners find the personal finance curriculum that has a lot of activities. Leveraging learning styles help to lock in the know-how and provide an experience all learners can enjoy. By combining media, quick notes, interactive tools, videos, guides and more – students can use whatever works best for their personal financial literacy lesson plans.
4. The global economy is changing faster than ever so relevant, timely content is important. Be sure to choose a youth financial literacy curriculum that stays up with today's times. Learn more about the NFECs' Custom Branded Financial Literacy Curriculum and discover how their white label program can help you keep up with the latest changes in the financial education world.
If you review a money education course that shows you how to write a check – throw it away. Find financial literacy lesson plans that focus on topics today's youth will relate to and actually use. If you are reviewing a personal finance curriculum that focuses on helping your children to leverage technology to manage their money – that's one you want to investigate further.
Children need practical financial literacy lesson plans before they leave home or graduate high school. It is out belief at very least financial literacy curriculum in high school should be offed to Be sure to give your children the advantage that many of us wish we had growing up.
Corporations across America are beginning to comprehend how valuable financial education for employees can be. Employee personal financial problems cause stress, lower productivity, and inevitably have an impact on the company's bottom line. That's why the National Financial Educators Council has developed a financial literacy curriculum for adults designed to be presented in the workplace.
The NFEC's workplace program to promote financial literacy for adults features presentations, marketing material, and curriculum all designed in modular format to fit a variety of scheduling requirements. These turnkey resources can be presented as an all-day event or as a series of lunch-and-learns. All the materials are meant to help businesses raise the financial competencies of their workforce.
There are lots of financial literacy lesson plan resouces for adults on the market today, but few employ the practical, experiential learning techniques adopted by the NFEC. Many workers are struggling with personal finance issues in these uncertain economic times. The American Psychological Association recently reported that more than 75% of Americans cited money as a significant source of stress in their lives. This finding leads many corporations to add financial lessons to their employee agendas.
One unique feature of the NFEC program is its reliance on financial literacy games for adults to drive the point home. Presenting information through games and activities is a proven technique for increasing retention and helping people translate lessons into positive habits.
The NFEC financial literacy curriculum can be easily incorporated into an employee wellness program. When companies contribute to raising financial literacy, adults in the workplace begin to address the issues of absenteeism, low productivity, and stress that affect workers who are experiencing financial difficulties. Employers will see dramatic improvement in the mood of the workplace and, eventually, a positive effect on the company's bottom line.
Independent Organization Offers Financial Literacy Curriculum for Adults
Although the National Financial Educators Council (NFEC) is a for-profit organization, its only objective is to build financial capabilities around the globe. The NFEC's stated mission is "to create a world where people are informed to make qualified financial decisions that improve their lives, the lives of their loved ones, and the lives of people they reach." It's important to note that the NFEC is an independent group that never exploits its financial education programs as a vehicle to sell products or services. Their financial literacy curriculum for adults is designed solely to help people pick up money skills that can have long-term positive impact on their wellbeing.
Teaching financial literacy to adults requires sensitivity to the fact that many of them already face difficult money problems. Every participant has a personal story that forms the basis for his or her core values, beliefs, and identity. The NFEC takes these personal stories and turns them into learning opportunities. Having reviewed the financial statements of more than 50,000 individuals from all walks of life, this organization has learned the typical money issues people face and designed methods for arriving at customizable solutions.
The NFEC commitment to improving the lives of a global audience leads them to offer free financial literacy curriculum for all age groups, from preschool children to senior citizens. Offering these resources complimentary helps fulfill the organization's philanthropic mission. They seek to pay forward what they've learned, to help people avoid the common financial pitfalls and/or to take positive steps to pull themselves out of those financial pits.
The most successful financial curriculum employs multiple touchpoints and takes a broad approach to instruction. Recognizing this, the NFEC has built a financial education curriculum for adults that encourages practical performance, exploration, and creativity. The end result is that students begin to associate money skills with their own individual personal financial goals or situations.