A Kids Financial Literacy Test Can Be Fun and Informative
Many people, young and old, cringe at the thought of taking a test, but a well-designed quiz doesn't have to be intimidating. The NFEC designs their tests to be fun for the student and informative for the financial educational program. If you're looking for a financial literacy quiz for kids, you're in the right place. We offer complimentary testing in order to assess a person's financial literacy and evaluate a program's effectiveness.
Why not give your children a quick financial literacy test for kids? Pick a subject and we'll email you the results.

A Financial Literacy Quiz for Kids Packs a Punch
Most understand why financial literacy is important for youth but many are unaware of the importance of measuring results. In order to increase a program's probability of success, we expose powerful hidden forces that largely go unnoticed in many testing systems, yet they hold the potential to sabotage even the sincerest efforts.
Obviously, a NFEC kids financial literacy test will evaluate the levels of financial knowledge. We also dive deeper and track the kids' unconscious attitudes toward money, their financial sentiment. We also follow their financial behavior. Our methods produce more accurate assessments than just polling students after program completion. We measure graduates' financial behaviors and financial health.
Educators should also pay attention while the kids are completing financial literacy activities – this should be used to gather informal data on their progress.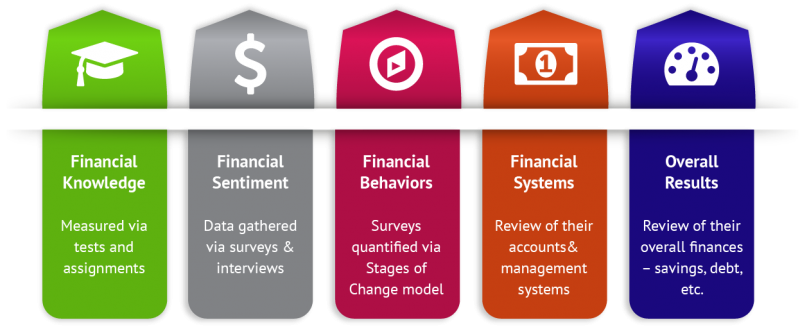 Our Kids Financial Literacy Test Systems Monitor the Progression of Higher Order Thinking.
NFEC financial literacy quizzes for kids monitor the level of understanding students have attained.
Bloom's Taxonomy of Higher Order Thinking Skills gives us a sequential roadmap of the process of learning to understand the financial literacy quiz results. The phases of learning must progress in a specific sequence. For example, a student must be able to analyze before they can evaluate. When we know the students' level of understanding, we can design the curriculum to teach at that level. With this alignment, students stay interested, challenged and confident. The NFEC's kids financial literacy test allow us to maintain this delicate, critical balance.
Kids Financial Literacy Test & Surveys
The NFEC's provides test & surveys for kids. Parents and educators are welcome to use these evaluation tools for pre-and post-testing and as instructional tools.* You will have access to your results immediately after completing the test or survey.
Visit the Financial Literacy Test & Survey Center to access over 30 evaluation tools for all ages and to compare your results.
* Schools, parents and nonprofit organizations – you may print the test questions for PK – K and 1st – 2nd Grade only. Please send us the results of your tests. After 2nd grade all testing and surveys must be completed online unless you are a NFEC client or have received written authorization. Commercial use, sale, or any other use that violates the terms and conditions and copyright is prohibited.
PK – K Kids Financial Literacy Test
1st – 2nd Grade Testing
3rd – 5th Grade Testing
6th – 8th Grade Testing