People in Your Community Need Help with their Finances
We Provide You International Financial Literacy Programming Tools, Training & Resources to Help You Support Your Country
Individuals and organizations around the globe have mobilized to tackle the financial illiteracy epidemic; yet most of them still need financial education resources, support, and guidance to make a meaningful difference.
The NFEC Provides Solutions to Your International Financial Literacy Programming Needs

Receive the training, resources, and expertise that help you build a maximum-impact financial literacy program that makes a meaningful difference in the lives of the people you teach.
The NFEC makes it possible for you to make a measurable difference in the lives of your community's citizens and build a professional-level financial education program that aligns with best practices for teaching and promoting positive financial behaviors.
In countries around the globe: We reduce the cost, time, and personnel required to build an effective, scalable financial education program. Due to recent process and technological advancements developed by the NFEC, you can access turnkey financial education package that highlights your professionalism and stands out above the average financial literacy programs.
The NFEC Offers 4 Financial Literacy Programs Internationally
Training – How to Build a Financial Education Program
No matter your location, these 6 fundamental steps to building a financial education program lay the foundation for a successful financial education program. This training is provided complimentary through the NFEC's social enterprise fund.
Certified Financial Education Instructor – International
Earn your Certified Financial Education Instructor credentials. The best practices of teaching personal finance are international teaching principles. Learn research-based education methods that can improve the financial education outcomes in all cultures.
Investment – ranges from $147 to $247 USD. Select your country from the list below to view country-specific pricing.
Custom Financial Literacy Materials – Country Specific
Want customized presentation and curriculum resources customized to your country? The NFEC customizes our curriculum, online learning & presentations that align with your countries financial system and language.
Exclusive Country Partner – Country Exclusivity
Lead the financial literacy movement in your country – bring all the NFEC resources to your community and have the exclusive license to serve people in your country. All materials are modified and customized to meet your needs.
Mexico
The NFEC developed a custom online learning platform tailored specifically to the needs of Mexicans and trained master Certified Financial Education Instructors. Through a partnership with Monedu the NFEC trained their team and built a custom online learning center.
Monedu launched this online platform with a training for the employees of Facebook and Instagram in their offices in Mexico. This elearning platform includes over 80 learning tools, study cases, simulations, and calculators in addition to 32 videos that have proven to simplify complex personal finance concepts. These resources give participants the knowledge and next steps they need to take to bring their finances into order.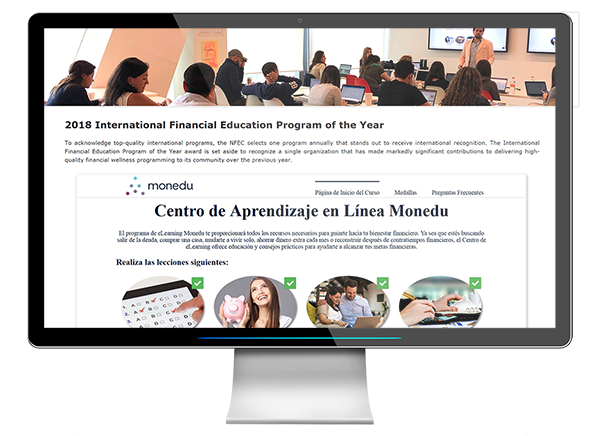 Nigeria
The NFEC developed a customized educator training program (CFEI), standards for educator and customized presentation resources for Intermark to serve schools across Nigeria. The presentation materials were developed in accordance with standards set in the United States and modified to meet the needs of the education system in Nigeria.
To kick the program off, the NFEC team designed the programming and overall initiative. Working with Intermark, time was spent customizing the overall initiative to fit the Nigerian economic system, align with the citizens cultural norms and constructed revenue strategies to help fund and scale the programming.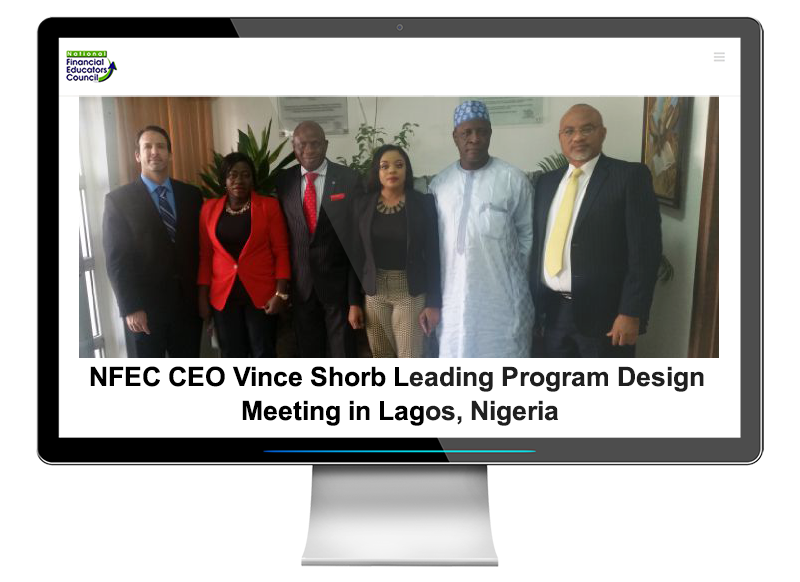 Pakistan
The National Financial Educators Council developed the plan to implement a financial literacy initiative that served more than half a million people across Pakistan. The NFEC led this demand- and supply-side survey. From the data, the NFEC generated a GAP Assessment report that was used to design and implement a multi-million dollar financial literacy campaign sponsored by the World Bank and State Bank of Pakistan.
This report included detailed recommendations on the financial literacy curriculum, educator training, outreach, and sustainability, including:
Development and adaptation of the curriculum and delivery mechanisms.

Training master trainers who will train field-level trainers.

Mobilization through partner networks toward beneficiary outreach to the target audience.

Monitoring and evaluating the entire program—from curriculum development to post-project evaluation.

Project management consultation throughout the project's duration.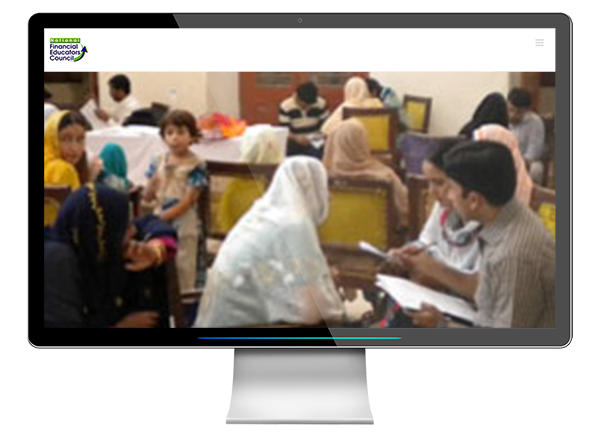 India
Working with the ENNELA Welfare Association, the NFEC trained a team of financial education instructors (CFEI's) and provided custom learning resources to meet the needs of the target population spread over 100 villages where ENNELA has been implementing kiosk banking operations
"We commend ENNELA, Bhanu Murthy and the entire team of certified educators for their efforts in bringing the financial education to villages across India. Their dedication to serve those that need personal financial training the most has made an impact on the lives they served through this inaugural event." states Vince Shorb of the National Financial Educators Council.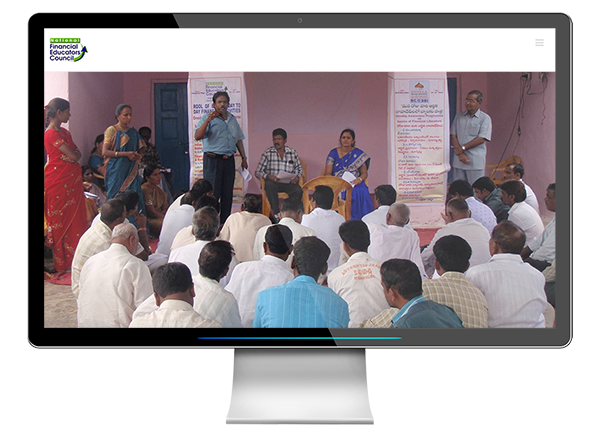 About the NFEC
The NFEC is an IRS-recognized Benefits Corporation that has supported the development of 2,500+ programs over the last decade, built over 80 financial literacy assets, and led the development of national financial education standards; and our materials have served more than an estimated 1 million people across 50 countries, making us a recognized thought leader in the space.
Recent process and technological advancements developed by the NFEC provide individuals and organizations with financial literacy programming that aligns with best practices for teaching and promoting long-term behavior change. We empower organizations and individuals with the systems, resources, and expertise that optimize financial education programming.
Financial problems have reached epidemic proportions around the globe. Financial issues contribute to a variety of troubles many people face today, from crushing debt to retirement shortfalls. This epidemic hurts individuals and communities alike.
The international financial literacy movement is at a tipping point –stakeholders from various industries contribute toward a global push to improve financial capabilities among the world's citizens. You are invited to join the financial literacy movement in a way that aligns with your personal, business, and philanthropic goals.
With Certified Financial Education Instructors in over 40 countries, the NFEC is helping those passionate about teaching financial literacy gain the skills and credibility to deliver financial education programming. Developing a worldwide community of educators dedicated to empowering people around the globe with financial knowledge and promoting financial inclusion is a core objective of our organization.
How Organizations Participate Internationally

Two-thirds of adults worldwide are financially illiterate per Standard & Poor's Global Financial Literacy Survey of more than 150,000 adults in 148 countries. Finland tops the countries with a 71% literacy rate while Yemen has the lowest at 13%.
Country stakeholders participate in financial education in two main ways:
Direct Participation
Hosting Events

Speaking

Developing Materials
Passive Particpation
Sponsorships

Donations

Supporting Service
Financial Inclusion Requires Financial Literacy



Around 2 billion people don't use formal financial services and more than 50% of adults in the poorest households are unbanked, per the World Bank. This can be a result of many factors – distrust of financial institutions, local practices, geographic restrictions and financial illiteracy.
The Central Bank of Nigeria's Financial Inclusion report points out, "Financial literacy is a central pillar to the enhancement of Financial Inclusion, particularly when coupled with consumer protection."
There are many stakeholders interested in financial literacy for the sake of financial inclusion. This represents opportunities for those organizations that want to lead collaboration efforts in their communities to ensure program funding and that it can scale to surrounding communities.
New Innovations Upgrade Program Options
Among the vast array of programs that have cropped up over the past decade, few – if any – can claim to draw upon solid empirical evidence of best practices for financial education. This failure can be attributed to a lack of experience, personnel, capital, and executable processes.
The current reality is that most financial education programs are a random mixture of resources that lack overall campaign design. Few organizations have adequate measurement systems in place, and even fewer know how to use the data. This shortcoming results in financial education programs that are short-lived, suffer from poor participation rates, and offer limited brand benefits.
But it doesn't have to be this way.
Recent research, process, and technology breakthroughs allow individuals and organizations of all sizes to contribute in a meaningful way to promote the financial literacy movement. Even if you are just starting out, you can lay a foundation for your initiative based on available best practice data.
Common Participation Options
No matter the size or scope of your contribution, we value your passion and interest in promoting financial education. Below you will find common ways in which organizations can participate.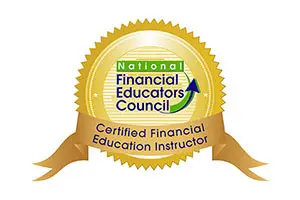 Learn the global best practices to teaching personal finance. The NFEC has CFEI students in over 40 countries Financial education teaching principles are the same no matter where you are at in the world. Click here to register for the next Certification class – gain the knowledge and credibility to teach financial education courses in your country.
The NFECs curriculum is designed for the US market; however, lack of quality materials available in other regions have led many to use these materials. The basic principles are similar international however the main differences are in currency, credit markets, retirement options, banking systems and other minor differences.
Well capitalized organizations are invited to apply for participation in our Country Campaigns. Campaigns start at $50,000 USD and are available for established organizations that are looking to be dominate players in financial education. We do not provide funding – you must have the money to participate. Application and proof of funds are required.
Share This Article