How to Develop Financial Literacy Activities for College Students
If you need information on how to create financial literacy activities for college students, you've discovered the motherlode. Browse our website to see all the ways we can help. This simple step will get your imagination flowing.
Among other things, the National Financial Educators Council designs financial activities for students that can be customized for your specific audience. Our Curriculum Advisory Board ensures the highest quality of all our programs. We are completely independent, and our educational materials are free of ads.
Developing Financial Literacy Activities
Lynne's story below illustrates how we help people create and launch their own custom-designed
financial literacy projects
.
Lynne recently graduated college with a degree in art history and was shocked to find herself deep in debt. Even more appalling was the fact that the college degree that put her in debt offered such low pay that her own unborn children would be out of college before she paid off her college loan. How could it be that she had a college degree and had never taken a course in financial literacy?
She decided to create a few financial literacy activities for college students and see where that led her. A quick online poll of college students showed a strong need and even stronger desire for such activities. Now Lynne needed to find some guidance for her endeavor. Google brought her to the National Financial Educators Council (NFEC), who offered exactly what she needed.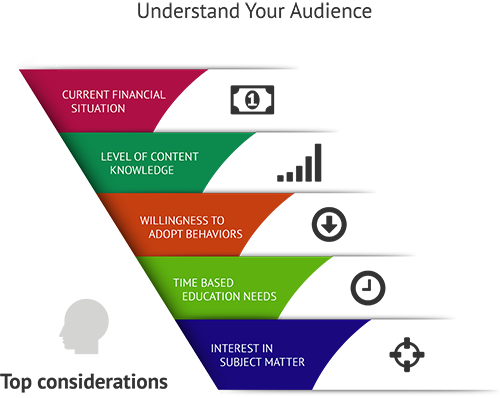 Depth of Knowledge Goals
Lynne's first task was to determine the depth of knowledge goals her financial literacy activities would offer. With the given time limitations of typical college students, she expected participants of her program to achieve the skills and concepts of personal finance. If they got to the phase of strategic thinking, all the better, but Lynne was willing to work within the given time constraints.
Effective Delivery Methods for Financial Activities
Lynne was now faced with the task of determining the most effective way to deliver the financial literacy activities for college students. An achievement-based program would allow full flexibility to accommodate everyone and keep them challenged to improve. Pre-recorded webinars would deliver the material in sequence while a Facebook group would facilitate class participation with each other and with the professor.
The Right Personal Finance Subjects for College Students
Moving along, Lynne next thought about what subjects her financial literacy activities would address. First and foremost, college students needed to know how to manage their college loans. This would naturally lead to the topics of career planning, budgeting and investing. She didn't want to take on too many topics for this initial program, but sticking with these topics would allow the students to reach the intended level of understanding.
Important Aspects of the Curriculum
Designing financial literacy activities for college students was fun, and Lynne wanted to build the perfect curriculum. A modular design would allow on-demand learning that college students needed. The activities had to be on-point with the financial situations they faced and immediately actionable, which would help them develop healthy financial habits. She wanted to offer activities that were directly relatable and encouraged real-world implementation so she also include several financial literacy games designed for college-level students.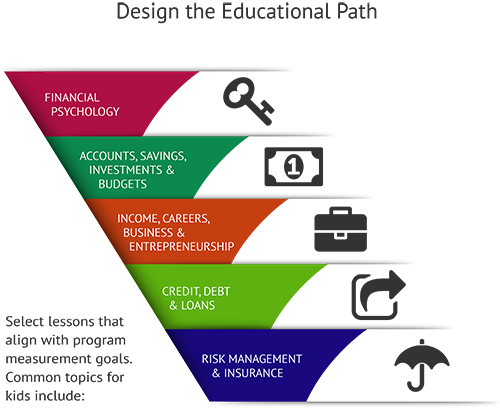 Finding the Right Educator to Present Financial Literacy Activities
Lynne could not present the financial literacy activities herself. She needed a Certified Financial Education Instructor (CFEI) who was skilled with college students and understood financial literacy best practices. Proven success was important, and she had to be relatable to the students. The NFEC helped her find just the right person, who came highly recommended. Lynne was excited to put it all together into a course.
Results of Lynne's Financial Literacy Activities for College Students
Lynne got 38 college students to sign up for her financial literacy activities. Of these, 34 completed them all. That's a little over 89%. She could hardly believe it.
She compiled the pre-and post-testing data and created a report that would show off the program's success. She had a feeling that financial literacy would be a far more compelling and rewarding pursuit than art history, and she wanted to continue down this path. The report would help her garner community support and hopefully even get some funding.
What's Next for Lynne's Financial Literacy Activities?
Lynne presented a proof of completion that students could use to get better jobs even while they were still in school. She kept the Facebook group open to encourage continued classroom support. Lynne would also answer their questions in the group.
The more she thought about it, the more certain she became that she had found a worthy post-college pursuit. She wanted to implement her program in colleges across the country and make them more in-depth. Lynne never felt such self-esteem from art history. She had stumbled upon a worthy career path, just in time.
Universities and community colleges seeking financial literacy activities for college students need look no further than the National Financial Educators Council (NFEC). This social enterprise organization has created campus money management programs to fit a variety of needs and accomplish multiple objectives. The NFEC's many resources, events, curricula, and marketing/outreach materials can be leveraged to meet college goals while empowering students with money management skills.
There's no personal finance college one can attend, and many adults learn their financial lessons at the "school of hard knocks." That's why so many people are suffering from financial mistakes in today's economy. But colleges that choose to build financial literacy among their student bodies can make a huge difference in those students' futures. At the same time, the schools reap many benefits. For example, a financial literacy initiative can attract media attention and build goodwill toward the school among community members. Such attention and goodwill may lead to mutually beneficial partnerships and fundraising opportunities.
Some of the money management tips for college students the NFEC advocates include: creating viable budgets and sticking to them; developing career goals and planning educational and skill-building steps to achieve those goals; and building a trusted team of financial advisors. Mentorship, community service, and entrepreneurism also form key concepts behind the NFEC programs.
The broad range of college financial literacy curriculum, products, and services available through the NFEC can be presented as individual exercises, or combined into a larger campaign with greater impact. The NFEC will tailor a campaign that comprises multiple strategies to meet the specific goals of the university. Campuses have used these programs to recruit and retain students, reduce student loan default, and protect Title IV funds. The NFEC counts Arizona State University and Penn State Erie among its higher education clients.