NFEC Defines Financial Literacy Best Practices
The majority of professions have standards to guide their licensing and/or certification awards. Such standards exist for doctors, attorneys, accountants, and teachers, for example. However, financial literacy best practices and guidelines had not been defined until now, when the National Financial Educators Council stepped in to address this lack. The NFEC has published financial literacy standards booklets that set forth principles by which the quality of financial literacy instruction, programming, and learning touchpoints may be measured.
With standards in place, we see improvements in the quality of financial education programs, the credibility of their instructors, and the ability of financial educators and coaches to effectively help the maximum number of people accomplish greater financial health.
Benefits of Standards
The NFEC sets benchmarks for the financial education and coaching industry that will assist providers to become more effective and competent in helping individuals work toward financial wellness. The NFEC standards for professionals and learners offer the following benefits:
Standards for Professionals
Financial Education Best Practices for Educators
To inform educator training, the NFEC's Framework for Teaching Personal Finance lays out the research-based principles by which financial educators should be qualified. This framework was adapted from the highly reputable Framework for Teaching written by Charlotte Danielson.
Financial Literacy Best Practices for Coaching
The educational, practical, and ethical qualifications financial coaches should attain for maximum effectiveness and capability are outlined in the Financial Coaching Standards and Code of Conduct.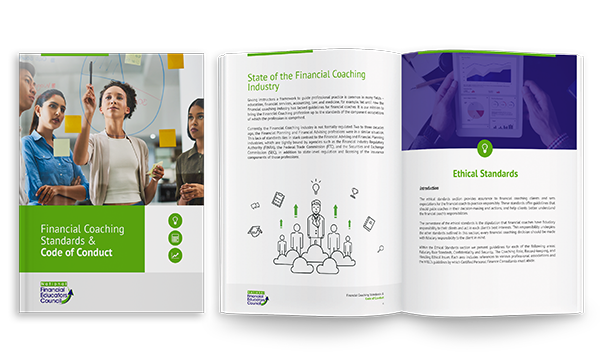 Standards for Learner & Educational Methodology Best Practices

Benchmarks for Effective Learning
To build the efficacy and impact of financial education, the NFEC wrote its Financial Literacy Framework and Standards. These guidelines cover the 10 key topic areas in which a learner should be versed to become financially literate.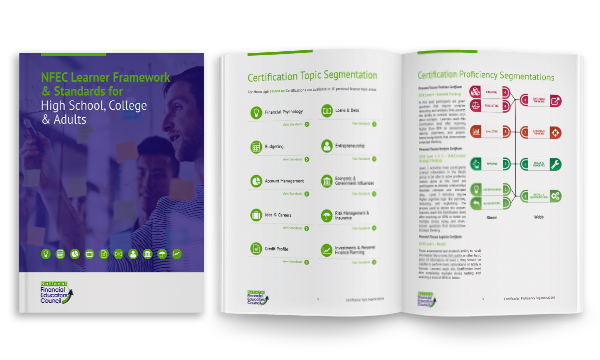 Evidence Based Financial Literacy Programming
To ensure the highest quality of programming, the NFEC developed the National Financial Capability Strategy to define financial literacy best practices for pedagogy and learner support.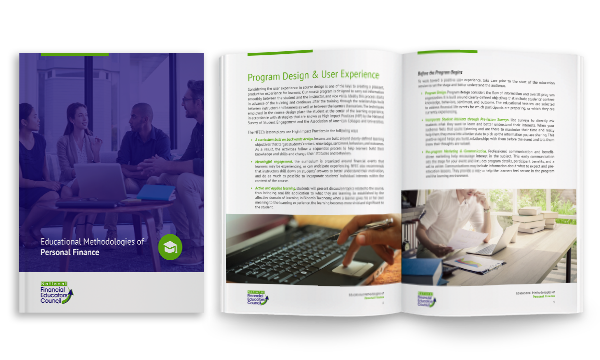 Latest Research Evidence Lies Behind Financial Literacy Best Practices
To increase instructional quality and maximize program impact, the NFEC has recently developed financial literacy best practices to guide both educators and learners to reach well-defined goals. The Financial Literacy Framework and Standards set forth performance benchmarks for financial educators as well as learning goals for participants in personal finance programs.
Although some standards exist at the state level (for example, Ohio), the NFEC's Financial Education Best Practices documents represent the first set of national guidelines that outline both practical recommendations for teacher training and research-based reasoning for curriculum design and division. These evidence based financial literacy standards draw upon both long-established research theory and the latest literature in the field. To design curriculum for children, the NFEC modeled on Piaget's well-known Theory of Cognitive Development, which indicates that kids learn by reconciling inconsistencies between what they know and what they discover. Thus learning occurs across four progressive developmental stages – sensorimotor, preoperational, concrete operational, and formal operational.
To align lessons with developmental stage, then, the NFEC broke down its curriculum into Piaget's cognitive age groupings, converted to grade levels to ensure that students had the cognitive skills to successfully complete the activities at each level. For younger kids, the NFEC also incorporated key concepts found in the report Financial Literacy Programs Targeted on Preschool Children: Development and Evaluation. This report suggested that children could develop concepts of number, time, money, income, value, market/exchange, choice, and social value. Those key areas were included as part of the NFEC's financial literacy best practices.
Beginning in high school, according to Piaget, students can and should learn advanced personal finance topics. Most teens have the cognitive and math ability to complete higher-level financial lessons, as set forth in the Financial Education Best Practices. The evidence based financial literacy standards also address the importance of providing financial education at timely moments, such as when students are on the verge of making an important financial decision.
In addition to offering personal finance guidelines for curriculum development, the NFEC's financial literacy best practices also lay out the responsibilities and level of professional development financial educators must complete in order to be competent and effective. Two documents – the Framework for Teaching Personal Finance and the Financial Coaching Standards and Code of Conduct – define professional goals and training standards for financial educators and financial coaches/counselors, respectively. These Financial Education Best Practices documents were guided by expert organizations, including the Danielson Group, the American Psychological Association, and the International Coaches' Federation.
The NFEC efforts were funded by the organization's Social Enterprise Fund, set aside to provide the industry with evidence based financial literacy practices and organizations with funds to support program expansion.
It seems simple – to help people with their personal finances provide them with a quality education. But there's much more to it.
Designing a financial wellness program that creates measurable increases in financial capabilities while supporting your organizational objectives takes knowledge.
Fortunately, we live in an age where we have access to many resources. The NFEC analyzed 47 recent proceedings documents, agency reports, conference presentations, and peer-reviewed research articles and provides the report to you complimentary.
Gain instant access to research from the U.S. plus five other countries, along with documents from the International Forum for Investor Education (IFIE), International Monetary Fund (IMF), National Financial Educators Council, Organization for Economic Co-operation and Development (OECD), and World Bank were reviewed for this analysis.
The NFEC has open-sourced our research to help organizations to adopt best practices and propel the financial literacy movement beyond the tipping point.
CNBC on some practices for getting through the current environment.
Financial learning resources from the state of North Carolina.