Understand the Basics of Strong Financial Education for Children
Are you interested in learning more about financial education for children? Kids can begin grasping key money skills and habits at an early age. Take a look at the information about financial literacy for kids summarized on this page to become introduced to the possibilities.
How Financial Education for Kids Takes Advantage of Opportunities

It's important to start reaching children with lessons about finances early, before negative habits become ingrained. When kids are young, many situations offer opportunities to mold positive behaviors for handling money. That's where financial education for kids can come into play.
First, every child is born into a unique situation. The family's socioeconomic status makes a difference in terms of the challenges children face. Those with low SES are likely to meet more financial insecurities. Those of higher SES will probably have more upward mobility. In any case, there is hope for kids to build positive financial habits – which is where teaching kids about money comes into play.
Second, behaviors developed in childhood are major indicators of a person's future financial security. Behavior is shaped by parents, advertisements, peers, and environmental factors (such as area of residence, urban vs. rural, available resources, etc.). Money habits start forming essentially at birth. Kids soak up information like sponges, and some of the behaviors they adopt when they're young can last into adulthood. At any time during childhood, parents can teach valuable money lessons.
Third, kids form emotional connections with money that can indicate their financial state and whether they're willing to work toward greater financial security. A person's feelings and attitudes have powerful influence on their confidence and competence around handling money decisions.
Finally, personal finance training for kids is sorely lacking in our public schools. Most kids will never get any formal training in how to handle money. They learn most of their habits from parents and peers, many of which are negative. And when financial education for kids is available, the programs being offered are frequently subpar in terms of content and behavioral impact.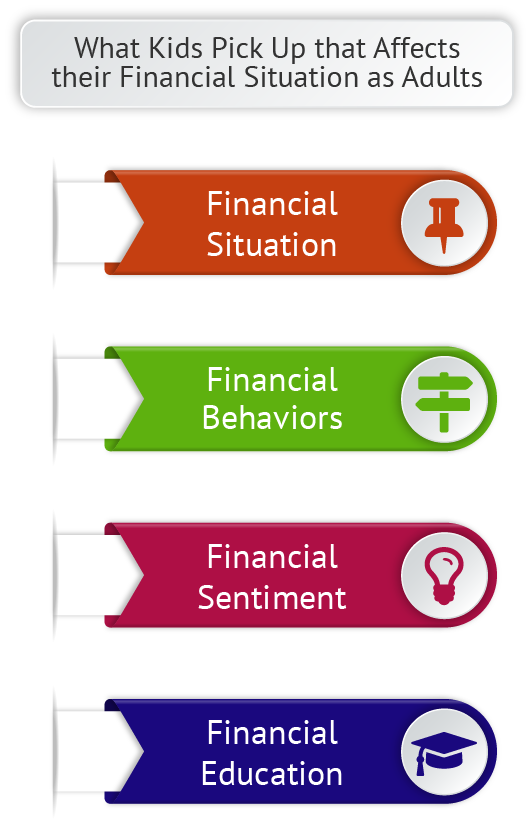 Tips to Providing Solid Financial Education for Children

The best financial education for children is based on understanding their ability to learn and best types of activities to present at a given age. According to the theory developed by psychologist Jean Piaget, kids take an active role in their own learning processes: they build on existing knowledge and adapt their previous understanding to accommodate new information. Methods for teaching kids financial literacy skills should meet them where they are. Piaget's Theory of Cognitive Development posited three stages in a kid's ability to learn: pre-operational, concrete operational, and formal operational.
Pre-operational: here children learn well through movement, words, pictures, and hands-on activities. Ages 2-7.

Concrete operational: this is the time when they start thinking logically about concrete events. Number concepts, patterns and measurements, production and consumption, and data analysis are important. Ages 7+-11.

Formal operational: they start being able to think in the abstract. Group work, brainstorming, project-based learning, problem-solving, and case method approaches are useful teaching tools. Ages 11+.
From the minute they're born, children today are bombarded with messages in ads and on TV encouraging them to "buy, buy, buy!" By the time our children turn 21, they will have been exposed to more than a million ads. But how can we counteract the constant pressure to spend? By giving kids financial education, we can overcome this conditioning and move children toward more responsible, rewarding lives.
The National Financial Educators Council (NFEC) has developed a set of real-world financial lessons designed to ensure our children's long-term security, well-being, and personal freedom. The NFEC's comprehensive strategy helps students develop practical skills that truly apply to real-life situations. And the lessons not only meet important core educational standards, they're also fun and engaging for children. While getting a financial education, kids also laugh, learn, and play.
All the lesson plans in this program use practical, hands-on learning techniques so kids reap the multiple benefits of forming positive money habits at an early age. The NFEC's approach to teaching money management for kids focuses on helping them develop a relationship with money that will serve them well as they mature. The curriculum is designed in a modular format so it can be taught in a variety of schedules—classrooms, workshops, after-school programs, camps, or as part of a large-scale event.
The NFEC is an independent social enterprise organization whose sole purpose is improving people's financial competencies. They make financial literacy for kids available through their network of Community Ambassadors. These Community Ambassadors have graduated a rigorous certification program and are among the most qualified personal finance educators in the country.
If you're a kid, financial education may not be at the top of your mind. But parents and teachers should strongly consider the many benefits of empowering children with money skills to help empower them toward healthy and rewarding futures.
Kids Financial Education Article References
Building Good Financial Habits with Your Kids
With a Sound Financial Education Kids Avoid Problems
The recent recession that swept across our country left many people jobless. In the wake of these economic problems and slow recovery, it's become more and more important to prepare kids for the financial real world. If they get a solid financial education, kids have many advantages. Here's where parents, educators, and concerned community leaders can make a difference.
Very few schools currently offer financial education for kids. But there are a few options available outside the school system, including financial literacy programs or "money camps." One example of a good choice can be found by contacting the National Financial Educators Council (NFEC). The NFEC is an independent organization that offers personal finance training for all ages, from preschool through senior citizens.
Providing a kid financial education may be the best way to ensure that he or she has a chance to become financially independent in adulthood. The recent economic crisis has made it more difficult for young people to obtain viable employment and move out on their own unless they have pursued some kind of higher learning. And preparing kids for college should include teaching them how to (and how not to) spend their money. Starting young helps kids develop good habits that last throughout their lifetimes.
Building a sound relationship between kids and money management starts with the parents. Parents who spend their money in responsible, mature ways and then explain the reasoning behind those spending behaviors give children a jump start toward financial freedom and security.
The NFEC approach to financial literacy for kids is holistic and incorporates hands-on learning and practical activities that give youth a chance to practice money skills that will help them achieve their goals and avoid financial pitfalls later on. Information about the NFEC programs is available on the National Financial Educators Council website: http://www.FinancialEducatorsCouncil.org
Financial Education for Kids has Never Been More Important
The recent economic slowdown has touched a huge population all across the country. Now more than ever, financial education for kids becomes critically important. Raising money-smart children will afford them the ability to recognize and capitalize on opportunities which will help them pursue their own personal American Dreams.
What options are available in terms of financial education for children? Schools face increasingly stringent testing requirements and budget cuts, so very few of them have the resources to offer financial training. Most kids do get money knowledge from their parents, yet few parents possess the skills to teach personal finance for kids effectively.
Children today face an unpleasant future which probably will include higher taxes, reduced services, and drastic cuts to Social Security and Medicare. In fact, according to the Government Accountability Office, the SSI system may be bankrupt by 2037. And our kids are the ones who will bear the burden of the country's $40 trillion and growing budget deficit. Although our kids will face larger challenges than we did, giving them a solid financial education now can make all the difference.
Courses now are available to help give kids financial education that works. Home schooling financial literacy curricula with a proven track record are on the market. These programs are designed to educate and entertain children while they receive a financial education. Some campaigns, like the ones promoted by the National Financial Educators Council (NFEC), even partner with sports stars and celebrities to draw children's attention and create media awareness.
By building networks and partnerships between parents, nonprofits, schools, teachers, and community leaders, the NFEC is making a difference. This organization teaches kids practical money management skills via curriculum, events, camps, workshops, training, and products. Financial training for kids has never been more crucial than in today's economy, and thanks to the NFEC they can have hope for the future.
Financial Education for Kids Article References
Financial Education for Kids Programs
Developing Healthier Financial Habits
Financial Education for Children Saves them Money for a Lifetime
A solid financial education for children is not just possible, it's essential. The National Financial Educators Council (NFEC) is dedicated to teaching today's youth about money. According to the NFEC, when parents find out about that mission, their most common response is, "I wish someone would have taught me this when I was growing up!"
Many of us learned our money lessons at the school of hard knocks, but our children's lives can be different. Financial literacy for children starts at home. The simplest of money tips, like how to build good credit, can save an average person tens of thousands—even hundreds of thousands of dollars over the course of a lifetime. For example, on an average-priced car, the difference between having good credit compared to bad credit will be worth about $12,000 on a five-year loan!
The sad reality is that our children will face a lot of challenges by the time they reach adulthood. Social Security may go bankrupt, taxes will be higher, and services are likely to be scarce by the time our kids have grown up. But by getting a good financial education, kids have a jump on life. They will be happier, healthier, and better able to enjoy the good things life has to offer.
The NFEC is a leader in developing financial education for children of all ages. They have curriculum packages, fun activities, online resources, and full-scale events. The organization also trains some of the most highly-regarded financial educators in the country. Parents can receive a lot of good tips and information by contacting the NFEC.
Think of it this way: you wouldn't let your kids drive a car without driver's education, would you? Well, don't send them out into the real world of adulthood without a financial education.
Financial Education for Children Article References
Financial Education for Children Programs