8 Milestones to Cover when Teaching Kids About Money
Teaching Kids About Money is a subject of interest to many, and you have reached the right place if you're seeking information about that. Here you will discover resources, information, and a step-by-step guide for Teaching your kids About Money.
Teaching your kids About Money in a Logical Progression of 8 Steps

1. Key Suggestions for Teaching Kids About Money

There are eight phases in the best practices for teaching kids about money. Here's a good example of how a person turned his passion for helping kids get important money management skills into actuality:
Jackson Briggs was a seventh-grade teacher with a vision. He was interested in teaching kids about money, and he wanted to bring personal finance education to the 6th-8th-grade students at his middle school. Jackson knew his audience quite well; he'd been teaching these kids for almost twenty years. But he needed to find out how much financial education they were getting at home. Jackson created a questionnaire titled, "Teaching your kids About Money," and sent it home with his seventh-grade students to get parent feedback on the kids' money knowledge. Most of the students brought the survey back, and Jackson learned that the kids were only receiving a minimal amount of financial education from their parents.
2. It's Not too Soon to Start Teaching Kids About Money
Jackson knew the school board had recently passed a motion mandating Teaching Kids About Money in grades 9-12 district-wide. However, Mr. Briggs believed such training should start much earlier. His first objective was to introduce the 6th-8th-grade students to financial education, but his hope was to find a program that would address the mandate and expand the education into all schools in the district. For the first goal, Jackson knew his students needed an overview of money management. His principal agreed to let him teach a series of five forty-minute classes with his seventh graders. Because this time allocation was fairly substantial, Jackson thought the students could reach the Apply level on Bloom's Taxonomy of Higher-order Thinking Skills, where they could use information in different ways.
3. Delivery? Pacing? Next Choices for Teaching your kids About Money

Jackson had settled on his initial and longer-term goals. Now he was faced with choosing how to deliver the materials for Teaching Kids About Money. Since the students had received little financial education so far, he decided to build the program to be paced according to their achievements. Jackson wanted to deliver the lessons himself in class, but also wanted to get the parents involved – so he chose a hybrid of classroom instruction and take-home activities for the kids and parents to do together.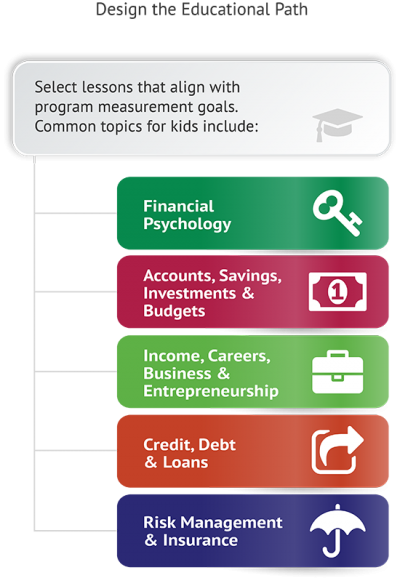 4. Focus Classes Around Kids' Age and Needs
At Phase 4 of his "Teaching your kids About Money" program, Jackson had to select subjects of focus for the classroom sessions. He needed age-appropriate topics to give the students a general overview. He decided on financial psychology, budgeting, savings, and insurance as the subject matter most suited to the kids' age and current knowledge level.
5. Teaching Kids About Money Demands a Well-qualified Educator

Phase 5 involved finding a qualified educator to beging teaching the financial literacy lessons – someone with both content and pedagogical skills. Because Jackson wanted to strengthen his own knowledge of the subject matter, he decided to undergo training to become qualified himself. He landed on the NFEC's Certified Financial Education Instructor (CFEI) program, through which he could gain credentials and confidence in his ability to teach kids about money.
6. Qualities of Curriculum for Teaching your kids About Money

Phase 6 was next, where Jackson had to select the curriculum resources he would use. Some of the qualities he was looking for were 1) a modular design that would allow him to pull out specific lessons; and 2) appropriate scaffolding for the age group. Jackson found a curriculum that offered flexibility to pick and choose content, plus alignment with educational standards.
7. Measure Impact to Gain Widespread Support

Out of Jackson's 28 seventh-graders, 25 (89%) took all five of the financial education lessons, and all 28 (100%) took at least one of the courses. Using measures provided in his curriculum package, Jackson tested his students, whose scores improved by 22% after the five lessons. Mr. Briggs summarized the information in a report for the school board, to demonstrate program impact.
8. Knowledge Retention Requires Ongoing Application

Jackson knew his students would need to continue applying what they'd learned in order to retain the information. Immediately after the end of the fifth lesson, he had a congratulations party in his classroom, with refreshments and prizes. Then he designed a series of take-home activities the kids could do with their parents for extra credit. These activities were meant to keep the parents involved in this successful program for "Teaching your kids About Money."
People who have a personal mission to serve others might consider teaching kids about money. At the National Financial Educators Council (NFEC), they provide the direction and resources you need to bring a viable financial education program to your community. If you're concerned about the lack of money knowledge that has created the financial problems so many people face today, you can work to give kids a head start toward financial wellness.
Money doesn't buy success, but knowing the basics of solid financial management allows people to pursue their dreams and achieve their goals. If we teach kids about money today, they'll learn how the magic of compounding interest can ensure their security for the future. It's easy to demonstrate what a difference it makes to start saving early. For example, you might tell kids that if they save and invest just $100 a month beginning at age 18, assuming a 12% annual return they'll have more than a million dollars at retirement age. But if they wait until age 43 to start saving, they'll only have a little over $50,000 when they retire.
Compounding interest is just one example of the activities and exercises the NFEC uses for teaching children about money. They have developed curricula for all age levels, unique among financial education packages because they're designed to spark huge behavior change. Participants in NFEC programs leave inspired to take positive action toward improving their financial lives. You can learn how to achieve these exciting results by becoming a graduate of the NFEC's Certified Financial Education Instructor (CFEI) training.
Teaching money management is one way to give back to your community by building decision-making skills that benefit our entire society. And teaching kids money management supports your passion for helping America's youth. The rigorous training delivered by the CFEI coursework fully prepares educators to conduct financial literacy classes that achieve the desired results.