The Foundational Pillars of Teaching Children About Money
Have a yen for Teaching Children About Money? If so, you will find all the resources you need in this location. The following guidelines make a compelling case for the specific steps involved in the process of "Teaching Young Children About Money."
The Eight Essential Factors in Teaching Children About Money

1. Teaching Young Children About Money? It's Never too Early

If you have an interest in Teaching Children About Money, the information here can help get you started. This story indicates how the process worked well for another interested party:
LaMont Jacobs was a social worker with three little kids, all of whom were home-schooled. LaMont, his wife, and several other parents in his community had formed a group of families who home-schooled their kids, and they would meet twice a week to share the home-schooling workload. The kids ranged in age from 4 – 9 years old. One day LaMont had a brainstorm – they should give the kids a financial education! Teaching Children About Money has a variety of benefits. LaMont consulted with the other parents, who thought it was a great idea. They agreed to start out just teaching a few fundamentals about spending habits, budgets, and bank accounts.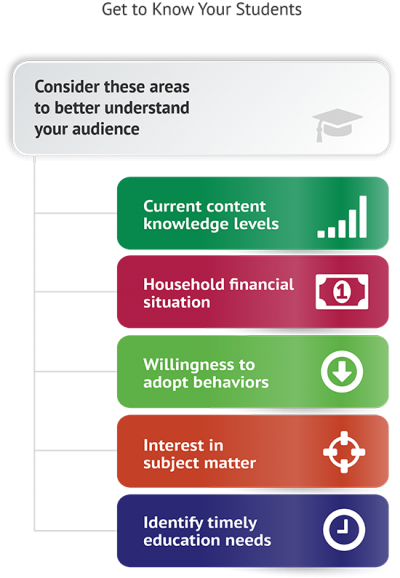 2. Tying Money to Life Part of Teaching Young Children About Money
LaMont and the other parents set a first goal of giving their kids a basic understanding of how money works in their lives. Given their ages, Teaching Young Children About Money needed to take a tack that was age-appropriate for their developmental levels. LaMont believed a focus on money basics would be fine, but they had plenty of time to build the instruction out in the future. The parents concluded that a learning outcome of reaching "Remember" on Bloom's Taxonomy – where kids could recall some terms, facts, and concepts – would be a good goal to start.
3. What are Some Ways to Present and Pace the Lessons?

Now the home-schooling group needed to hit on the best ways to present the lessons for Teaching Children About Money. LaMont wanted to pursue both live instruction for which the parents could share responsibility, and technology-based pieces the kids could do during their study times. They all agreed that a self-paced option would help the kids retain the knowledge they gained.
4. Next on the List: Age-appropriate Topic Selection
Which topics were best when Teaching Young Children About Money? was the next question LaMont and his team had to answer. To meet their learning goals, they needed to limit the lessons to topics relevant to the kids' ages. Since the kids were 4 – 9 years old, they would split them into two groups: PK-2nd grade and 3rd-5th grade. For the younger group, they'd cover the basics of how money works. For the older kids, spending and savings would be the focus.
5. Choosing an Instructor to Guide Teaching Children About Money

Now LaMont must find an instructor for the classes, someone who had personal finance knowledge and the specific skills required for Teaching Children About Money. They decided to look into finding a Certified Financial Education Instructor, or CFEI – a teacher certified by the NFEC to have content and presentation abilities. Fortunately, they located a CFEI in their community who was available.
6. Curriculum Package – Check the Available Resources

Now LaMont's group had to choose a curriculum package. What resources were available for Teaching Children About Money? LaMont sought materials tailored for young kids, with flexible scheduling options. He accomplished his goals by finding a curriculum with just-in-time learning components and a modular design so they could pick and choose lessons.
7. How Did They Do? Accurate Measurements are Vital

There were 15 children in the home-schooling group, and 100% of them participated in the lessons. To find out how they did, LaMont had them take a pre- and post-quiz. The parents were delighted that the children improved by 30% on the quiz questions. Their initial effort was a success! They wrote a neighborhood report and shared it with other parents in the community to get them interested in Teaching Children About Money.
8. Just the Beginning – Keep Reinforcing the Process for Teaching Children About Money

This was just the beginning, LaMont thought. Teaching Young Children About Money would require ongoing reinforcement so the kids would put the lessons into action in their day-to-day lives. The parent group threw a party to reward what their children had achieved. Then they made a solid plan to continue the lessons on a quarterly basis, to keep the kids' money management skills growing.
Lots of parents wish they had learned about money when they were young.  Teaching elementary students financial literacy in school and parents teaching children about money at home could help them avoid the headaches and stress that go along with financial mistakes—and most of us have made at least one money mistake in our lifetimes. Teaching children about money is one of the best things parents can do to prepare their kids for the real world. Although we can't go back in time and change the past, we can make our children's lives easier.
It's almost never too early to teach kids about money. Even very young kids can learn simple lessons that build a solid foundation of financial knowledge. A goal-setting activity is a good place to start. Share some of your current personal goals; compare them to ones you had when you were their age. Ask kids to share their own goals. What does he want to be? What college does she want to attend? Explain that making plans and getting them down on paper gives us a road-map to follow toward reaching a goal.
Another method of teaching money management is to go over the household budget with your children. Then parents can help kids write their own simple budgets. If they have something they really want to buy, they'll be motivated to work out a savings plan toward that purchase. It's best to keep the plan fairly short—if it's much longer than 6 months, kids are likely to lose interest.
Parents of teenagers might ask them to contribute a small amount (maybe 25%) of their income to the household. Such a contribution is a good way for teens to learn money management before they leave home. You can set it up by saying, "You wouldn't put a 4-year-old on a bike without training wheels, would you? Well, I don't want to send you out on your own without some financial training wheels."
The world has changed drastically and people are struggling to make ends meet because of the hard economy. Everybody needs to have good financial management tactics in order to survive. Teaching children about money is of crucial importance because once they grow up they will have a better understanding of financial matters and will keep the family business up and running.
There are many benefits of taking the National Financial Educators Councils' Professional Development Course. This course is very practical, a situation where the real world financial approach is taught in the class. This has a long time benefit to the instructors because they gain knowledge of how to manage their finances while providing financial literacy training for kids.
Upon graduation of this course students earn Certified Financial Education Instructor status. This certificate is not just a piece of paper because it will guarantee the instructor's jobs in many financial institutions or local schools near their neighborhood to teach the course. Or simply they can be hired by the National Financial Educators Council to share their knowledge with new students.
Another benefit of teaching kids about money is that students who learn this course are able to solve their own financial problems while helping others on the best way to manage money. The founders of this course made sure that the students get enough knowledge that can practically be applied in real life. This includes the ability to create a personal benefit plan, avoiding big debts and preparing to invest in the future. Students are able to make their own financial goals and hence work towards achievement.
The Certified Financial Education Instructor programs gives step by step lessons on how the course should be instructed and be incorporated with other subjects such as social studies, economics, English, and other topics. This has inspired many people to join and improve their personal financial literacy skills. The course is very enjoyable for both instructors and participants. The educators learn to make lessons more engaging especially while teaching children about money.
Parents who teach children about money early and keep updating that knowledge as they grow do their kids a huge service. They'll learn to be self-sufficient and responsible, and their futures will be that much brighter.
Teaching Young Children About Money
Teaching young children about money is a very important part of teaching them life skills. A teacher can play an important role when it comes to giving information on good financial habits. A good habit when dealing with cash will help kids for the rest of their life.
If a child gets information at a young age about the economy and the stock market, these aspects will not be a mystery for him as a young adult. A child must be empowered to make wise decisions with the cash that he earns.
It is important to start early and teach kids about money matters that will likely impact them as they grow into adults. Most people who are going through financial difficulties, have not received a financial education as a kid. When a child starts counting and understanding numbers, it is time to introduce him to cash. It can be used in math problems.
Encouraging youth to save, is another essential aspect of financial literacy for kids presentations. They must understand at a young age that they need to split their allowance in a part to spend and a part to save. It is recommended to let the child decide for himself how much money he wishes to put aside, so he can buy something that he wants later.
The child must be encouraged to take the cash that he has saved to the bank and put it on a savings account. It is also a good idea to let him see the balance of his account regularly, so he can see his savings grow larger.
Teaching children about money also means that the child must know what he can buy with the amount of cash that he has available. He can learn this by being actively involved in shopping trips with an adult. He must also be taught to keep a record of the receipts. This way he will know how to track his expenses.