Crowdfunding Pioneer, Entrepreneur & Financial Literacy Advocate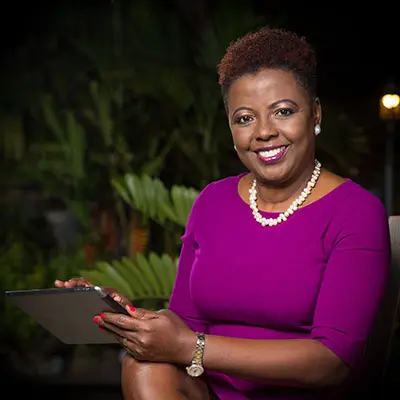 Terminated. Dismissed. Fired. These were national headlines. And they were about me. Nobody plans for this. Yet that is exactly where I was in 2013 when I was publicly and unceremoniously exited without cause from a high-profile job as a public sector leader. But I decided not to be a victim …believing that a good purpose would be revealed. So who was I, what did I know and where was the need? As a C-Suite banking professional, I knew money, finance, leadership and business. And my story of unexpected and unjustified job loss was not rare. So I decided to let its potential debilitating impact on the livelihood of families inspire my message and my mission. I am now an international speaker empowering women to leverage community, live on purpose and to #BeFinanciallyEmpowered™ through entrepreneurship.
Founder of pitchandchoose.com the Caribbean's crowdfunding platform, A. Cecile Watson has been called Caribbean's Crowdfunding Evangelist and Caribbean's Crowdfunding Queen. This engineer and former senior regional banker with private and public sector executive leadership experience, is a Caribbean woman of faith who has set her sights on instigating and inspiring improvements in financial literacy, access to capital and financial empowerment through entrepreneurship. Her crowdfunding thrust is a critical part of this mix and is eclipsed only by her higher aspiration of inspiring others to live on purpose and #BeFinanciallyEmpowered™.
Cecile has built her personal brand on a hallmark of excellence and exceeding expectations. She graduated with a first class honours degree in Electrical Engineering at the University of the West Indies, and was the first Barbadian woman to have done so. Equipped with an MBA from the University of Western Ontario in Canada she transitioned from engineering to Banking and Finance. However she credits her expertise in problem solving, trouble shooting and change management to her engineering skills, discipline and training.
A Speaker, an NFEC Certified Financial Education Instructor and a Certified Facilitator for the infoDEV WINC Acceleration Program, Cecile is also the Founder of Gr8Way Consulting. She offers executive level support inter-alia, and through her C-suite expertise she distinguishes herself in supporting companies, from pre-startups to large brands, to grow and scale their businesses for breakthrough performance. A further differentiator of the service she provides is evident in her knowledge, experience and connections, which she willingly shares and which prove to be of significant value in furthering the development of her clients.
Amongst Cecile's most celebrated speaking engagements was her presentation at the 2015 Global Entrepreneurship Summit in Kenya. Invited by President Obama, she had the distinction of being the sole Caribbean presenter and also the sole crowdfunding expert there. She also delivered the Key Note Address at the 2016 20,000 STRONG women's rally in Belize where her riveting message on "Woman Thou Art Relevant ™" resonated with the large gathering.
Cecile is a Caribbean enthusiast and a passionate proponent of people empowerment, especially women. She values opportunities to give back that are aligned to her specific expertise. As one of 8 worldwide regional Women's Entrepreneurship Day (WED) Leaders, she is leading the Caribbean market's participation in this global movement that celebrates, supports, and empowers women entrepreneurs and which is recognized annually on November 19th. She also serves as the WED World Ambassador for Jamaica.
In terms of public service, Cecile is a member of the Board of Directors of the Development Bank of Jamaica and also a Director of the National Health Fund in Jamaica, the latter for which she serves as the Chairman of its Audit and Governance Committee.
With all this, Cecile has a personal and private agenda that she has yet to explain but which she calls "1 of my 100". What we do know is that if you are so tagged, she will be persistent in encouraging you to discover and operate from the thin edge between what may be a stretch for you and what feels just beyond your capacity. This she describes as the bittersweet meridian where you will grow and progressively shift towards living on purpose.

The NFEC & Your Selected Speaker Follow a Four Step Process

See the latest honorees from Financial Educators Day and submit a worthy candidate for next year!
See the latest NFEC nationwide testing results on financial literacy, updated for 2018