The Optimal Eight Ways of Teaching Children Money Management
It's a topic on many people's minds these days: Teaching Children Money Management in a way that helps secure their futures. The pages you'll find here offer an eight-step plan for Teaching Children Money Management Lessons efficiently and according to the best practices indicated by research evidence.
Teaching Children Money Management Lessons for Maximum Impact

1. Methods and Resources for Teaching Children Money Management

The resources found here will guide you through Teaching Children Money Management, according to the effective process described in the example below:
Charles Wright, who led a youth group at St. Mark's Methodist Church, was interested in Teaching Children Money Management so he could educate the youth at St. Mark's about personal finance. The 24 kids in Charles's church group were mainly from middle-class families in their Northern California community, and ranged in age from 12 – 16. Although Charles had an interest in Teaching Children Money Management Lessons, he was unaware how much financial education the kids were getting at home or at school. He decided to give them a brief financial literacy test to determine their knowledge levels. Results of the test showed that the children really needed to learn about why savings was important and basic economic systems.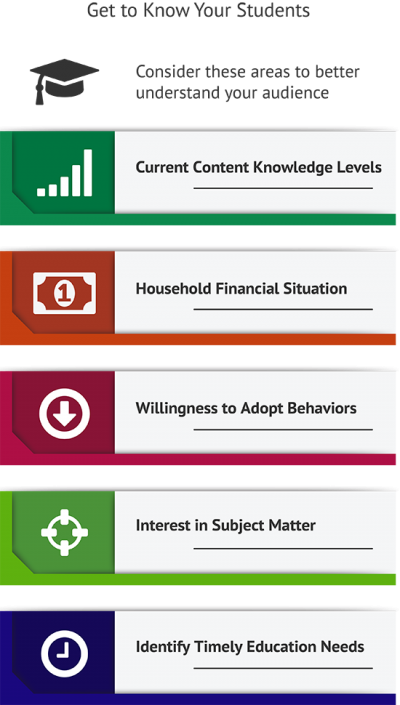 2. Clarifying First Goals for Teaching Children Money Management
Now that Charles knew his youth group needed to learn how to save, he set an initial goal of doing an educational program with them to clarify savings benefits and go over the basics of how economic systems work. The group met for an hour every Wednesday evening, so Charles opted to set aside one of those meetings for the training. If the kids liked it, he could continue spending one Wednesday a month Teaching Children Money Management. For the first hour, Charles thought the youth could get to "Understand" on Bloom's Taxonomy – that is, being able to demonstrate comprehension of the core concepts.
3. Instructional Pace and Delivery: What are the Options?

Charles now understood his first objective and continuing goals. The next phase involved choosing how to go about Teaching Children Money Management Lessons. Charles chose timeline-based pacing to fit the lessons into his one-hour time slot. Because they just had a little time, he decided to adopt a flipped instruction model: have the kids watch a video at home on their own time, and then do an activity together during their meeting.
4. Primary Needs for Teaching Children Money Management Lessons Drive the Lesson Choices
Charles already knew his audience's primary need: to learn the importance of saving and fundamental economic principles. That's why he chose to focus his first stab at Teaching Children Money Management on savings and economic/government influences on money. Charles believed his goal of getting the kids to the "Understand" tier on Bloom's Taxonomy could be reached by choosing topics relevant to the children's lives and situations.
5. Educators Must be Qualified, Engaging, Available

At the fifth step Charles needed to select a highly-qualified educator to present the materials – a person with both personal finance knowledge and superb teaching skills. His idea was to hire the educator to record the video, and then Charles would lead the activity at the youth group meeting. As luck would have it, his pastor told him that an NFEC-Certified Financial Education Instructor was a St. Mark's member. Charles approached her, and found that she was more than willing to record a video for Teaching Children Money.
6. Qualities to Look for in a Curriculum for Teaching Children Money Management Lessons

The curriculum qualities Charles wanted were activity-based lessons for Teaching Children Money Management, with engaging and interactive activities. He achieved everything he needed by locating a widely-recognized curriculum program that incorporated practical, action-based lessons and just-in-time learning segments to address specific topics of interest.
7. What do the Results Indicate? Measurement is Essential

As we mentioned, Charles had 24 children in his youth group. Out of the 24, all of them (100%) reported watching the video at home. A total of 22 (91.7%) were present at the meeting and participated in the activity designed for Teaching Children Money Management Lessons. After they did the fun activity, Charles re-administered the same test he'd used in the beginning. The kids' scores improved a lot – on average, by about 28%. Charles reported the impact at next Sunday's service, to let the congregation know how well the lessons were working.
8. Follow the Initial Experience with Longer-term Encouragement

After the initial experience was over, Charles was still excited about Teaching Children Money Management. He knew one meeting would be far from enough. He handed out participation awards after the first activity. Then he arranged for follow-up sessions to be held once a month at the Wednesday evening youth group meetings. Over time, this continuing education would help set the kids up for a bright future.
People with an interest in teaching children money management can reap many benefits from connecting with the National Financial Educators Council (NFEC). The NFEC offers training, resources, and support to those who want to learn how to teach children about money.
The Certified Financial Educator Instructor (CFEI) training program is designed as a comprehensive package to give instructors specific skills for teaching money management to kids. The training was developed by a team of top-notch educators and financial professionals, and covers everything an instructor needs to start hosting successful financial literacy classes. Graduates of the CFEI receive certification and join the ranks of the NFEC's esteemed Personal Finance Speakers Association.
During the training a Certified Financial Educator Instructor learns how to tailor financial lessons to make them appealing to people from any age group or walk of life. The NFEC advocates for teaching kids about money when they're young because research shows that, if children learn money skills early and get in the habit of using them, those habits tend to carry over into their adult lives. One of the NFEC's tips for teaching young children about money is to help them figure out how to turn their hobbies or passions into future income. For example, if a little girl loves to play dress-up in Mom's clothes, she might be able to translate that interest into a fashion design career, or start an entrepreneurial business as a personal shopper.
Once young people have identified a line of work that fits well with their passions, instructors can help them plan ahead for getting their ideal employment. Whether through college, individual study, mentors, or networking, kids can be guided to draw a roadmap toward finding and securing their dream jobs. This is just one of many methods for teaching children money management. Check out the NFEC's programs and resources to learn more.
Teaching Children Money Management Lessons
Teaching children money management lessons is easier and takes less time than picking up high school algebra. When you teach children about money, the skills they acquire can make a profound difference throughout their lifetime.
But most schools don't teach kids about money. Don't you think it's ironic—the knowledge that benefits your children the most is taught the least? That's where you come in.
The majority of personal finance lessons and money skills are taught to children by their parents. Yet, if you look at the alarming statistics about growing debt and financial hardship in America, it is obvious that most parents are not teaching kids about money.
But teaching children about money: spending & saving, investing in stocks and real estate, managing credit, and entrepreneurship isn't easy. Even if you have the knowledge and experience to impart, not everyone is skilled at teaching kids about money —or even has the time to teach children about money.
To combat financial illiteracy and to keep this country strong, teaching children about money is essential. Below are a few tips so you can effectively teach kids about money.
Tip #1: Relate Money to Their Lifestyle Dreams. Teaching kids about money to where they internalize the information has as much to do with motivation as it does with education. Teaching children about money by focusing just on 'money' can be a big mistake that turns them off.
Today's youth are not focused on just "money". It's what money 'allows them to do' should be our focus when we teach children about money. Before you beginning teaching financial literacy lessons be sure to understand their personal dreams and find out how they want to live their day-to-day life. You will be pleasantly surprised at how many youth want to learn about money when you are teaching kids about money in a way they relate too.
Tip #2: Help Them Recognize Opportunity. Even though many people are going through financial challenges now, it is important that we teach our children about money and focus on how to recognize opportunity.
When the economy is in bad shape is when many of financially savvy people are making investments that will increase their long-term net worth. Teaching kids about money can start with simple lessons like a practical understanding of market cycles with the knowledge on how to take advantage of future trends is a simple concept that will have a profound impact on their life. By getting into the habit of always looking for ways to teach children about money will help them keep their eyes out for opportunities – in turn they will have more opportunities.
Tip #3 Savings Plan. Developing a savings plan (aka budget) is an essential element when teaching your kids about money. An essential element teaching children about money is getting them to form positive saving & spending habits.
Since today's youth are comfortable with technology it is highly recommended you teach kids about money in a way they relate to. Forget about showing them how to write checks – instead teach them to automate their savings & budget plans.
Teaching kids about money by focusing on automating their entire finances will help them to set up their financial foundation in a professional way. Helping them to automate their finances – from paycheck to investments – will help them earn more interest, protect their credit and have a professionally managed investment plan. This automation of their finances is essential in effectively teaching your children about money.
When we begin to teach our kids about money it opens up new opportunities for them. Be sure to pick up the tips and skills you need to teach children about money in ways they understand, relate to and will use.
The confidence and knowledge your children will gain when you teach children money management lessons is something that will benefit them every single day of their lives!