Product, Pricing, & Funding Models for Financial Coaches
Defining the products you offer, having a clear pricing strategy, and developing strong funding models are essential to your success in this industry. These components help your program grow and give you the ability to reach more people with the support they need to make qualified financial decisions.
Although there are a variety of ways to structure a financial coaching practice based on different business models (entrepreneurial, nonprofit, financial services, education, etc.), each one needs to consider revenue sources, product offerings, and price. Successful coaches use distinct revenue models to develop their financial coaching programs. It's important to find a revenue mix that aligns with your business model, so you can continue to grow your practice and serve more people.
Coaching programs require well-defined offerings, so you know what to provide the client and can set proper expectations. No matter your revenue model, your service offerings and pricing structure should be clear and spell out everything clients can expect to receive in your program for each price they pay. Clear products and pricing are essential parts of setting appropriate expectations for what clients will receive and lays the foundation for your revenue model.
NFEC's Coaching Program Overview
The business aspects of financial coaching are an important consideration from the start. Having clear revenue and funding strategies that support continued expansion for your financial coaching practice will fund the growth of your program and can help you continue to serve people for years to come.
We provide research, training, and expertise on aspects directly tied to revenue: product offerings, pricing data, and income sources. This information can save you years of trial and error learning and help you develop or expand your coaching practice efficiently.
Additionally, we provide the tools you need to generate interest, deepen relationships with prospective clients, and get people enrolled in the coaching program – you will learn more about these components in the next parts of the tour.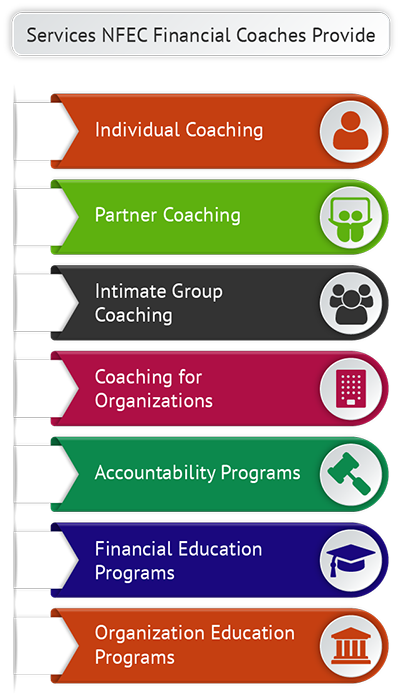 Preview Resources
Financial Coaching Business Resources Training: Table of Contents