Personal Finance Lesson Plans: Instant Download
Have you been on the hunt for reliable personal finance lesson plans? If you've been looking online, you already know just how difficult it can be to find material that's both engaging and easy-to-understand. Well, you no longer have to stress, because luck has brought you to the best place for exactly that. We have successfully put together a complete guide that focuses on the step-by-step process that's needed in order to build the best financial education course, in order to help individuals and organizations take advantage of the best information out there.
Personal finance lesson plans are now provided by NFEC to potential participants all across the globe, featuring top-quality material that's 100% customizable for whichever type of participants – no matter which age they are or how they stand socioeconomically.
This is engaging and practical material that's also memorable, and gives participants an enjoyable way to absorb the information.
1. When Personal Finance Lesson Plans are the Solution
Now let's examine how one real-life professional leveraged these resources to take advantage of effective personal finance lesson plans:
Johanna is the vice president of a local community college's outreach program, and she is in charge of 13 other student volunteers. They were asking her for financial advice, so eventually she decided to seek out some personal finance lesson plans that would help them. She knew them quite personally, so she didn't want to be the one to deliver this extremely beneficial information – so she opted to find some outside help.
Thanks to a series of casual conversations with her volunteers, she came to the realization that most of them needed to establish a basic level of knowledge in this topic. For this reason, she knew that easy-to-digest personal finance lessons would be best.
2. The Proactive First Step
At first, her thought was to organize a series of workshops herself, and use that method to help this group acquire this critical knowledge. She hoped to help them get their personal finances on track as soon as possible, so she figured a bare-bones program that emphasized only the fundamental principles would be optimal. She was hoping, however, that this group would gradually become much more educated on the topic of personal finances in the long run.
3. How to Tackle Personal Finance Lesson Plans
With Johanna now decided with her short-term aims and a vision for the long run, she could finally start to choose the ideal way to present the financial literacy curriculum. What form should the delivery method take? And what about the pace of the delivery? She hoped to select a program that was low-pressure and allowed the group to proceed at their own individual paces, especially considering the team's mismatched schedules – which prompted her to select an internet-based course that could illustrate the material without boring the group.
4. Designing an Educational Blueprint
What Johanna needed to do after that was figure out a narrower focus for her course. Because her audience was made up of a group of rookies as it relates to this topic, she was hoping to design the personal finance lesson plans with a focus on only the main ideas from the principles of personal financial responsibility.
5. Narrowing Down a Primary Focus for Personal Finance Lessons
What Johanna realized she would need was a course option that could address this subject focus while also using engaging, interactive learning activities, and one that would have the possibility of fitting around everyone's incompatible schedules. For that reason, she opted to pick a flexible program that was divided up into digestible modules that the group could effectively absorb.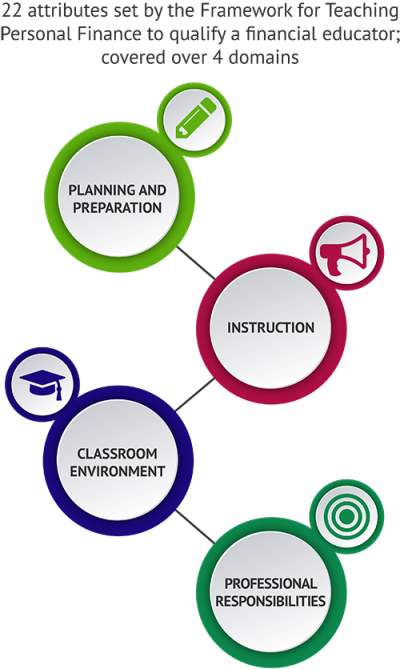 6. Finding Help for an Introduction to Personal Finance Lesson Plans
Johanna certainly possessed the skills to lead a structured course to an audience, but she didn't quite know how to approach total beginners – or how to best outline an introduction to personal finance lesson plans. That's why she wanted to reach out for assistance with these particular personal finance lessons, hoping to find a qualified person who was more experienced with beginners. That's why she got in contact with a NFEC Certified Educator.
7. The Beginning of the End
From this group of 13 student volunteers, every single participant managed to finish the whole program, amounting to a 100% success rate. Out of those 13 successful student volunteers, 12 of them (92%) said in a post-course survey that the program enabled them to "significantly" improve their own understanding when it comes to personal money management. After the end of the program and survey had passed, Johanna continued to build out a full report that showed the complete results of the course – so she could prove how impactful and beneficial it ended up being for the group.
8. Following Up for Success
Johanna immediately understood that this initial portion was just designed to serve as a catalyst, and that this particular collection of student volunteers would probably require continued support to achieve their personal finance goals. Immediately following the finish of the introduction to personal finance lesson plans, she decided to compose some individual, personalized emails for everyone – congratulating each of the participants and making sure to stress how important it is to keep working toward their personal finance goals in their own lives. She also provided several personal finance worksheets geared to extend the learning and give them direction on next steps.
So they would all be able to retain what the program had taught them, Johanna provided the with an extra offer for follow-up sessions, much like the first one and held monthly. By continuing to apply themselves, they would be able to further build their steady new foundational knowledge in personal finance.
The personal finance lesson plans the NFEC has developed are designed to connect with and entertain audiences, while also meeting core standards for financial education. The lesson plans have been widely recognized for their ability to reach participants from all demographics and mobilize them toward positive action to improve their finances.
A 100% independent organization, the NFEC can guarantee that its personal finance presentations are purely educational. These lesson plans were created with the guidance of the NFEC Curriculum Advisory Board, a group of experts, educators, and financial professionals dedicated to writing personal finance lessons that bridge the gap between theory and practice.
The NFEC offers engaging, fun and interactive financial literacy lesson plans and curriculum for all ages – kids, teens, and adults. Over 400 hours of presentation material accommodates a variety of educational goals and formats.
The NFEC provides a full range of customized financial literacy programming and promotions to meet your needs. The NFEC can create new programs or modify existing materials to meet the needs of our supporters.
Financial Literacy Framework & Standards
Review big ideas and content standards designed to encourage the highest achievement by participants. Complimentary interactive website helps you understand the skills needed to improve one's financial capabilities.
Personal Finance Lesson Plans – Launch Date Set
The NFEC's personal finance lesson plans are engaging, fun and meet educational standards. The material is designed to help instructors and parents teach kids about money in a fun, engaging and relevant way. This addition to the educational resources rounds out their current 80 financial literacy assets.
The NFECs' social enterprise campaign -Financial EduNation – provides turnkey resources to individuals and organizations that seek to improve the financial capability of those they serve. A National Financial Educators Council's spokesperson stated, "Teaching children about money when they are young is a critical component of raising money smart kids. They are forming financial habits early on in life; our goal is to help them form good habits."
The personal finance for kids program financial literacy curriculum, sing-along videos, books, training and support tools for kids between 3 and 8 (pre-kindergarten through the 2nd grade). This program also features the NFECs' Certified Financial Education Instructor program, which helps educators teach children about money effectively. The entire program includes tools designed to increase long-term retention of the lessons. This includes lesson plans, student guides, board games, video learning centers, software, games and the Certified Financial Educator Training program. The program material and training will be launched at the end of financial literacy month (April).
Reports show that personal finance for kids programming improves their financial capabilities. This can help them avoid common problems that many people are facing today – debt and other financial issues. Besides the financial consequences, it is commonly understood that monetary issues is a leading contributor of stress, health and relationship problems. The NFEC website points to the fact that many of the problems people face can be avoided or lessened by becoming financially literate.
The financial literacy curriculum for high school students was developed by the National Financial Educators Council in a similar manner to material offered to various age groups they serve. Financial professional, educators and personal finance experts collaborated to bridge the gap between educational standards and practical knowledge. Early childhood development experts were also consulted to ensure the effectiveness of the coursework being developed.
The National Financial Educators Council is a social enterprise organization committed to improving the financial capability of people globally. The personal finance for kid material offers age specific financial education to foster positive monetary habits among children. The NFECs' Financial EduNation Campaign encapsulates all the programs offered to provide community leaders, organizations and financial professional's tools to conduct effective outreach, awareness and promotion initiatives.