Finding Money Management PowerPoint Presentations
Have your responsibilities at work led you online in search of a helpful and engaging money management PowerPoint presentations? You can finally take a relaxing breath, because your search is now over! You've found it. Our team at the NFEC is assisting both companies and individual professionals in finding the best quality financial education solutions, and we have designed a complete guide that walks you through the best path to achieving your goal.
Across the globe, the NFEC offers diverse and flexible options when it comes to reliable money management PowerPoint presentations. Our tailor-made solutions can be custom-made for any particular age group or socioeconomic backgrounds.
Our money management presentation options are engaging, useful, and make a lasting impression – while simultaneously incorporating fun learning strategies.
Real Money Management PowerPoint Presentations
Now let's check out a real-world scenario where a professional has been able to leverage one of our money management PowerPoint presentations:
Blanche is a supervisor for a company that organizes hundreds of leadership summits around the country, and is currently responsible for 21 leadership coaches. Several people in her team had approached her seeking advice on personal finance issues, so she decided that the best thing she could do would be to help them all – as a group – with their knowledge on this issue. She had already acquired a lot of knowledge on this topic herself, but she wasn't quite sure how to convey this information to a group that was all in their early and mid-20s.
After doing a quick and casual survey in one of their regular morning meetings, she suddenly realized just how little this group knew about personal finance concepts. She would absolutely need to start her money management presentation from the very beginning.  The money management classes she had in mind would convey the basic information people need to know about money.
Download money management PowerPoint presentations at this link. Use them to lead classrooms, workshops, or other financial literacy programming.
The Beginnings of a Money Management Presentation
How should she get the ball rolling? Blanche realized that starting the money management ppt presentation off with just the basics would be the best way to go. Eventually, though, her long-term goal was to make sure everyone acquired a well-rounded, working knowledge of personal finance principles with a money management presentation.
True Money Management PowerPoint Presentations
It was settled – Blanche knew what her immediate goals were and also had her long-term goals drawn out. At that moment, she simply needed to decide how she could best convey this crucial learning material. This particular group of coaches had schedules that were all over the place, so she easily knew that internet-based money management PowerPoint presentations would be ideal.
Planning an Educational Blueprint
Blanche was well on her way. At that point, she had to whittle down the main focus of her money management PowerPoint presentations. The majority of this group were young professionals, so she opted to focus the money management ppt presentation on planning for retirement and building healthy credit histories.
Working out the Most Thoughtful Timing
This particular group had insanely mismatched schedules and different levels of available free time for this money management presentation. Blanche needed a course that would still be able to work within these limitations. That's why she opted to build a flexible program that is thoughtfully divided into smaller modules that can be completed whenever and provide homework so participants can continue their education.  She developed money management worksheets and student guide to assist in the after-class activities she assigned.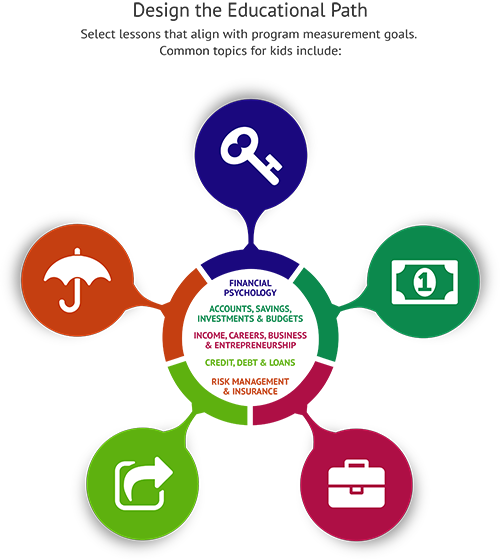 Help with a Money Management PPT Presentation
Blanche could certainly help anyone learn most of the main principles of personal finance, but she knew that this group would need something that wasn't dry and could hold their attention. That's why she decided to find some assistance with her money management presentation: she reached out to a Certified Financial Education Instructor who knew how to teach money management lessons effectively.
Why Data is Beautiful
Thanks to the NFEC's help, Blanche pulled off the first of her successful money management PowerPoint presentations! Of the 21 leadership coaches that ended up participating, 19 finished the whole course – a success rate of 90%. The survey given at the close of the program indicated that literally 100% of the participants "significantly" improved their understanding of the topic in question. Blanche quickly and easily went online to generate a report that visually demonstrated data showing how strong the money management ppt presentation ended up being.
The Closing Bell
Blanche's job was not finished. She knew that these leadership coaches would be best served if they continued to receive ongoing support. When the first of the money management PowerPoint presentations was over, she decided to write out some personalized messages, directed to everyone who participated, in order to encourage them to keep learning about the topic.
She chose to continue offering monthly follow-up courses, so that she could enable them to retain everything she helped them learn. This simple move would enable them to keep perfecting their ever-growing understanding of this life-changing subject. She also performed a number of money management surveys and test to see how the participants liked the course and improved their knowledge.