In an age when 31% of adults have no savings and only 23% of children talk to their parents about money, it's clear that educators must step up and implement financial education programs. However, it can be hard to convince educators and the public that money should go into financial wellness programs instead of trending, popular programs like STEM. After seeing the results of a financial literacy study, decision-makers can both be made aware of their students' weak spots and be inspired to enlist financial literacy standards to incite change.
The Scope of Financial Literacy Studies
A financial literacy study is essential for program evaluation, determining which methods effectively change behavior and which methods do not. A financial literacy study often reviews years of data from financial education programs and uses statistical tests to determine their efficacy. These studies are also instrumental in raising awareness for the lack of financial literacy among individuals, the consequences of such illiteracy, and the well-researched benefits properly designed financial literacy programs can have on the financial well-being of individuals.
The Problems and Personal Impacts Of Financial Illiteracy
North Dakota, which ranked 4th out of all 50 states on a financial literacy assessment, had the highest percentage of respondents (55.5%) declare they had an emergency fund. http://www.usfinancialcapability.org/downloads/NFCS_2015_State_Rankings.pdf
Vermont, which ranked 2nd out of all 50 states on a financial literacy assessment, had the lowest rate of non-bank borrowing methods, at 15.2%. http://www.usfinancialcapability.org/downloads/NFCS_2015_State_Rankings.pdf
Of adults, 31% report they have no savings while 29% report they are saving more than they were last year. https://www.nfcc.org/NewsRoom/FinancialLiteracy/files2013/NFCC_NBPCA_2013%20FinancialLiteracy_survey_datasheet_key%20findings_032913.pdf
Of college-educated millennials, 81% have at least one long standing debt. https://www.pwc.com/us/en/about-us/corporate-responsibility/assets/pwc-millennials-and-financial-literacy.pdf
Only 23% of kids surveyed indicated that they talk to their parents frequently about money. http://www.moneyconfidentkids.com/content/dam/money-confident-kids/PDFs/PKM-Surveys/2017_PKM_Results.pdf
In fact, 46% of surveyed kids with low financial literacy index scores reported learning from personal experience, while 73% of those with high literacy scores claimed to learn from personal experience. https://www.federalreserve.gov/pubs/bulletin/2003/0703lead.pdf
Financial Wellness Study Data
Starting in 2000, the states of Georgia, Idaho, and Texas began mandating financial education. The improvement in credit scores after program completion for each of these states was compared against the improvement in credit scores to a nearby state without state-mandated financial education. The credit scores were recorded on a 280-850 scale. For students participating in the programs' 3rd year of implementation, credit scores increased by 10.89 in Georgia, 16.19 in Idaho, and 31.71 in Texas. http://www.finra.org
One team of researchers decided to analyze the efficacy of simulations in producing behavioral change in students. Students who took Junior Achievement's Finance park, a simulation for middle school students in which students assume family and income scenarios, were split up into two groups after going through the park the first time. One group underwent financial education training while the other group did not. After 12 weeks, all the students went through the park for a second time. Over half the students in the group that received training were able to successfully construct a budget, a statistically significant amount over the single student who was able to do so before the training. http://www.nber.org/papers/w16271.pdf
Households that scored higher on a specially constructed investment knowledge index were found to be more likely to have a diversified portfolio and have a 401(k) account. https://www.federalreserve.gov/pubs/bulletin/2003/0703lead.pdf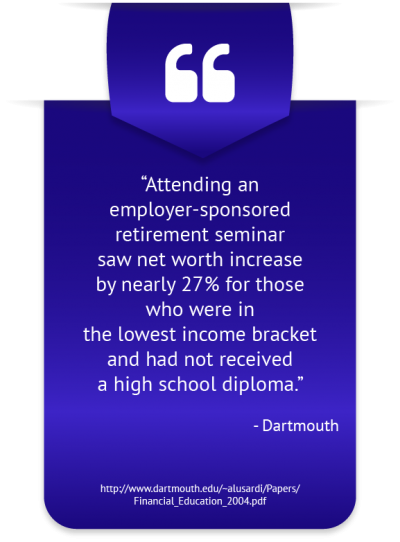 Best Practices For Effective Financial Education
The personal financial education materials must be objective, made for the sole purpose of informing kinds rather than pushing a certain agenda. https://www.jumpstart.org
COHEAO emphasizes relevance as an important factor, citing several studies that show increased retention when a participant is working toward a specific financial goal such as taking out a mortgage. Participants become more invested in learning when they can connect the skills they are being taught in class to real-world usage in the short-term. http://www.coheao.com/wp-content/uploads/2011/04/COHEAO-Whitepaper-Financial-Literacy-on-Campus-.pdf
The Need For Financial Literacy Studies
At a time when it seems like STEM is getting most public funding, financial literacy statistics can help make the case for financial education programs in the eyes of educators and attract public funding for these programs, too. A financial literacy study can be conducted by those in academia or mature financial education programs that would like to share best practices with other initiatives. Without financial literacy studies, it would be difficult for financial literacy programs to ascertain the effectiveness of different methods.