Financial Literacy Statistics
A dangerous epidemic is present in the US and beyond. It has largely gone unnoticed by both the public and those who shape public policy. This epidemic has recently been exposed, thanks to financial literacy statistics. These statistics show that financial awareness is missing in most homes and financial education is absent from most school systems throughout the US. Financial literacy statistics also point to the most efficient path toward educating the public. When targeted awareness initiatives and education are employed through public programs and schools, the financial knowledge and behavior will permeate throughout families and society as a whole.
Statistics Uncover Financial Illiteracy Epidemic
Financial literacy statistics have made it abundantly clear that an epidemic of illiteracy is pervasive among the world. Such startling statistics are hard to argue against and shift the burden of proof to the skeptics. Financial literacy statistics demonstrate that a majority of individuals do not possess the financial expertise needed to make healthy financial choices that will benefit them in the long run. These facts send a clear message to those in charge of public policy and those with the desire to better their communities: the financial illiteracy epidemic must be addressed.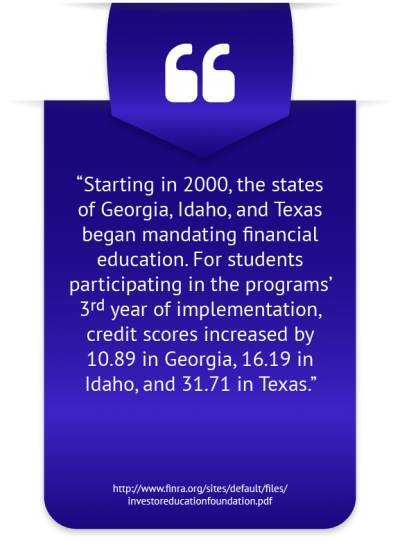 Financial Literacy Education Leverages Financial Behavior
The results from a nationwide telephone survey asking whether the individual had taken an economics or business course at high school and whether they were banked found a statistically significant association between level of high school financial education and being banked (Wiley). https://onlinelibrary.wiley.com/doi/pdf/10.1111/j.1745-6606.2010.01171.x
Attending an employer-sponsored retirement seminar saw net worth increase by nearly 27% for those who were in the lowest income bracket and had not received a high school diploma (Dartmouth). http://www.dartmouth.edu/~alusardi/Papers/Financial_Education_2004.pdf
Researchers at NBER demonstrated the positive relation between the average stock market participation in the individual's community and the individual's participation rate in the markets. This effect was proven to be stronger in more sociable communities (National Bureau of Economic Research). http://www.nber.org/papers/w13168.pdf
A research study analyzing the effects of parents' values on children found a statistically significant positive association between parents' savings rates and children's savings rates (University of Agder). https://home.uia.no/ellenkn/WebleyNyhus2006.pdf
Statistics Show Millennials Worried About Financial Illiteracy
Only 16% of Americans between ages 18-26 are very optimistic about their financial future (Bank of America). https://bankofamerica.com
54% of millennials expressed worry that they would not be able to pay back student loans (PwC). https://www.pwc.com/us/en/about-us/corporate-responsibility/assets/pwc-millennials-and-financial-literacy.pdf
In a survey conducted by the National Financial Educators Council, 5.2% reported they had been turned down from a job due to a lack of financial knowledge, and 18.2% responded they were not sure (National Financial Educators Council). https://www.financialeducatorscouncil.org/financial-literacy-statistics
North Dakota, which ranked 4th out of all 50 states on a financial literacy assessment, had the highest percentage of respondents at 55.5% declare they had an emergency fund (US Financial Capability). http://www.usfinancialcapability.org/downloads/NFCS_2015_State_Rankings.pdf
Vermont, which ranked 2nd out of all 50 states on a financial literacy assessment, had the lowest rate of non-bank borrowing methods, at 15.2% (US Financial Capability). http://www.usfinancialcapability.org/downloads/NFCS_2015_State_Rankings.pdf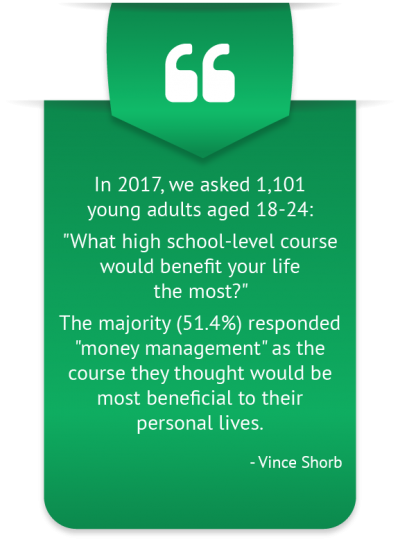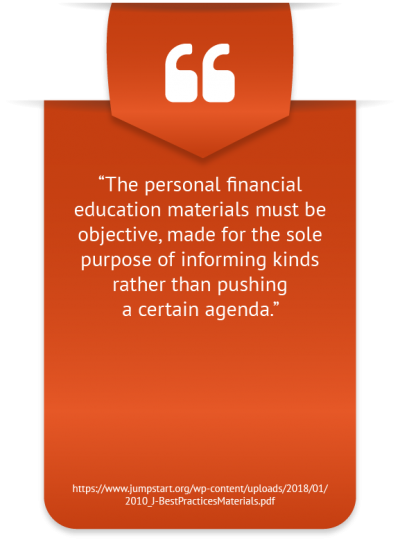 Financial Literacy Starts with Public Awareness
The public, often concerned about the quality of their public education systems and the strength of their economies, miss the crucial fact that financial literacy is necessary for the upcoming generation to succeed professionally. Financial literacy statistics reveal a negligence among public educators and communities in equipping their youth with the financial competencies that will help lay the foundation for a chain of positive financial choices. Working with programs run by both the public and private sector, communities can foster an understanding of the benefits of financial literacy among their citizens.
Financial Literacy Statistics, Data and Results
The NFEC's provides financial literacy statistics, empirical data and professional opinions on topics centered on financial literacy. Using polls, surveys, research, and think tanks, the NFEC gathers data and an open source model to share the results with the industry and general public.
The goal is to share the latest information and best practices with the financial education industry, provide those in the media the latest information and to support the development of financial literacy programming. Visit the Financial Literacy Test & Survey Center for the most recent data and live results.
Average test results for all ages groups tested for the National Financial Capability Test

National Financial Literacy Test Results
View the results from over 17,000 participants and test your Financial IQ.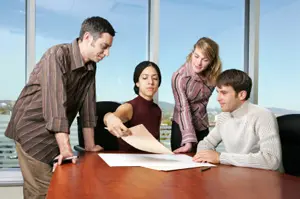 Over 4% turned down for job or promotion due to their financial background in NFEC survey of 2,403 people across US.
Click on the links below to display additional information on your topic(s) of interest: