While it may be general knowledge that the youth of today are not financially literate, this vague awareness is doing nothing to encourage educational institutions to either start new programs or improve those already in existence. However, by collecting and distributing facts about financial literacy, advocates can begin to encourage more support behind financial literacy programs. Research that demonstrates the exact financial weakness of the population and research showing financial literacy facts on programs that successfully make a positive impact helps educators determine the needs of their students for new programs and enhance aspects of existing programs.
The Function of Financial Literacy Facts
Facts about financial literacy paint a vivid image of financial competency among different groups of the population. A plethora of research papers and reports have yielded facts that illustrate the dismal state of financial knowledge among the public—especially among women, minorities, and other groups that would benefit economically from improved financial literacy. Financial literacy facts are used to both raise awareness about financial literacy and also help construct targeted curriculum that covers the financial needs of program participants.
Information Currently Molding Financial Behaviors of the Public
46% of those with low financial literacy index scores reported learning from personal experience, while 73% of those with high literacy scores claimed to learn from personal experience. https://www.federalreserve.gov/pubs/bulletin/2003/0703lead.pdf
40.2% of those with low levels of financial literacy relied on parents, friends, and acquaintances as their most important source of financial knowledge, compared to 20.8% of those with the highest levels of financial literacy. http://www.nber.org/papers/w13565.pdf
57% of millennials have either an advisor or robo advisor. http://www.moneyconfidentkids.com/content/dam/money-confident-kids/PDFs/PKM-Surveys/2017_PKM_Results.pdf
Personal Impacts of Financial Illiteracy
Borrowers who scored lowest on financial literacy tests were in mortgage delinquency 25% of the time, compared to the 12% mortgage delinquency for those who scored highest on the assessment. https://www.frbatlanta.org/-/media/documents/research/publications/wp/2010/wp1010.pdf
Households that scored higher on a specially constructed savings index were found to be more likely to own a checking account and have an emergency fund. https://www.federalreserve.gov/pubs/bulletin/2003/0703lead.pdf
North Dakota, which ranked 4th out of all 50 states on a financial literacy assessment, had the highest percentage of respondents at 55.5% declare they had an emergency fund. http://www.usfinancialcapability.org/downloads/NFCS_2015_State_Rankings.pdf
Pregnant or parenting teens are more concerned about learning to save for a home in the future than learning how to save for college. https://youth.gov/youth-topics/financial-capability-literacy/facts#_ftn8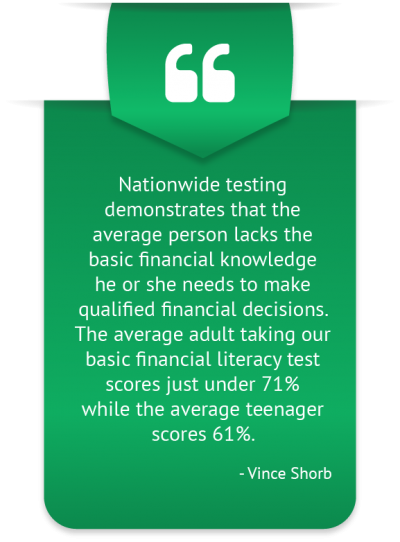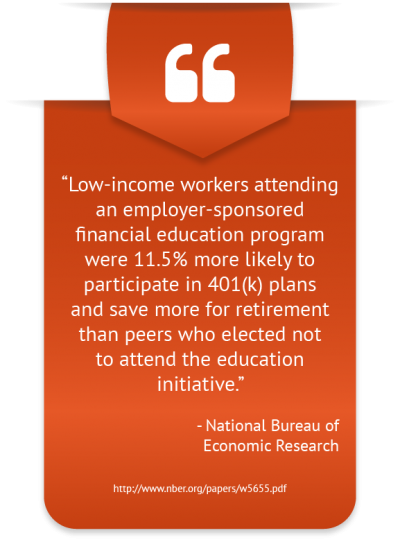 Positive Effects of Financial Literacy
The Federal Deposit Corporation (FDIC) analyzed the intermediate-term impact of a financial literacy program on consumers' behavior and confidence 6 to 12 months after the end of the program. They found that consumers were more likely to have a checking account, budget wisely, save for retirement, and more. After the program, 78% of respondents reported they had a checking account, up from 12% before they had undergone the program. Another 69% reported their level of savings had increased after taking the program, with only 3% reporting that it had declined. https://www.fdic.gov/consumers/consumer/moneysmart/pubs/ms070424.pdf
Attending a employer-sponsored retirement seminar saw net worth increase by nearly 27% for those who were in the lowest income bracket and had not received a high school diploma. http://www.dartmouth.edu/~alusardi/Papers/Financial_Education_2004.pdf
The State Bank of Pakistan and management consulting firm BearingPoint have partnered to develop the country's first-ever nationwide financial literacy program. Products and services tailored for low-income Pakistanis will be developed to assist individuals in making financially sound decisions.
http://www.sbp.org.pk/press/2012/FinancialLiteracyProgram-20-Jan-12.pdf
Champlain College's center for financial literacy emphasizes that financial literacy topics must be taught in a course that students are required to take in order to graduate. https://www.champlain.edu/Documents/Centers-of-Excellence/Center-for-Financial-Literacy/National-Report-Card-Champlain-College-CFL.pdf
To Encourage Change, Facts About Financial Literacy Are Vital
While it is easy to feel discouraged after analyzing financial literacy facts, we must not believe that financial literacy for all individuals is too daunting of a task. The same reports and academic papers that produce such dismaying financial literacy statistics also affirm the promises of smart financial education programs. Financial education programs based on best practices have been shown to imbue learners with the knowledge they need in order to enact real changes in their financial behaviors.
Why do our kids need to learn about money? To paraphrase the Federal Reserve Chairman Ben Bernanke financial literacy quote, because widespread problems like the subprime mortgage market and the resulting rash of foreclosures and bankruptcies serve to illustrate how vital such lessons have become in today's world. Here are a few more financial literacy facts that underscore this need:
58% was the average score on a recent national financial literacy test among 1,309 teens and young adults.
Financial issues are cited most frequently as the reason why college students drop out of school.
Yet 84% of college students now have credit cards; 50% of them have more than four cards.
The age range 18-25 is the fastest-growing segment for bankruptcy.
You only need to do a simple Google search to turn up more financial literacy articles backing up these alarming statistical trends. Clearly kids do need to complete practical money education, ideally using lessons that will give them a head start toward financial success.
Before you start seeking a program, it's important to define financial literacy. The term has been defined in various ways, but probably the most succinct and inclusive definition was coined by the National Financial Educators Council (NFEC): "Financial literacy means possessing the skills and knowledge on financial matters to confidently take effective action that best fulfills an individual's personal, family and global community goals."
The NFEC is one of the top providers of financial literacy education in the U.S. and around the world. They partnered with a team of financial and educational experts to develop their materials, which include financial literacy curriculum, workshops, multimedia learning centers, games, and live events. All these materials are designed to be interactive and engaging, thus addressing the need for money education and helping our nation's youth avoid becoming a statistic.