Financial Literacy Activities for Students Start the Path Toward Success
If you need to find accredited financial literacy activities for students, you're in the right place. Start by exploring our website for the types of activities you want. Then learn how to build your own financial education program.
Among other things, the National Financial Educators Council designs financial activities for students that can be customized for your specific audience. Our Curriculum Advisory Board ensures the highest quality of all our programs. We are completely independent, and our educational materials are free of ads.
Creating a Financial Education Program
Allow us to illustrate how we help people to design and launch their own financial education program.
Dan was a financial planner who wanted to help students in grades 6 through 8 to become financially literate. His plan was to develop a program based on financial activities for students, but he knew it would be an involved process. He started with some market research. Polling students at the public middle school revealed that they wanted to learn about personal finance, but the schools didn't offer such a program.
Now he needed professional guidance to create and deploy his program. Online research led him to the National Financial Educators Council (NFEC). He couldn't believe it, but they offered exactly what he needed.
Desired Depth of Personal Finance Understanding
He wanted these middle school students to be able to understand the skills and concepts of personal finance and the long-term perils of debt. It would be great if he could get them to the stage of strategic thinking about such important topics, but time was limited, so he'd be happy with a conceptual understanding. He knew that any knowledge would put them ahead of the curve.
Delivering Course Materials in the Most Effective Manner
Based on NFEC guidelines, Dan thought about the best way to deliver his financial activities for students. A program that progressed along a timeline would ensure that most of the class would learn at a healthy pace and attain the level of understanding Dan wanted for them. Actual delivery of the activities would be best in person because that's what middle school students are accustomed to.
What Aspects of Personal Finance Should the Activities Address?
Dan's next step was to determine the areas of personal finance that would have the most impact on the students. Since middle school students typically had minimal if any concepts of financial literacy, he would start with the basics of earning, saving and budgeting. His financial literacy activities for students would be fun and engaging enough to keep the class interested and engaging.
An Effective Curriculum for Financial Education
Dan had a few requirements for his financial activities for students that he would not compromise on. It had to meet existing standards of financial education and the learning principles had to be based on empirical evidence. It needed a strong scaffolding that would keep the students progressing at the right pace to keep them challenged and not overwhelmed.  His plan also included having a variety of financial literacy projects for his middle school students to encourage peer interaction and learning.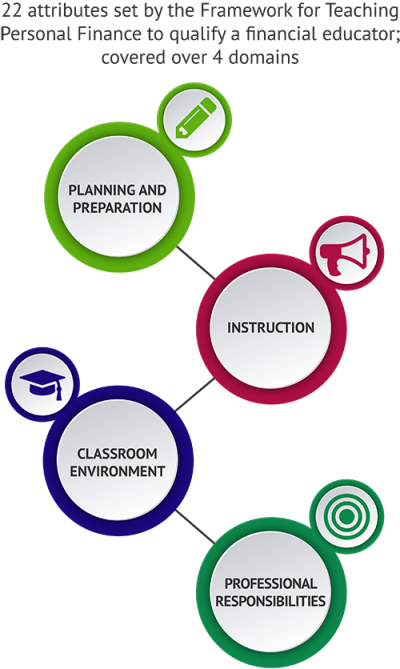 A Qualified Presenter of Financial Literacy Activities
Now to find the right educator. The teacher would have to be an NFEC Certified Financial Education Instructor who had experience teaching financial literacy activities for students in middle school. Dan wanted the presenter to be personable and able to make a personal connection with the students and present interactive financial literacy games. The NFEC helped him find just the right person. Dan considered getting certified, but right now he wanted to focus on developing and launching the course.
Results of Dan's Financial Activities for Students in Middle School
Upon first inspection, Dan couldn't believe the results. He ran the numbers again and got the same results. Of the 28 middle school students who participated in the financial activities, 25 of them completed the course successfully, an 89% completion rate of those that completed the financial literacy curriculum for youth training.
Dan put the numbers into a report that would highlight the success. The report would be used to expand Dan's program into other middle schools. He would also need sufficient funding, which the report would help him get.
Plans to Grow Beyond Financial Literacy Activities for Students 
Dan never imagined the positive impact his financial literacy activities for students course would have. He awarded completion certificates and included the parents in the ceremony. The school newspaper also mentioned the course and named the students in the school newspaper.
He was thrilled to consider that this was just the beginning of his financial literacy pursuits. He wanted to expand in all directions and one step at a time, he intended to do so. He would expand into neighboring middle schools, then offer continuing financial education at the high school level with an advanced financial literacy training manual. When it came time, his students would be ready for the advanced course and the real financial world.
Students in school obviously need to learn the educational lessons being presented in the financial literacy activities for students in the classroom curricula. But what many parents and teachers forget is that youth need key skills just to succeed as students. In short, they need to learn how to learn. Student success skills fall into four categories: home, classroom, personal, and financial. The latter will be the main focus of this article. Now there are finance activities for students that help them not only to learn about money, but to become primed to soak up all the subject matter they'll encounter—in high school and beyond.
Classroom skills include being able to observe, listen and take clear notes; effective test-taking; and working under a time limit. Home skills are important things like time management, study skills, notes review, computer and research abilities. Personal learning skills include maintaining interest levels, motivation, and a strong work ethic. But student financial literacy skills are more important for young people to acquire now than ever before.
One good way to promote student success skills in all areas is to present lessons in a game format. An example is the NFEC's financial literacy games for students in high school, like the Real Money Experience (RMX) classroom-based finance activities for students. RMX sets up 12 stations that students visit. At each station the students encounter an example of a money decision they will have to make when they begin living on their own. Then they're guided through the process of making those decisions, given the individualized personal scenarios they choose.
RMX uses multimedia, live finance speakers, and practical activities to create a comprehensive package representing the NFEC's approach to teaching personal finance. The NFEC is recognized as the leading provider of financial literacy education and student success skill coaching. Interested students, parents, and educators can find out more by visiting the website.