Financial Capability Definition
What does financial capability mean? A financial capability definition must include the knowledge of how to best manage your money, the willingness to put that knowledge into practice and the means to do so. In other words, financial capability necessarily includes financial inclusion. Without access to financial systems, all the financial knowledge in the world is useless and wasted. In fact, all three aspects of this financial capability definition are necessary for financial success in life. When any one of these necessary parts of financial capability are missing, the other two are wasted. Each is such a valuable gift, none of them should be taken for granted.
What is Financial Capability?
A financial capability definition relates the financial knowledge of an individual with his or her ability to apply that knowledge towards advancing their goals or those of their communities. The financial capability definition is a measure of how pragmatic an individual is and how effectively they have translated the information learned in the classroom to their real lives. Financial capability is a key goal that government agencies and financial education providers have for their program participants.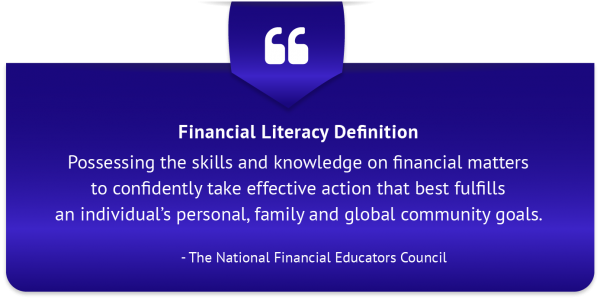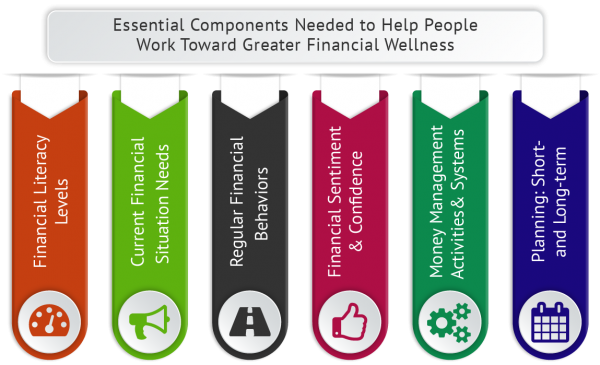 Authorities on Money Speak About Financial Capability
"Without financial literacy, divorce rates soar, families rupture, and women stay with abusive men for financial security. A lack of jobs contributes to riots and illegal activity. Name any situation and it goes back to money. We need to focus on poverty eradication." – John Hope Bryant, CEO of Operation HOPE
"Academic qualifications are important and so is financial education. They're both important and schools are forgetting one of them." – Robert Kiyosaki, founder of the Rich Dad Company
"Having the knowledge, skills and confidence to make responsible financial decisions" (Canadian Task Force on Financial Literacy). http://publications.gc.ca
The combination of knowledge, skills, attitudes, and especially behaviours that people need to make sound personal finance decisions, suited to their social and financial circumstances" (United Nations). https://www.un.org
"A level of financial knowledge and skills that enables individuals to identify the fundamental financial information required to make their conscious and prudent decisions; and after the acquisition of identified data allows them to interpret said data, make decisions on their basis, all the while assessing potential future financial and other consequences of their decisions." (Magyar Nemzeti Bank). https://www.mnb.hu
Learning Financial Capability Means Changing Bad Money Habits
Individuals who want to change their current financial situations must exercise critical reflection of their own habits and question whether those financial practices are helping or hindering them from reaching their goals. While a financial education program can supply the knowledge needed to ascertain financial habits, it is up to the individual to use financial capability curriculum to change financial habits they deem obstacles to achieving their goals.
The World Bank states that groups exhibiting less financial literacy, including women, certain ethnic groups, and rural areas should be the target of programs (World Bank). http://documents.worldbank.org
The National Financial Educators Council's financial literacy test results of over 42,000 individuals in all US states received a 66.29% average score.
https://www.financialeducatorscouncil.org/national-financial-capability-test/
The Canadian Task Force for Financial Literacy emphasizes that measures must be taken to ensure that in-class learning translates into real world impact (Canadian Task Force for Financial Literacy). http://publications.gc.ca
Most People Overestimate Their Financial Capability
58% of 18-26 year olds set aside a portion of their income as savings (Bank of America). https://about.bankofamerica.com
Only one in five (19%) say they are not knowledgeable about annuity products in retirement (1 or 2 on a 7-point scale), suggesting that many overestimate their knowledge of annuities (The American College). http://retirement.theamericancollege.edu
More than 20% of renters aged 18-24 overspent their income by $100 per month (Time). http://business.time.com
Only 23% of kids surveyed indicated that they talk to their parents frequently about money (Money Confident Kids). http://www.moneyconfidentkids.com
In a survey by OECD, well over a quarter of respondents replied that their culture influenced their attitudes toward wealth (Organization for Economic Cooperation and Development). https://www.oecd.org
Financial Capability in Practice
When assessing the efficacy of a financial education program, knowing a financial capability definition can help construct a metric showing how much the behavior of students has changed and what kind of impact that behavioral change has on the participant. A financial capability definition makes it clear that the term is attempting to relate the knowledge absorbed in the classroom and how effectively the student uses that information towards his or her financial goals.  To help them progress fastest, align the financial capability resources with their stage in life, financial situation and pressing needs.